DUBAI- In commemorating its two-decade milestone, Etihad Airways (EY), the UAE's national airline, illuminated the iconic Burj Khalifa in a stunning light and sound ceremony. November 12, 2023, marked the 20th anniversary of the airline's first commercial flight to Beirut, Lebanon, 2003.
Antonoaldo Neves, CEO of Etihad Aviation Group, shared that despite the airline's current fleet expansion to 79 aircraft and operations across over 70 global destinations, the company is now aiming to double its existing fleet by 2030 as part of its new objectives.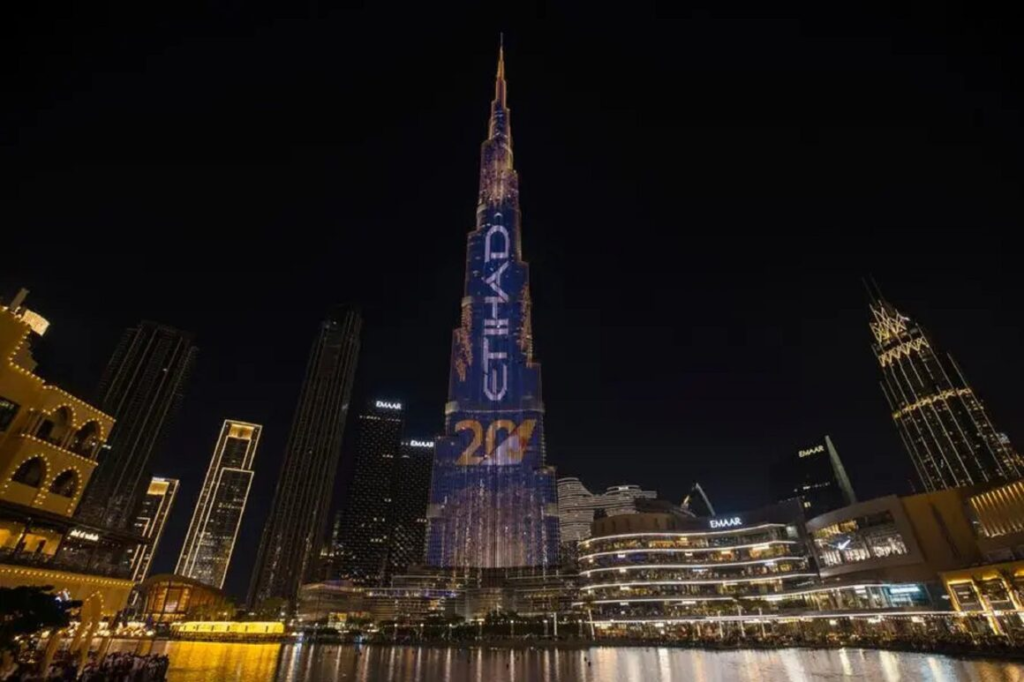 Airline Celebrates 20 Years
Etihad's workforce has grown substantially, surging from 1,761 in 2004 to nearly 10,000 aviation professionals, as per the airline's statement.
Quoted from Etihad Airways: "As we celebrate Etihad's 20th anniversary, we couldn't be prouder. What better way to mark this milestone than on the iconic Burj Khalifa? Our journey has been about more than just flights.
Discussing future strategies, the CEO outlined ambitious objectives for Etihad Airways. The vision includes doubling the fleet and tripling guest numbers by 2030, targeting an annual reach of 33 million individuals. The airline also plans to boost tourism in Abu Dhabi while expanding its global network to facilitate traveler connectivity.
As part of the extended celebration in November, Etihad Airways rolled out an enhanced passenger experience. This includes a fresh inflight culinary menu featuring signature dishes from the UAE and personalized offerings inspired by the carrier's various destinations.
Strong Demand For Operation In India
As reported earlier, Etihad Airways (EY) India head, Salil Nath, has exciting plans to broaden its operations in India. These plans involve launching new flights and increasing the frequencies of existing ones.
This move comes as the airline aims to fully utilize its weekly seat allocation to and from India under the bilateral air service agreement.
The Abu Dhabi (AUH) based airline currently has many unutilized seats, amounting to 10,000 per week out of the total 50,000 allocated seats.
By expanding its services and filling these unutilized seats, Etihad Airways is gearing up to enhance its presence and connectivity in the Indian market.
In partnership with Abu Dhabi Air Arabia (G9), Etihad operates 165 weekly flights to ten important gateways across India. Further, these gateways include Ahmedabad, Bengaluru, Chennai, Mumbai, New Delhi, Hyderabad, Kochi, Kolkata, Kozhikode, and Thiruvananthapuram.
According to Nath, India's airline network has witnessed substantial growth in 2023, with a 54% increase.
Stay tuned with us. Further, follow us on social media for the latest updates.
Also Read: US Airlines, Including American, United, Delta, and Southwest, want you to Dress Properly – Aviation A2Z
Join us on Telegram Group for the Latest Aviation Updates. Subsequently, follow us on Google News.