FORT WORTH- Following the third-quarter earnings call, American Airlines (AA) senior executives engaged with their employees through various mediums, including in-person meetings, Zoom conferences, and a recorded video message on the company's intranet.
During these discussions, Senior Vice President of Network Planning Brian Znotins addressed the airline's fleet plans, with a particular focus on the new Airbus A321XLR, which Gary Leff of Viewfromthewing flagged.
American Airlines A321XLR Strategy
Back in 2019, American Airlines placed an order for 50 Airbus A321XLRs, which involved converting 30 existing orders for A321neo and exercising 20 additional neo options. The initial delivery schedule for these aircraft included 8 in 2023, 22 in 2024, and 20 in 2025.
However, there have been delays in the delivery timeline. While American had previously mentioned the first A321XLRs arriving in "late 2024," the revised expectation now is that the initial A321XLR will be received in December 2024, followed by 15 more deliveries in 2025.
As a result, they won't have a significant number of aircraft to expand their European routes for the summer of 2025. Znotins outlined their strategy for deploying these planes:
The new Airbus A321XLRs are expected to operate premium cross-country routes, taking over from the current Airbus A321T that serves routes like New York JFK to Los Angeles and San Francisco. This change will represent an improvement for business class passengers but a notable reduction in economy class service.
They will be utilized for new transatlantic markets that aren't suited for widebody aircraft due to higher costs and the need to fill a larger number of seats. This includes secondary European cities.
American Airlines plans to convert some of its current summer seasonal routes into year-round routes, replacing the Boeing 787s that are used for European flights in the summer with the smaller A321XLRs in the winter.
The airline will also introduce a second daily frequency to certain destinations, using two of these smaller aircraft instead of a single larger one.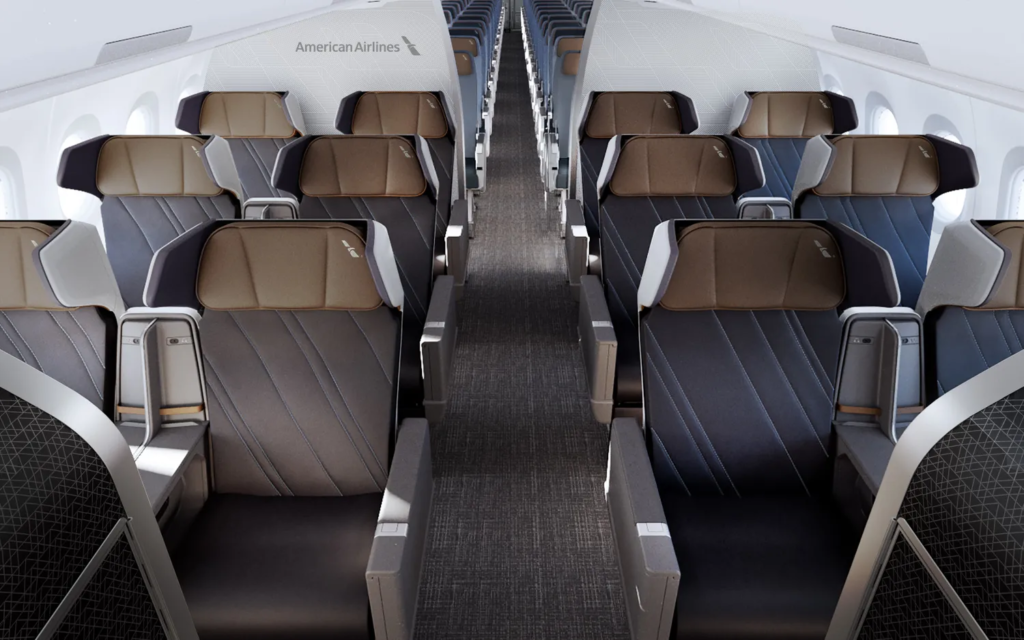 Destinations Not Revealed
Znotins, however, did not reveal specific destinations as requested by employees. He explained his decision by saying:
"I could certainly provide a list of destinations, but if that information becomes public, it might lead to increased competition for those routes."
In the past, American Airlines has indicated that these A321XLRs will primarily operate from New York JFK and Philadelphia. However, there's potential for some to be based in Charlotte and possibly Chicago O'Hare.
Znotins also mentioned that the new Boeing 787-9s will feature more business-class seats. These aircraft will be well-suited for winter flights to Europe since there's continued strong demand for premium travel despite lower overall transatlantic travel.
This configuration allows them to serve premium routes in Europe during the winter season, which Americans may have been hesitant to operate with their aircraft primarily designed for economy-class passengers.
Furthermore, due to their reduced seat capacity, Znotins pointed out that these planes are capable of flying longer distances. This hints at the possibility of American Airlines exploring ultra-long-haul routes, a prospect they've been cautious about in the past.
Earlier this year, there were discussions among airline executives about potential service to Singapore during employee chats, though there were compunctions about the feasibility of such routes.
Stay tuned with us. Further, follow us on social media for the latest updates.
Also Read: US Airlines, Including American, United, Delta, and Southwest, want you to Dress Properly – Aviation A2Z
Join us on Telegram Group for the Latest Aviation Updates. Subsequently, follow us on Google News.