SINGAPORE- Tata-owned Air India (AI) first Airbus A350 has made a non-stop flight from Toulouse (TLS) to Singapore (SIN), where it will undergo the paint job in brand new livery.
The Indian carrier frequently uses Singapore-based MROs to carry out painting, retrofitting, and other technical work. This is the first time that an Indian operator-owned A350 has flown over the country's airspace.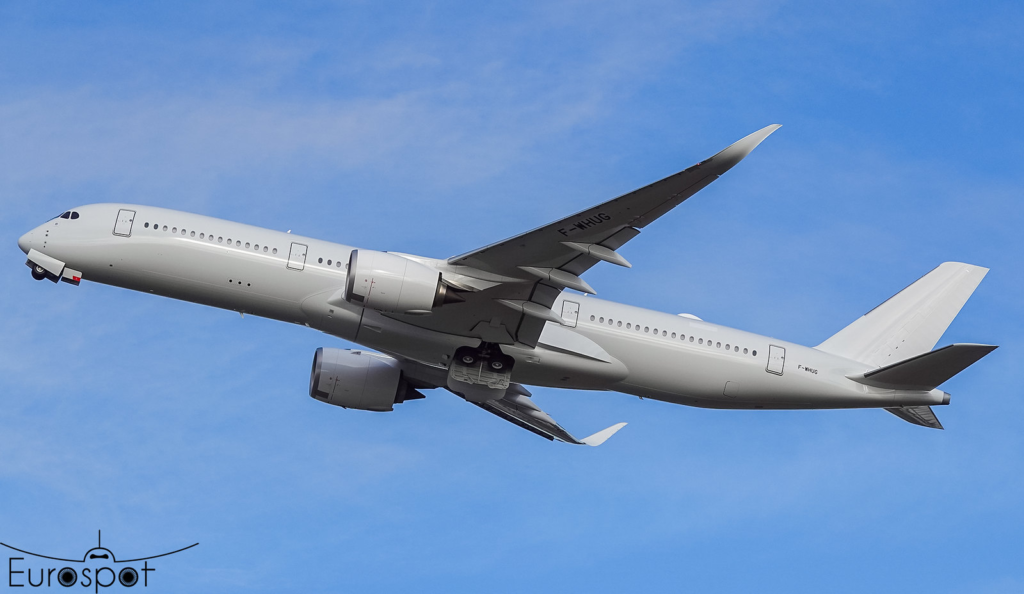 Air India A350 at Singapore
The aircraft in the spotlight is the Airbus A350-900, which is part of the batch designated to Russian Aeroflot (SU). However, due to Russia-Ukraine War sanctions, these planes were allocated to Air India last year.
Since then, these planes have undergone test flights, functional tests, and other required operations. But this is the first it has flown over Indian airspace, and it is expected to join the Air India fleet by November.
The aircraft has the registration VT-JRE, while its test registration is F-WHUG, and has a Manufacturer Serial Number MSN585.
Now, let us see the flight timeline with the help of FlightRadar24 data. The flight was carried out under the Airbus callsign AIB585 on October 24, 2023.
The flight AIB585 took off from Toulouse at around 2:34 PM UTC, and it remained airborne for more than seven hours before entering the Indian airspace.
The aircraft landed safely at Singapore Changi Airport at around 3:19 PM UTC, almost 12 hours and 45 Minutes from its departure.
Other A350 Update
The first A350 painted in Air India's brand new livery, which has the MSN592, has been spotted at Toulouse by Eurospot. Further, it will bear the Indian registration VT-JRH.
While the fourth A350 bearing test registration F-WZNY with MSN589 made its first test flight on October 24, 2023.
The remaining aircraft are undergoing necessary checks, and all six of them will be delivered before March 2024.
Further, in a message addressed to the staff on July 21, Air India's Chief, Campbell Wilson, disclosed that approximately one-third of their wide-body fleet will be equipped with modern seating and in-flight entertainment systems by March 2024.
"By the conclusion of this fiscal year, the addition of the six new A350 aircraft, coupled with the inclusion of 5 leased 772 LRs and 9 other 777 ERs, will result in a remarkable 30 percent expansion in the size of our wide-body fleet within a single year," he had emphasized.
New Leasing Unit
On September 29, 2023, Air India (AI) announced the successful completion of the acquisition of its inaugural Airbus A350 aircraft, facilitated through a finance lease transaction conducted via HSBC and the GIFT City.
This marks the first wide-body aircraft acquired through GIFT City, India's premier International Financial Services Centre (IFSC).
The transaction was orchestrated with the assistance of Air India's wholly-owned subsidiary, AI Fleet Services Ltd (AIFS), and represents the inaugural financing arrangement stemming from the extensive order for 470 aircraft placed earlier this year.
As part of its ambitious transformation strategy, Air India, now owned by the Tata Group, anticipates the arrival of its first A350-900 aircraft in India by the conclusion of this year.
The release further emphasizes that Air India has achieved a significant milestone by securing India's premier Airbus A350-900 aircraft through a finance lease arrangement with HSBC.
"This significant transaction represents the commencement of our aircraft leasing operations within GIFT IFSC, with AIFS assuming a central role in wide-body aircraft financing for the Air India Group. AIFS will play a pivotal role in shaping our future aircraft financing strategy and that of our subsidiary companies," stated Nipun Aggarwal, Chief Commercial and Transformation Officer at Air India.
Dipesh Shah, Executive Director of the International Financial Services Centres Authority (IFSCA), emphasized their collaborative efforts with stakeholders to establish regulatory frameworks conducive to aircraft leasing and financing.
Stay tuned with us. Further, follow us on social media for the latest updates.
Also Read: US Airlines, Including American, United, Delta, and Southwest, want you to Dress Properly – Aviation A2Z
Join us on Telegram Group for the Latest Aviation Updates. Subsequently, follow us on Google News.