TEXAS- In anticipation of the need for a strike against American Airlines (AA), APFA is getting ready to take action if substantial progress isn't made in the ongoing negotiations.
The APFA Board of Directors is set to convene on Friday, November 17th, to evaluate a request put forth by the APFA Negotiating Committee.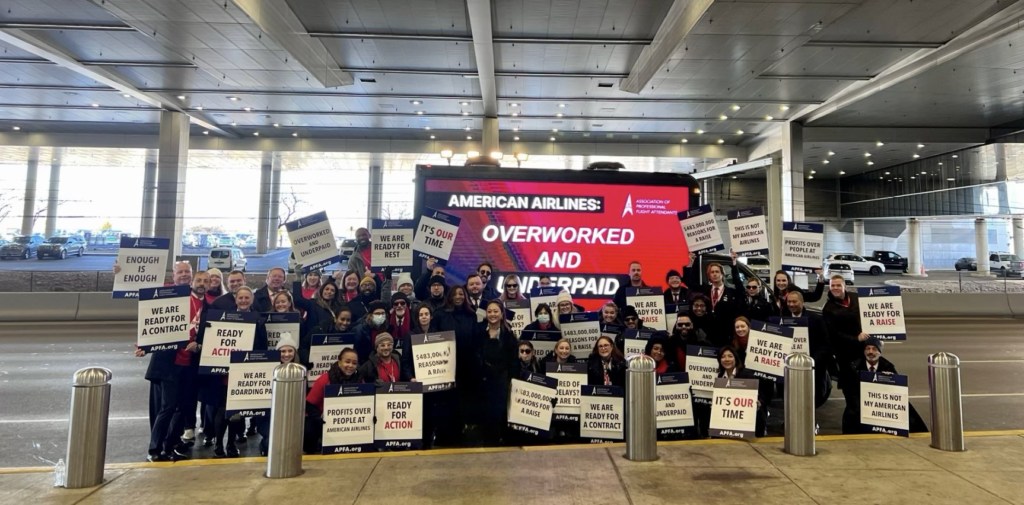 American Airlines Flight Attendant Strike
The request seeks to secure release from the mediation process through the National Mediation Board (NMB), which is a pivotal step toward initiating a strike.
If the NMB approves this release, it will initiate a 30-day cooling-off period, potentially leading to American Airlines Flight Attendants (AAFA) going on strike to support their contract demands.
During last week's negotiation session, American Airlines' negotiators arrived without response to the comprehensive economic and non-economic packages presented by the Flight Attendants.
Executive Insights
Julie Hedrick, National President of APFA and a Flight Attendant based in Los Angeles, expressed their frustration, saying, 'Time's up. Our Flight Attendants have overwhelmingly authorized a strike, and we will move the process forward and prepare for a strike if necessary.'
With an impressive 99.47% 'yes' vote for strike authorization and 93% member participation, American Flight Attendants have made it crystal clear that they will not settle for anything less than a leading industry agreement.
To drive home the point and remind management of their contributions and sacrifices during the pandemic, Flight Attendants are planning a system-wide picket on Thursday, November 16th.
National President Hedrick stressed that it's now up to American Airlines management to make a move. 'If American Airlines management remains unresponsive,' she stated, 'we expect them to put their position in writing so that we can proceed with the process. Should they fail to do so within the given deadline, we will request release from the National Mediation Board (NMB).'
Stay tuned with us. Further, follow us on social media for the latest updates.
Also Read: US Airlines, Including American, United, Delta, and Southwest, want you to Dress Properly – Aviation A2Z
Join us on Telegram Group for the Latest Aviation Updates. Subsequently, follow us on Google News.