DUBAI- Beond, the pioneering premium leisure airline worldwide, has introduced its elegant and distinctive aircraft livery. The aircraft is an Airbus A319 featuring 44 luxurious all-lay-flat seating configurations.
This airline, a collaborative venture between UAE-based company Arabesque and the Maldivian hospitality firm SIMDI Group, presented its maiden aircraft during an event held at Velana International Airport in Male' on Monday.
Beond: Gateway to the Maldives
The aircraft made its landing at the airport and received a water salute at approximately 12:30 pm.
Tero Taskila, CEO of Beond and one of its founders, warmly greeted passengers, saying,
"Welcome to Beond. Our mission is straightforward: to transport our customers to the Maldives. At this uniquely pristine destination, they can unleash their inner explorer and embark on the most unforgettable vacation of their lives."
He expressed his gratitude, stating,
"We are thrilled to showcase our aircraft here in the Maldives, our home. We extend our heartfelt thanks to the Maldivian government and our supporters, including the Maldives Civil Aviation Authority, SIMDI Group, and investors from around the globe, all of whom shared our vision for a new airline in the Maldives. Our dedicated team is committed to bringing tourists to this stunning nation."
Beond is set to initiate its inaugural flights from three different locations in November:
Riyadh, Saudi Arabia: November 9
Munich, Germany: November 15
Zurich, Switzerland: November 17
Ticket prices start at $2,000.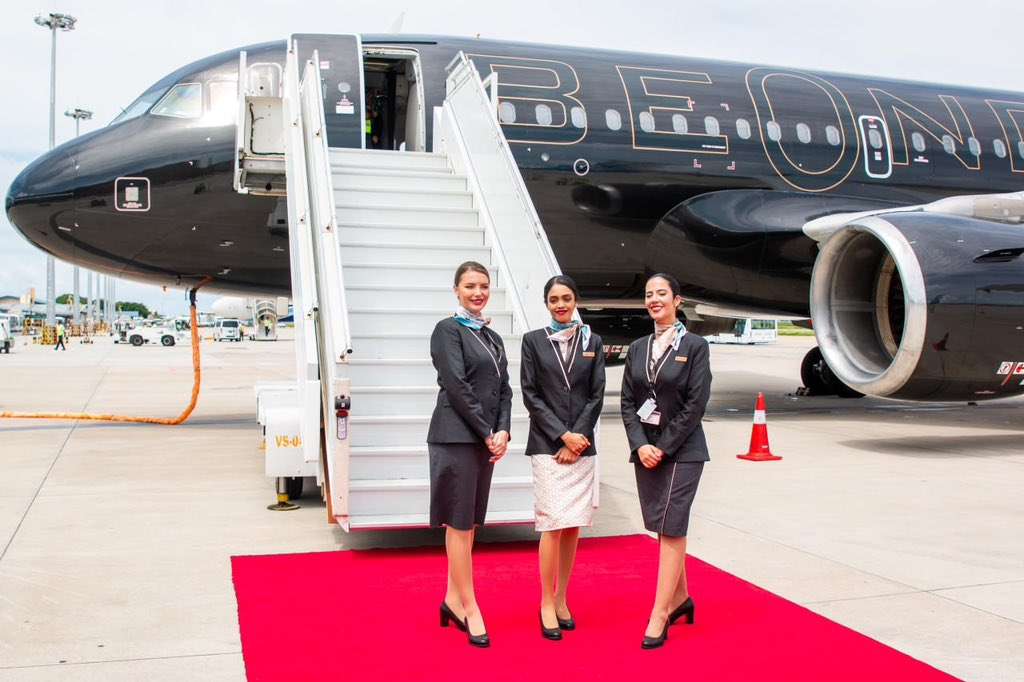 World's First Premium Leisure Airline Takes Off
Beond has announced its plans to offer special promotions to the people of the Maldives once its operations are underway.
Sascha Feuerherd, Beond's Chief Commercial Officer, expressed enthusiasm about the overwhelming response from customers and stakeholders in the launch cities. She looks forward to welcoming the airline's first passengers.
Beond will operate a fleet of state-of-the-art Airbus A320-family aircraft featuring a unique luxury lay-flat seating configuration, facilitating travel to the Maldives from Europe, the Middle East, and the Asia-Pacific region.
Upon arriving at Beond's first aircraft, SIMDI Group expressed their delight in being part of the exciting journey of unveiling the world's inaugural premium leisure airline. SIMDI, a key player in the Maldivian tourism sector for over two decades, has pioneered luxury resorts in the Maldives.
SIMDI conveyed its vision to introduce the world to the captivating Maldives in unparalleled style, expressing pride on behalf of all Maldivians. They extended their gratitude to Beond for choosing the Maldives as the perfect home for the airline.
Beond currently employs more than 75 individuals in the Maldives and foresees hiring 1,600 pilots and cabin crew for its Maldives operations. The company is committed to prioritizing local recruitment whenever possible.
Beond believes that its operations will create around 1,300 additional jobs directly and indirectly in the Maldives within the next five years, contributing to the growth of the local tourism ecosystem.
Stay tuned with us. Further, follow us on social media for the latest updates.
Also Read: US Airlines, Including American, United, Delta, and Southwest, want you to Dress Properly – Aviation A2Z
Join us on Telegram Group for the Latest Aviation Updates. Subsequently, follow us on Google News.