NEW DELHI- In a statement regarding IndiGo's stature, CEO Pieter Elbers emphasized the importance of comparing IndiGo (6E) Airlines with international carriers rather than exclusively focusing on domestic airlines.
Elbers asserted that this broader benchmarking approach would be instrumental in India's efforts to develop its airports into thriving aviation hubs.
Indigo Shifts Its Focus To International Competition
During a panel discussion at a convention hosted by the All India Management Association (AIMA), Elbers highlighted the prevailing inclination to scrutinize domestic competition and evaluate fares on domestic routes, especially in terms of their pricing.
However, he urged for a more comprehensive perspective, emphasizing the need to look beyond domestic considerations when aspiring to establish successful aviation hubs.
With over three decades of experience in the aviation industry, the executive stressed the need for India to redirect its attention toward international competition. He pointed out that Indian carriers did not operate a significant portion of the flights connecting Europe and India.
He went on to suggest that instead of dwelling on the level of competition between cities like Mumbai and Guwahati, it would be more constructive to focus on understanding why there are so few direct flights between Delhi and Rome. This, he argued, should be the central point of discussion.
Foreign airlines currently dominate India's international passenger market, while the domestic market is primarily divided between IndiGo and the Air India (A-I) group of airlines, accounting for about 85 percent.
This situation has raised concerns about elevated airfares, particularly given the challenges faced by airlines like SpiceJet (SG), Go First (G8), and Akasa Air (QP). The Air India (AI) group comprises Air India, Air India Express (IX), AirAsia India (I5), and Vistara (UK).
Although IndiGo enjoys a 60 percent share of India's domestic aviation market, its presence in the international passenger market stands at around 18 percent, as aviation analytics firm Cirium reported. When asked about competition, Elbers acknowledged, "Of course, we have competition; India is one of the most competitive markets globally."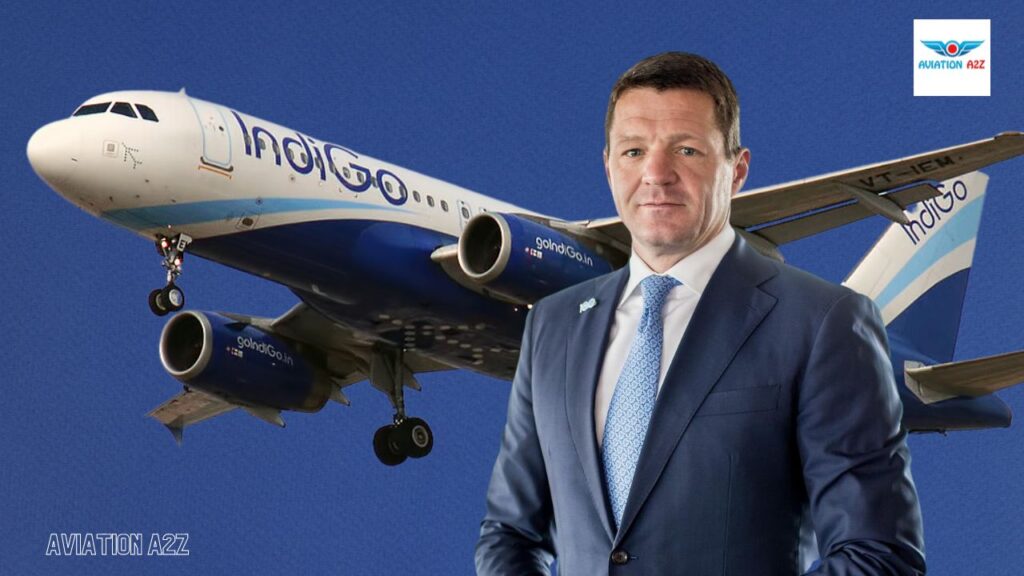 Executive Insights
CEO Pieter Elbers Stated, "When discussing competition, there tends to be a narrow focus on India itself," he remarked. "I believe we should occasionally broaden our perspective and ask: Why do Indian carriers hold a smaller share of international travel to and from India compared to international carriers?"
He emphasized the importance of Indian carriers expanding their networks, enhancing their positioning, and improving connectivity systems. The Indian government has actively encouraged Indian airports, particularly Delhi, to evolve into aviation hubs similar to those in Dubai or Doha, offering extensive flight networks connecting destinations worldwide.
Elbers stressed the necessity of achieving a certain size to compete globally, stating, "Instead of merely comparing the size of IndiGo or Air India with other Indian carriers, we should also benchmark ourselves against global players.
Suppose we aspire to compete with airlines like Singapore Airlines (SQ) and make India a prominent connecting hub. In that case, that should be our reference point rather than focusing solely on domestic competition.
Significant Competition Within India's Aviation Market
Regarding the Tata Group's acquisition of Air India, he viewed it as a natural progression in a maturing market. He pointed out that consolidation has historically been observed in other parts of the world as aviation markets mature.
Elbers also highlighted how travelers from the United States or Europe notice the remarkable competitiveness of the Indian market when comparing domestic prices while purchasing tickets abroad. He acknowledged, "Indeed, there is substantial competition within India."
He concluded by emphasizing their unique selling points (USP) that have remained consistent: "affordable fares, on-time performance, and hassle-free and courteous service" right from the outset.
Stay tuned with us. Further, follow us on social media for the latest updates.
Also Read: US Airlines, Including American, United, Delta, and Southwest, want you to Dress Properly – Aviation A2Z
Join us on Telegram Group for the Latest Aviation Updates. Subsequently, follow us on Google News.