SYDNEY- The delivery of new aircraft and the implementation of wet-leasing agreements will enable Qantas (QF) and Jetstar (JQ) to enhance their international capacity by 12 percentage points by the end of the calendar year. This translates to an addition of nearly 50 extra flights per week.
The Qantas Group is sharing updates to notify the market about a significant increase in investments aimed at enhancing the customer experience, ongoing robust demand for travel, and the influence of higher fuel prices.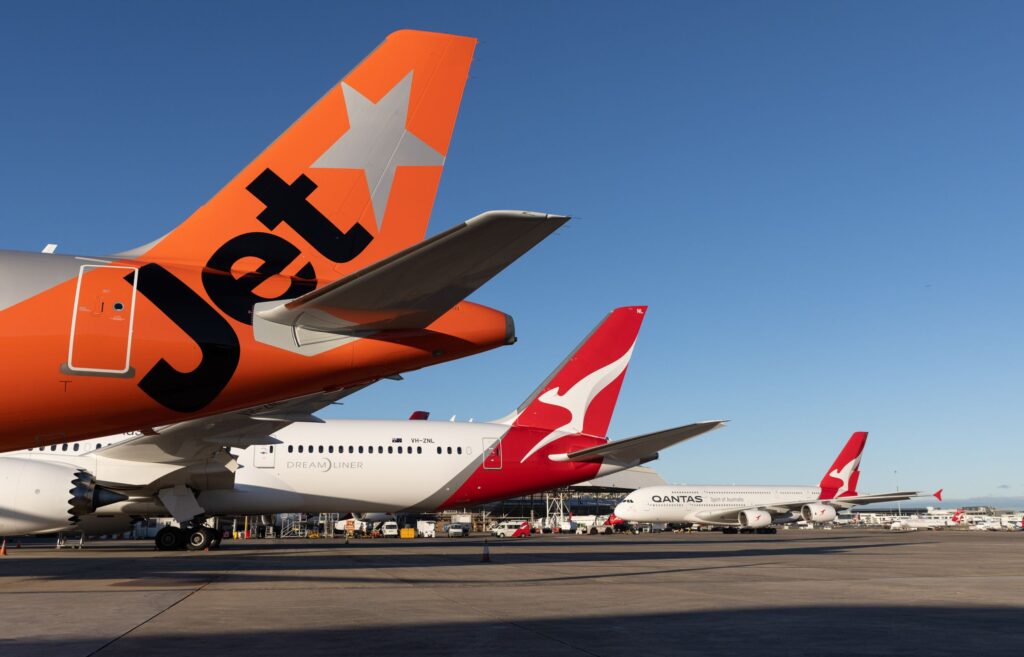 Customer Improvements and Demands
The Qantas Group has decided to invest an additional $80 million in customer enhancements during FY24, in addition to the previously allocated $150 million, which will be financed using profits.
This supplementary investment aims to address various customer concerns by implementing improvements like enhancing contact center resources and training, expanding the availability of seats for redemption with Frequent Flyer points, offering more robust support for operational issues, revising long-standing policies for fairness, and upgrading the quality of inflight catering.
Additionally, Qantas is expediting ongoing initiatives, such as re-platforming the Qantas app. More details about these measures will be shared in the upcoming weeks.
In terms of demand, the overall travel demand remains robust, with trading conditions in the first quarter of FY24 resembling those of the last quarter of FY23.
Qantas and Jetstar anticipate carrying over 4 million passengers during the September/October school holidays and football finals season, operating nearly 35,000 domestic and international flights. This contrasts with the approximately 3.7 million passengers on around 28,000 services during the same four-week period last year.
Recent survey data reveals that travel remains a top spending priority among Qantas Frequent Flyers for the next six months, significantly ahead of other categories like entertainment, renovations, and homewares.
The Qantas Group deeply appreciates the continued support of customers who choose to travel with Qantas and Jetstar.
Fuel Price Spike
Fuel prices have surged by approximately 30 percent since May 2023, with a notable 10 percent increase occurring in August. This rise can be attributed to a combination of factors, including higher oil prices, increased refiner margins, and a weaker Australian dollar.
Should these elevated fuel prices persist, it is anticipated that the Qantas Group's fuel expenses for the first half of 2024 (1H24) will rise by approximately $200 million, reaching $2.8 billion after accounting for hedging. Additionally, there is an expected $50 million impact due to non-fuel-related foreign exchange fluctuations.
The Qantas Group plans to absorb these heightened costs for the time being. However, they will closely monitor fuel prices in the upcoming weeks.
If the current price levels are maintained, the Group may consider adjustments to its operations. These adjustments would aim to strike a balance between mitigating increased costs and ensuring that travel remains affordable, particularly in a market where fares are already elevated.
Qantas and Jetstar Eyes 50 More Weekly Flights
Qantas and Jetstar are set to enhance their international capacity by 12 percentage points by the conclusion of this calendar year, equating to nearly 50 additional flights each week. This expansion encompasses several significant developments:
Qantas will reintroduce its Sydney-Shanghai routes.
Qantas will initiate two new routes: Brisbane-Wellington and Brisbane-Honiara.
Jetstar will launch a new service connecting Brisbane and Tokyo.
The estimated international and domestic capacity for the first half of 2024 (1H24) remains consistent with the figures provided in late August 2023.
Regarding the financial aspect, the Qantas Group maintains a robust financial position, which includes prudent management of its debt levels and sustained strong revenue generation. Additionally, the Group's on-market share buyback program, which was announced on August 24, 2023, is presently 10 percent complete.
Shareholder approval will be sought at the upcoming Qantas Annual General Meeting (AGM) to expand the capacity for future share buybacks that the Board may decide to undertake, aligning with the established Financial Framework.
Stay tuned with us. Further, follow us on social media for the latest updates.
Also Read: US Airlines, Including American, United, Delta, and Southwest, want you to Dress Properly – Aviation A2Z
Join us on Telegram Group for the Latest Aviation Updates. Subsequently, follow us on Google News.