FRANCE- Air France (AF) KLM (KL) has initiated a formal process to replace some of its older widebody aircraft in an effort to acquire more fuel-efficient jets from Airbus or Boeing to cater to the growing demand for long-haul travel.
The airline group is in the market for 30 to 50 widebody jets, as reported by individuals with knowledge of the matter, reports Bloomberg.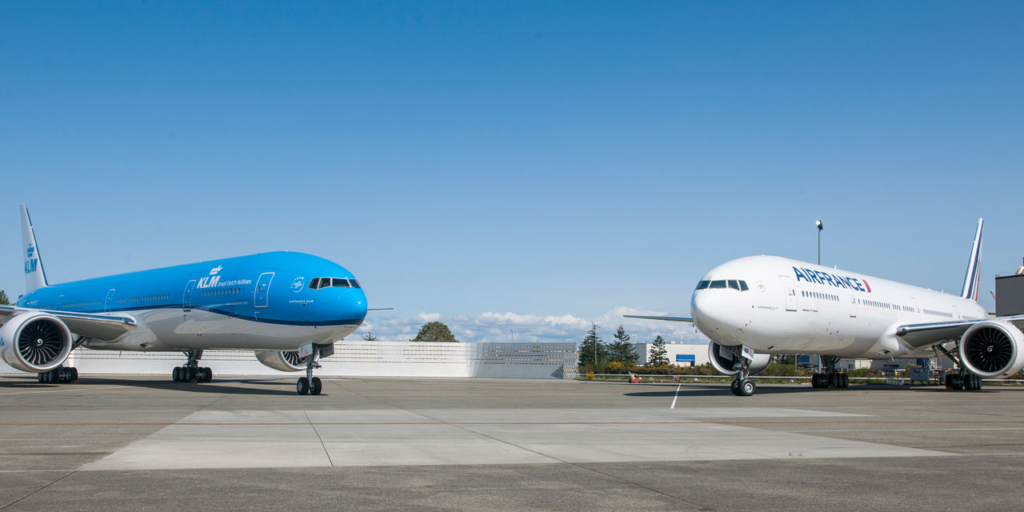 Air France KLM Nears New Widebody Order
In June, Bloomberg News had previously disclosed the company's considerations for replacing its Airbus A330 aircraft, which have an average age of 20 years, and a group of Boeing 777s two decades old.
With long-haul travel rebounding and leading to extended waiting lists for newer, more fuel-efficient jets, airlines worldwide are actively acquiring widebody aircraft.
Air France-KLM has already retired its Boeing 747s and A380s, opting to introduce more modern 787 Dreamliners and Airbus A350 aircraft into its fleet.
Earlier in the month, Air France-KLM and Airbus unveiled their intentions to establish a maintenance joint venture specifically for the Airbus A350 aircraft. This move could potentially provide Airbus with some leverage in its negotiations with the Franco-Dutch airline.
As part of their assessment process, they are taking into account the current situation of needing to find alternative routes that bypass Russian airspace due to the Ukraine invasion.
This detour can significantly extend the duration of a flight and necessitates adjustments to the aircraft's operational considerations, as noted by Air France KLM's Chief Executive Officer Ben Smith in a June interview.
AF-KL A350 Partnership
Air France (AF)–KLM (KL) and Airbus have jointly announced that they are currently in exclusive negotiations for the establishment of an A350 component support joint venture.
The venture aims to provide worldwide Airbus A350 component maintenance services, including supply chain management, repairs, and creating a global pool of aircraft components.
The proposed collaboration would be structured as a 50-50 joint venture between Air France and Airbus. Subsequently, it would involve the transfer of aircraft component assets from both partners into the joint venture's shared pool.
Further, this strategic partnership would leverage the combined expertise of Air France Industries KLM Engineering & Maintenance and Airbus to offer an optimized commercial solution.
The goal is to serve better the increasing long-term maintenance requirements of the worldwide Airbus A350 fleet. This currently includes over 1,000 aircraft on order and 550 in active service.
Further, this initiative aims to enhance capacity, expand the global presence, and develop innovative solutions for the benefit of customers.
The joint venture is expected to become operational by the first half of 2024, subject to approval from relevant authorities and compliance requirements.
Stay tuned with us. Further, follow us on social media for the latest updates.
Also Read: Indian Students Deported Back to Delhi from USA on Delta Flight – Aviation A2Z
Join us on Telegram Group for the Latest Aviation Updates. Subsequently, follow us on Google News.