MONTREAL, DUBAI- Emirates (EK) has made an announcement that its codeshare collaboration with Air Canada (AC) has been extended to encompass flights to and from Montreal (YUL). This development follows the recent commencement of services to the largest city in Québec.
Consequently, Emirates patrons can now efficiently organize their journeys by connecting 11 of the most sought-after local destinations beyond Montreal and a multitude of locations on Emirates' expansive route map. This seamless travel arrangement operates through both airlines on a single ticket.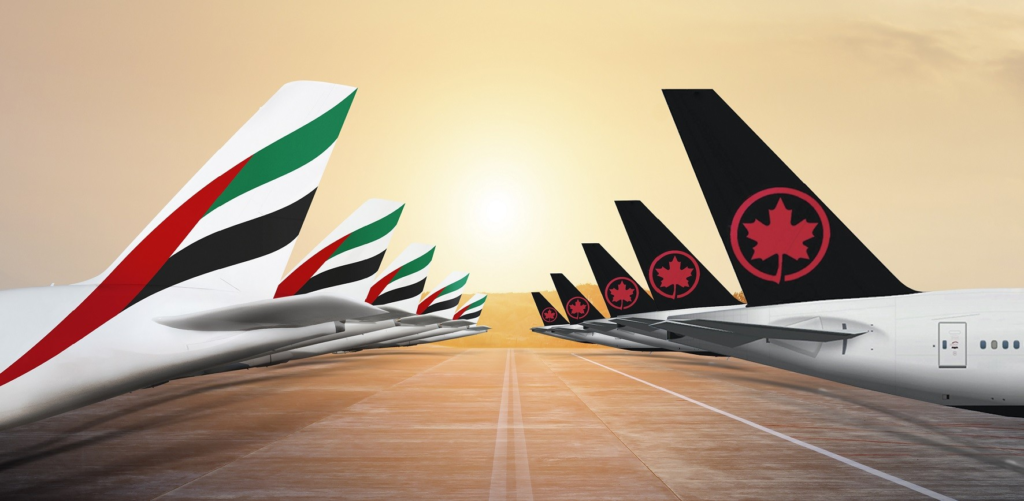 Air Canada Emirates Montreal Flights
The comprehensive network of Canadian destinations facilitated by the codeshare partnership between Emirates and Air Canada has now grown to encompass 11 locations throughout Montreal.
An extra 69 points can be reached from this gateway through an interline arrangement. For those interested, tickets can be acquired via emirates.com or through favored travel agencies.
The partnership for codesharing between Emirates and Air Canada offers customers a heightened level of flexibility and choice.
This arrangement facilitates smooth connections through Canada's two largest cities to various points, such as Halifax, Edmonton, Ottawa, and Calgary.
This is particularly advantageous for leisure and business travelers and individuals visiting family or friends. Departing from Toronto, Emirates passengers have access to 19 destinations with the advantages of codeshare benefits, while an additional 100 destinations can be accessed through an interline agreement.
Passengers departing from Canadian cities can seamlessly link up with Emirates' services in Montreal or Toronto, connecting to captivating destinations across Asia, Africa, and the Middle East via the airline's hub in Dubai.
Enhanced Connectivity
Emirates maintains daily flights between Toronto and Dubai aboard its flagship Airbus A380 aircraft, providing travelers with optimal service.
Additionally, the airline operates seven weekly flights between Montreal and Dubai using the Boeing 777. It ensures a range of options for passengers to create their travel plans to global destinations, all with uninterrupted connectivity.
Travelers holding itineraries for Emirates flights can plan their entire journey on a single ticket, benefiting from the airline's generous baggage allowance. They can also take advantage of hassle-free baggage check-through to their final destination.
Moreover, members of Emirates' frequent flyer program, Emirates Skywards, can anticipate the opportunity to accrue and redeem miles on flights provided by both airlines, thanks to this collaborative partnership.
Stay tuned with us. Further, follow us on social media for the latest updates.
Also Read: US Airlines, Including American, United, Delta, and Southwest, want you to Dress Properly – Aviation A2Z
Join us on Telegram Group for the Latest Aviation Updates. Subsequently, follow us on Google News.