CHARLOTTE- Fort Worth-based American Airlines (AA) flight from Charlotte Douglas Airport (CLS) to Gainesville Regional Airport (GNV) losses pressurization midair. However, the flight landed safely at its destination.
The American Airlines regional subsidiary carrier, Piedmont Airlines (PT) Embraer ERJ-145, operated the flight.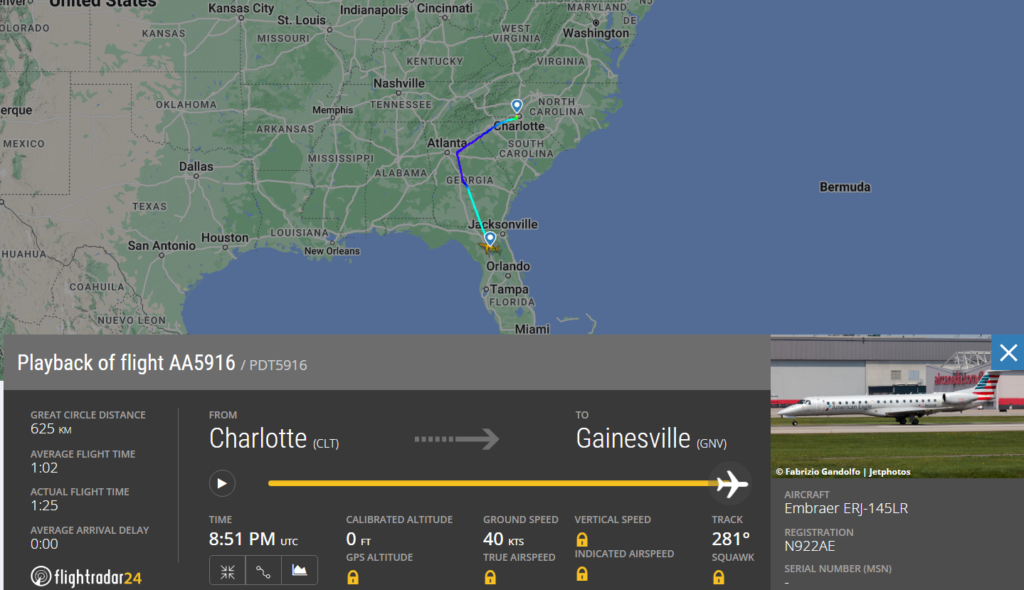 American Airlines Flight Loses Pressurization
The Federal Aviation Administration (FAA) reported the incident and stated,
On Thursday, August 10, at approximately 4:55 p.m. local time, American Airlines Flight 5916 touched down without incident at Gainesville Regional Airport in Florida. The flight, operated by an Embraer 145 aircraft, had taken off from Charlotte Douglas International Airport in North Carolina. The crew had alerted of a potential pressurization concern.

FAA Report
The Federal Aviation Administration (FAA) will conduct an investigation into the matter.
Now let us establish the flight timeline with the help of FlightRadar24 data.
American Airlines flight AA5916/PDT5916 took off from CLT at around 7:26 PM UTC. Instead of taking straight routes, it took a triangular one, possibly due to weather warnings.
After being airborne for almost 40 minutes, it lost pressurization and was forced to reduce its altitude. It then continued the remaining leg of flight at 10,000 feet. At around 8:51 PM UTC, it arrived at GNV in Florida.
The aircraft involved in the incident, Embraer ERJ-145, has the registration N922AE. Further, it is 18.4-year-old aircraft and has been part of American Eagle, Envoy Air, and now Piedmont Airlines.
Similar Incident
In an unforeseen turn of events on Wednesday afternoon, a Miami-bound Delta Air Lines (DL) flight encountered a mechanical issue, leading to its diversion to Jacksonville, as the Jacksonville Aviation Authority reported.
The incident has caused inconvenience for the passengers onboard and has resulted in a delay in their travel plans.
Delta Flight 1328, operating a Boeing 757 aircraft, took off from Hartsfield-Jackson Atlanta International Airport at 4:36 p.m., carrying a total of 186 passengers, two pilots, and four flight attendants.
However, during the flight, a mechanical problem arose, prompting the flight crew to decide to divert to Jacksonville International Airport.
Fortunately, the flight landed safely at Jacksonville International Airport at 5:52 p.m., according to FlightAware data. The passengers, pilots, and flight attendants were unharmed, and the aircraft was securely parked at a terminal gate in Jacksonville.
Efforts were swiftly undertaken by Delta Airlines to address the situation and ensure the affected passengers were taken care of. A secondary aircraft was arranged to transport the passengers to their intended destination.
Stay tuned with us. Further, follow us on social media for the latest updates.
Also Read: Indian Students Deported Back to Delhi from USA on Delta Flight – Aviation A2Z
Join us on Telegram Group for the Latest Aviation Updates. Subsequently, follow us on Google News.