DELHI- Tata-owned Air India (AI), a prominent international carrier of India, has taken substantial steps to amplify and enrich its network of lounges at airports both within the country and overseas, aiming to elevate the travel experience for its esteemed premium clientele.
Through its all-encompassing 5-year transformation strategy, Vihaan.AI, Air India has significantly expanded its lounge offerings. It now encompasses a broader span of 26 airports across India.
This expansion has been facilitated by partnerships established with airport lounges at various destinations. This includes Dibrugarh, Indore, Jammu, Lucknow, Madurai, Mangalore, Nagpur, Patna, Srinagar, and Vadodara. Subsequently enhancing passenger travel experience across these regions.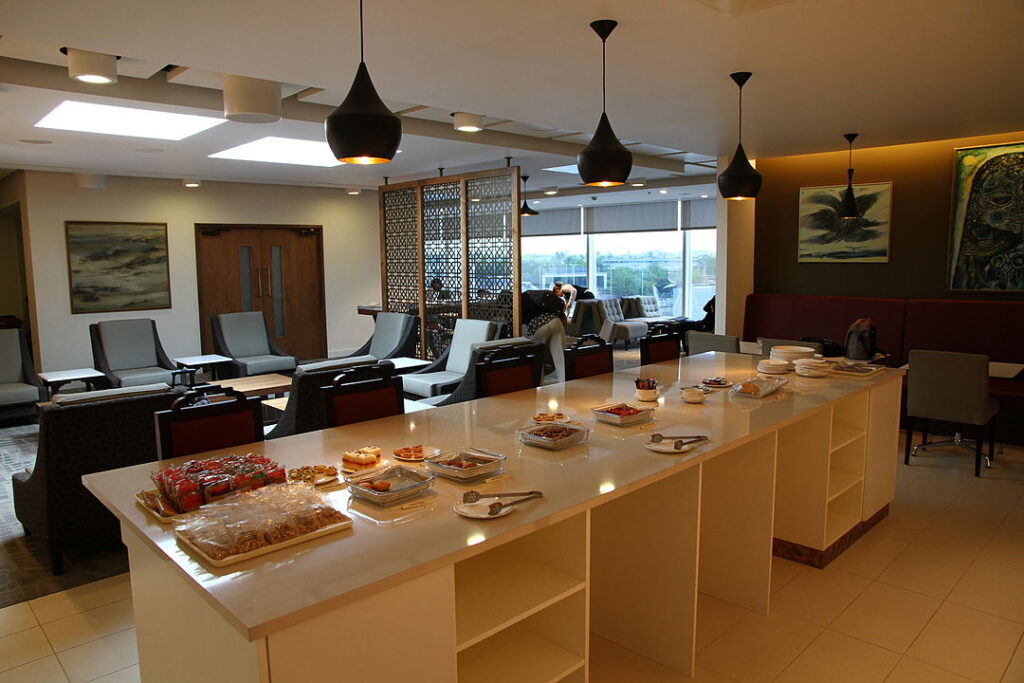 Air India Lounge Expansion
Furthermore, in cases where lounges are not present at 11 airports, Air India has established collaborations with top-notch food courts to ensure that its premium passengers receive excellent services.
In aggregate, Air India's esteemed premium clientele can now relish the amenities at lounges or food courts spanning 37 airports within India.
On an international scale, Air India has elevated its lounge offerings by forging partnerships with the finest lounges available across various airports.
This concerted effort has resulted in a comprehensive lounge access coverage of 100% for premium travelers at all 41 destinations on Air India's international route network.
The airline has extended its network of lounges to include Chicago (Swissport Lounge), New York-Newark Liberty (SAS Lounge), and Tokyo Narita (Japan Airlines' Sakura Lounge).
Meanwhile, it has transitioned to the Singapore Airlines SilverKris Lounge and Balaka Executive Lounge at Bangkok and Dhaka airports.
Air India operates its distinct signature lounges at Delhi's Indira Gandhi International Airport (Terminal 3) and New York's John F. Kennedy International Airport.
These lounge services are accessible to passengers traveling in First or Business Class. Further to eligible members of Air India's frequent flyer program, Flying Returns, and those belonging to other member airlines within the Star Alliance.
Executive Insights
Rajesh Dogra, the Chief Customer Experience & Ground Handling Officer at Air India, expressed,
"The expansion of our lounge network represents a significant stride in our continuous endeavor to elevate the premium services provided as a full-service airline. This initiative strengthens guest loyalty and aligns with our commitment to enhancing the overall travel experience. We are delighted to extend this experience to most of the airports in our domestic and international network. Additionally, we plan to elevate our distinctive lounge experience at Delhi and New York Airports, with substantial modernization projects set to commence soon."
Air India is rapidly improving its offering and investing in fleet upgrades, renewals, and new aircraft. But they should also focus on recruiting more qualified staff, as they are the ones who can maximize these offerings.
Stay tuned with us. Further, follow us on social media for the latest updates.
Also Read: US Airlines, Including American, United, Delta, and Southwest, want you to Dress Properly – Aviation A2Z
Join us on Telegram Group for the Latest Aviation Updates. Subsequently, follow us on Google News.