DELHI- India's largest carrier, IndiGo Airlines (6E) flight bound for Ranchi, made an emergency landing at Indira Gandhi International Airport (DEL) in Delhi shortly after takeoff due to a technical issue.
According to a passenger on board, the pilot informed passengers about the mid-air technical glitch and decided to return to IGI Airport.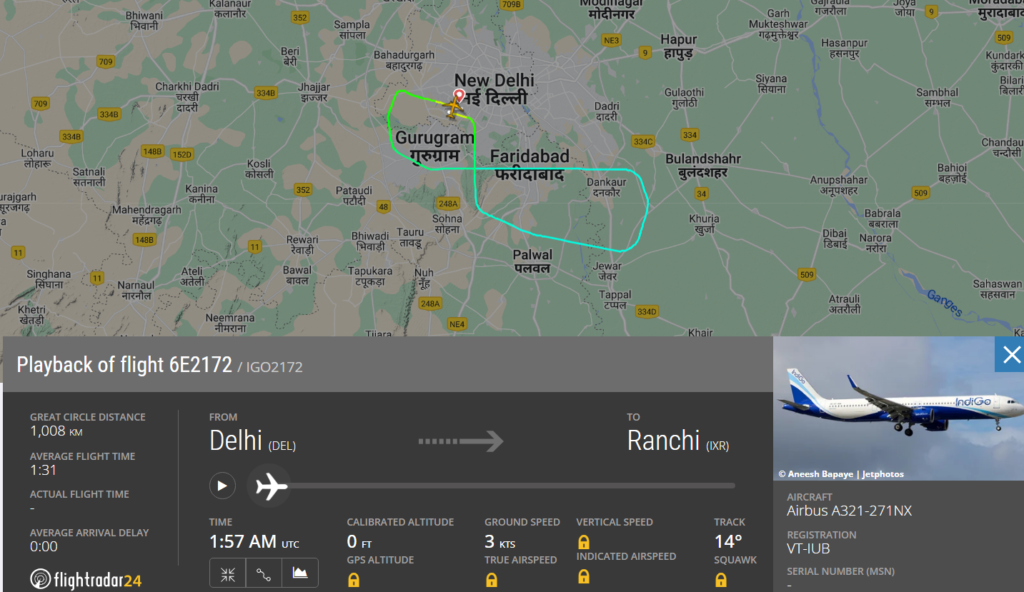 IndiGo Delhi to Ranchi Flight Emergency Landing
According to FlightRadar24 data, IndiGo flight 6E2172 took off from Delhi (DEL) at 2:19 AM UTC (7:49 AM IST). A few minutes after the Takeoff, the flight crew witnessed vibrations and technical issues with one of its aircraft systems.
Following this, they contacted Delhi ATC and decided to turn back without burning extra fuel. Subsequently, the flight made a heavy landing back at DEL at 2:47 AM UTC (8:17 AM IST). The flight remains airborne for less than 30 minutes.
"The pilot informed us that there was a technical issue with the aircraft, leading us to return to Delhi airport. We experienced vibrations onboard during the flight."

IndiGo 6E2172 Passenger conveyed to ANI
The aircraft involved in the incident is 4.5 years old Airbus A320neo, registered as VT-IUB.
Further, the IndiGo staff told passengers to remain calm, and another aircraft is being arranged.
According to FR24, the other aircraft VT-IZX took off from DEL and landed safely at Ranchi (IXR) three hours and 30 mins later than the actual schedule.
Similar Incident
On August 4, 2023, the IndiGo (6E) flight from Patna (PAT) to Delhi (DEL) made an emergency landing back at PAT as one of the engines became inoperative during the flight.
IndiGo's Airbus A320neo, registered as VT-IIG, operates the flight. Further, it is just 2 years old; Airbus delivered it to 6E back in October 2021.
The airport officials told the media that,
An Indigo flight operating the Patna-Delhi route had to return to its departure airport due to a technical problem. Just three minutes after takeoff, the pilot informed that one of the engines was not functioning. Fortunately, the aircraft landed safely at 9:11 am. The airport official stated that according to the pilot, additional help was not needed, and everything is functioning as usual at the airport.

Patna Airpor Official Statement
Photo: Harsh Tekriwal (@avgeekwithlens) • Instagram photos and videos
Stay tuned with us. Further, follow us on social media for the latest updates.
Also Read: Indian Students Deported Back to Delhi from USA on Delta Flight – Aviation A2Z
Join us on Telegram Group for the Latest Aviation Updates. Subsequently, follow us on Google News.