CHICAGO- Passengers flying United (UA) Airlines Business® class on premium transcontinental domestic routes will have the opportunity to enjoy new amenity kits showcasing exclusive products from the wellness brand Asutra, backed by Venus Williams.
Additionally, United Airlines has introduced new amenity kits for United First passengers traveling between the continental U.S. and Hawaii, featuring skincare products from the Hawaiian brand Ua Body.
United Launches Transcontinental Amenity Kit
The Ua Body amenity kits will make their debut onboard later this month. United Airlines distributes these amenity kits to around 65,000 passengers each month, encompassing both transcontinental and Hawaii routes.
United's Director of Onboard Product Design, Peter Wolkowski, expressed his pride in the new amenity kits. He highlighted the airline's excitement about the fantastic new partnerships, exclusive products, and premium ingredients included.
He mentioned that the customers would surely appreciate these kits. This has been tailored specifically for transcontinental and Hawaii-bound travelers.
Wolkowski emphasized that these amenity kits are just one of the many ways United continually strives to enhance its passengers' travel experience.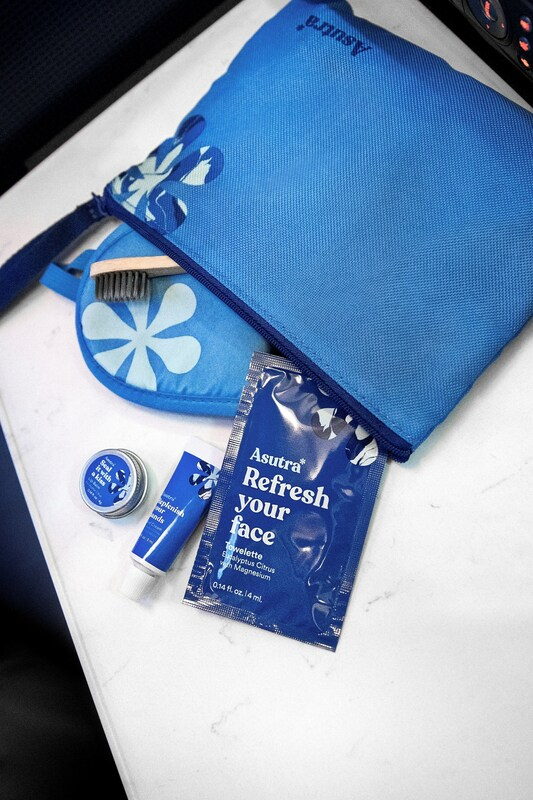 Asutra- Brand by Venus Williams
In collaboration with Asutra, United has introduced new premium transcontinental amenity kits designed to provide cross-country travelers with a relaxing and rejuvenating experience.
These cruelty-free skincare products are free from parabens, phthalates, and petroleum, ensuring a soothing and refreshing post-flight sensation.
Each kit features an Asutra cleansing face towelette, nourishing lip balm, and hand lotion infused with magnesium to promote a sense of calm. Along with mango seed butter, coconut oil, and almond oil, these products moisturize and protect the skin during the journey.
The amenity kit comes in a reusable, Asutra-branded pouch. It includes additional items such as a bamboo toothbrush, toothpaste, Asutra eye mask, and earplugs to aid in rest and relaxation while onboard.
The pouch and eye mask are made using recycled materials, reflecting United's commitment to sustainability. Moreover, a card inside the pouch provides inspiration for self-care practices, ensuring travelers can indulge in a moment of self-pampering during their journey.
Stephanie Morimoto, the Owner, and CEO of Asutra, expressed excitement about the collaboration with United Airlines, the hometown carrier based in Chicago. As a women-owned company, Asutra's mission revolves around making self-care accessible to all through wellness products.
Stephanie emphasized that she understands the challenges of taking care of oneself while traveling based on personal experience.
With the introduction of the new amenity kit, travelers now have a simple and enjoyable means to prioritize self-care during their journey.
The kit allows passengers to nurture themselves intentionally, ensuring they arrive at their destination feeling refreshed and rejuvenated.
Asutra is proud to offer this opportunity for travelers to indulge in self-care and experience the benefits of their wellness products during their flight with United Airlines.
Reusable Hawaii Kit
The new United Hawaii amenity kits are designed to bring a touch of the islands to passengers before they land, featuring skincare products from Ua Body. This brand is owned, operated, and made in Hawaii.
Each kit offers a delightful experience with a moisturizing lip balm, hand cream, and a refreshing face mist infused with captivating sandalwood, jasmine, and coconut scents.
These products also incorporate local ingredients like Kukui oil and Organic Royal Hawaiian Sandalwood oil.
Additionally, each kit includes an eye mask crafted from recycled materials and a bamboo toothbrush, toothpaste, and earplugs for a comfortable journey.
Leala Humbert, the Founder, and CEO of Ua Body, expressed pride in collaborating with United Airlines, a powerful partner, and highlighted the opportunity to showcase the essence of Hawaiian heritage to the world through their thoughtfully handcrafted products.
Stay tuned with us. Further, follow us on social media for the latest updates.
Also Read: US Airlines, Including American, United, Delta, and Southwest, want you to Dress Properly – Aviation A2Z
Join us on Telegram Group for the Latest Aviation Updates. Subsequently, follow us on Google News.