DELHI- Tata-owned Indian FSC Air India (AI) has received the first of six Ex Etihad Airways (EY) Boeing 777. The plane has the registration VT-AER and is currently in Delhi.
The Indian carrier operated flight AI1111 from Singapore (SIN) to Delhi (DEL). The first of its original pic is captured by one of India's leading planespotter Athul Suresh (an_airsideian). Follow him for such stunning and exclusive shots.
Air India Ex-Etihad Boeing 777
Now let us see more about this recently added 777. In April, Aviation A2Z reported that about six Ex-Etihad Boeing 777-300ER to be inducted by Air India.
Air India earlier announced that the induction of six more 777-300ER aircraft to its existing fleet would occur in the first half of 2023. They actually inducted them in the first half but are sent for refurbishment and modification in Singapore.
Air Finance Journal reported that Altavair purchased the six 777-300ERs from Etihad in 2020. Moreover, this transaction was part of a larger agreement involving many Airbus A330-200 and A330-300 aircraft.
Subsequently, They have the aim of augmenting the airline's operations. Furthermore, the six additional aircraft are set to have a four-class configuration. Further, the Ex-Etihad plane was parked at Victorville Airport, USA.
Air India's expansion plans involve returning 28 previously grounded aircraft to service and a confirmed order for new aircraft and engines exceeding $80 billion.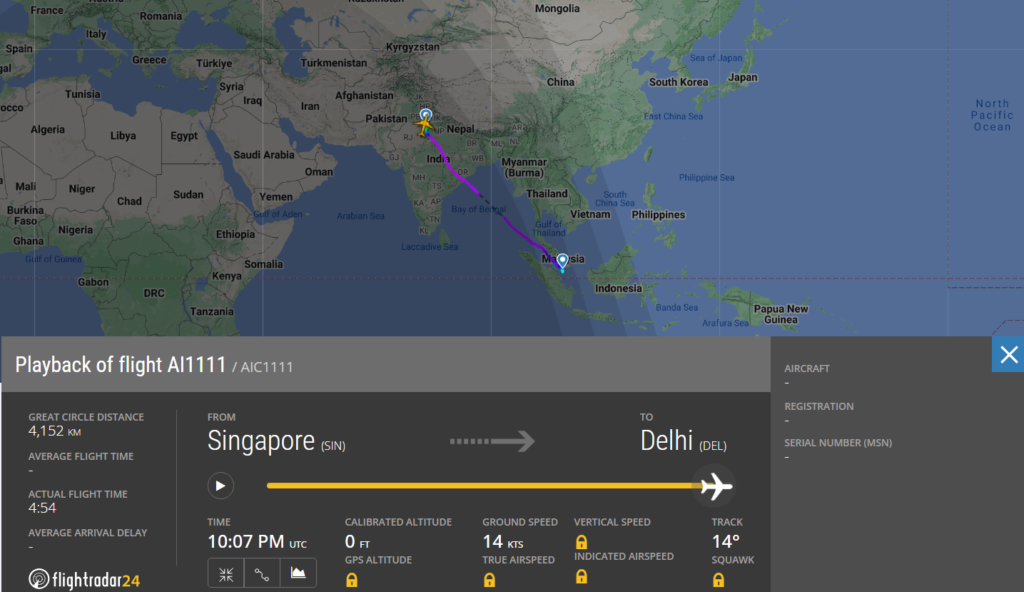 Flight Details
According to Flight Radar 24, the Air India Flight AI1111 took off from Singapore (SIN) at 5:02 PM UTC. After being airborne for almost five hours, the flight landed at Delhi (DEL) at 9:46 PM UTC.
The aircraft has the name KRIYA and is the fourteen of type in AI fleet. Further the airline has total 18 Boeing 777, while they now have 121 aircraft in its fleet.
On June 29, 2023, the Indian civil regulatory authority, Director General of Civil Aviation (DGCA), registered the six Boeing 777s taken on lease by Air India (AI).
Here's the DGCA registration for upcoming Boeing 777s and their Manufacture Serial Number (MSN).
Registrations are :
1) MSN 39686: VT-AEM
2) MSN 39687: VT-AEN
3) MSN 39688: VT-AEO
4) MSN 39869: VT-AEP
5) MSN 39690: VT-AEQ
6) MSN 41701: VT-AER
Air India to Lease Ex Singaporean Boeing 777
Tata-owned Air India (AI) is set to bolster its fleet modernization strategy by leasing three Boeing 777 aircraft from Singapore Airlines.
This move comes in addition to the existing 11 leased 777 aircraft and aims to facilitate the gradual phasing out of the older 777-200 planes that were inducted in 2009.
The latter aircraft have drawn passenger fury over the years due to outdated cabins, including crumbling seats, broken lavatories, and malfunctioning seat-back entertainment screens. Air India has officially announced the sale of these older aircraft to address these concerns.
The three Boeing 777-300 ER planes, which were retired by Singapore Airlines in 2021 as part of post-COVID-19 fleet adjustments, are well-maintained and boast four-class cabins. This includes first class and premium economy sections, reported Economic Times.
Aviation A2Z sources say these planes are parked at Singapore Changi Airport (SIN). Further, they have the registration 9V-SVK, 9V-SVM and 9V-SVN.
An ET source within the industry commented on the decision. He stated, "The 777-200 models are fuel guzzlers, accommodating only 238 passengers. Refurbishing them would be impractical."
Stay tuned with us. Further, follow us on social media for the latest updates.
Also Read: Indian Students Deported Back to Delhi from USA on Delta Flight – Aviation A2Z
Join us on Telegram Group for the Latest Aviation Updates. Subsequently, follow us on Google News.