SCOTLAND- Flag carrier Qatar Airways (QR) flight operated by Airbus A350 from Los Angeles (LAX) to Doha (DOH) made an emergency landing at Edinburg (EDI).
The aircraft is currently in Edinburg, Scotland, and it is rescheduled for a flight from EDI to DOH in a few hours. The reason for diversion is not known at the time of writing, but the most probable reason is due to a medical emergency (Just speculation).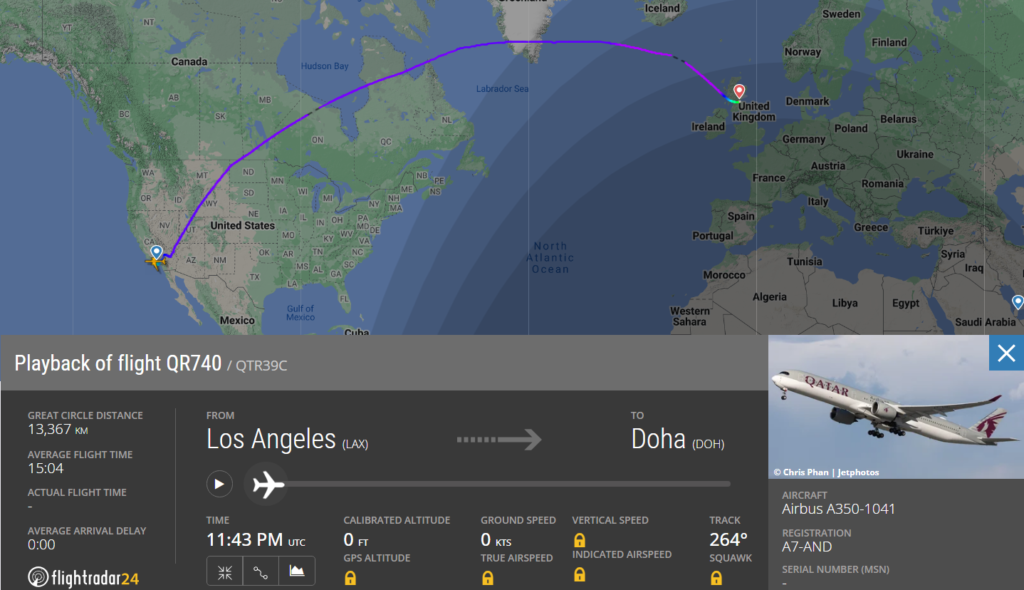 Qatar Airways Emergency Landing
According to flight radar 24, Qatar Airways flight QR740 took off from Los Angeles (LAX) at 12:02 AM UTC. After being airborne for almost eight hours and 35 minutes, the flight declared an emergency.
At the time of declaring an emergency, the aircraft was above the North Atlantic Ocean. After declaring the emergency, the flight continued on its trajectory for 10-12 minutes before descending for an emergency landing at EDI.
The flight landed safely at Edinburg (EDI) at around 9:18 AM UTC, within one hour of declaring an emergency. The flight did not descend quickly and made a smooth and standard landing. So based on this, the flight might have a small technical snag or onboard medical incident.
But we know for sure that the aircraft included in the incident is Airbus A350-1000, registered as A7-AND. Further, the aircraft is just 5 years old; Airbus delivered it to QR in Sep 2018. But it was in storage amid paint issues and entered into service five months back.
This is the developing story, and we will keep you posted.
Diversion Due to Severe Turbulence
On May 11, 2023, due to encountering clear air turbulence, Qatar Airways flight QR960 traveling from Doha to Denpasar was forced to divert to Bangkok.
As a result, some passengers sustained moderate injuries, and a few others sustained minor injuries. After the plane landed safely, medical teams were present to provide assistance to those who were affected.
The airline apologizes for any inconvenience caused and reassures its passengers and crew that safety and security remain top priorities.
The airline issued a statement about the QR960 Incident on its Twitter page.
Upon encountering severe turbulence, the Boeing 777-300 ER operating Qatar Airways flight QR960 from Doha to Denpasar safely landed in Bangkok to provide the affected passengers and crew with necessary medical attention.
Stay tuned with us. Further, follow us on social media for the latest updates.
Also Read: US Airlines, Including American, United, Delta, and Southwest, want you to Dress Properly – Aviation A2Z
Join us on Telegram Group for the Latest Aviation Updates. Subsequently, follow us on Google News.