ITALY- On July 24, 2023 (Today), Atlanta-based Delta Air Lines (DL) flight from Milan (MXP) to New York (JFK) diverted to Rome (FCO) amid hailstorm damage.
The Delta flight DL185 was operated by the Boeing 767. Further, it landed safely in Rome and is preparing to continue its flight to New York JFK. But a few minutes before publishing this post, Delta Canceled the flight.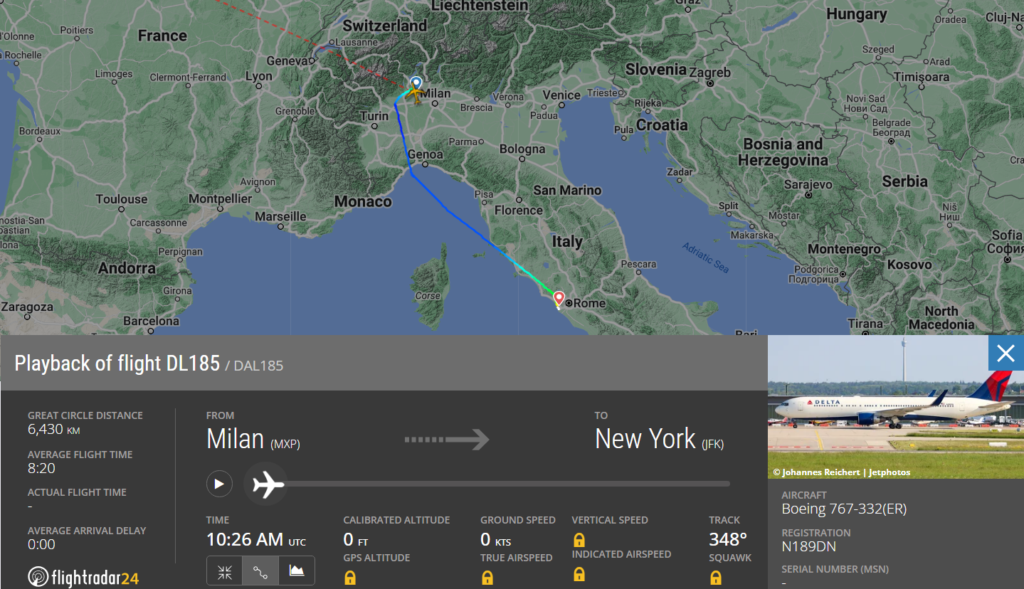 Delta Milan New York Flight Declares Emergency
As per the data from Flight Radar 24, Delta flight DL185 took off from Milan Malpensa Airport (MXP) at 10:51 AM UTC. A couple of minutes later, after takeoff, the flight, instead of heading towards the west, went southward, towards Rome.
If we analyze the data from FR24, the flight speed remained the same shortly after takeoff and, at one point, dropped. This can be possible due to a bird strike or hailstorms.
After being airborne for more than one hour and probably dumping fuel on its way over the Ligurian Sea, it landed safely at Leonardo da Vinci International Airport in Rome (FCO) at 11:56 AM UTC.
The aircraft involved in the incident is Delta Boeing 767-300, registered as N189DN. Further, it is 26.5-year-old aircraft, and DL took it back in 1997.
This is the developing story, and we will keep you posted.
1st Update: According to reports, the Delta 767 was damaged by the hailstorms and received severe damage shortly after takeoff from Milan.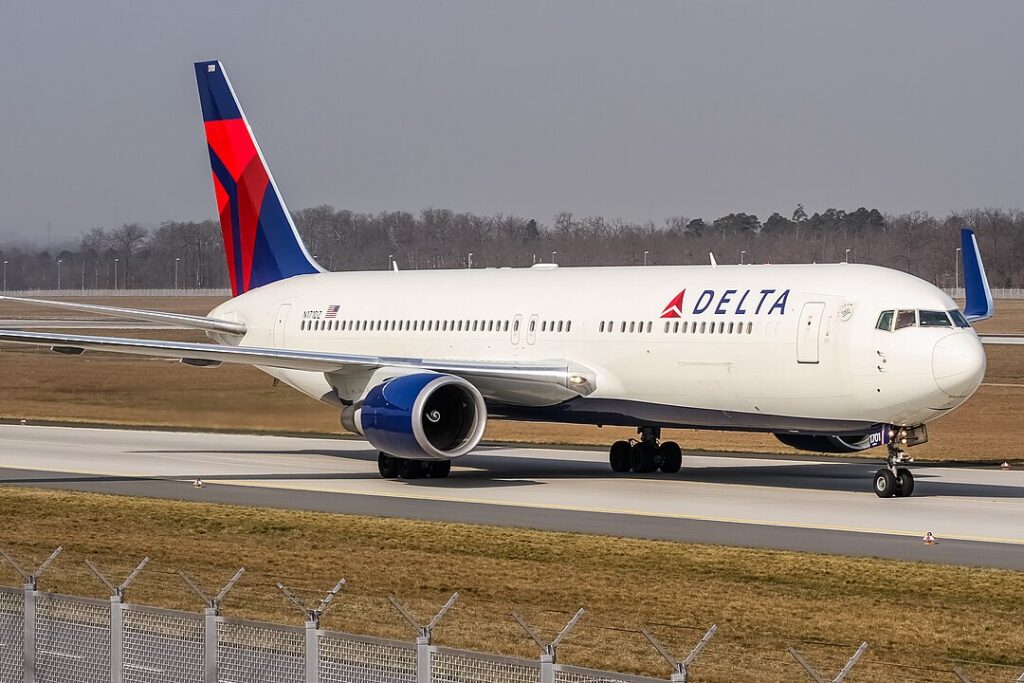 Similar Incidents
This is not the first time that Delta 767 is diverted from its original route. On July 20, Delta Flight DL35 took off from Edinburgh (EDI) at 1:05 PM UTC. After being airborne for almost one hour, the pilot declared an emergency.
On June 21, a Delta flight from New York JFK to Los Angeles diverted in Utah due to technical issues. The flight carried 168 passengers onboard the Boeing 767-300.
There is a rise in incidents by Delta, especially with its old and heavy Boeing 767s. They must take necessary precautions to avoid such incidents in the future.
Stay tuned with us. Further, follow us on social media for the latest updates.
Also Read: US Airlines, Including American, United, Delta, and Southwest, want you to Dress Properly – Aviation A2Z
Join us on Telegram Group for the Latest Aviation Updates. Subsequently, follow us on Google News.