TATA-owned Indian Full Service Carrier Air India (AI) has the largest wide-body fleet in the country; this includes some ultra-long-range planes such as Boeing 777-200LR, it also has Boeing 777-300ERs, and the largest Boeing 787 fleet.
So have you ever wondered where it deploys them, some would say on European routes? But that's just half of the complete truth. So sit back and fasten your seat belt as we uncover all the routes served by the Air India Boeing 787 fleet.
If you are new to our website, then make sure to click on the bell icon to stay updated. Further, we are one of the leading aviation websites with more than a million monthly visitors.
Air India Boeing 787
But before we begin, let's dive a little into Boeing 787 aircraft and how Air India has them. Further, the Boeing 787 Dreamliner is exclusively operated by Tata group-backed airlines in India.
Background
Here's the detail from a 2006 press release by Boeing. The year in which Boeing placed the historic order for 68 jets.
Air India has placed an order for a total of 50 Boeing aircraft, comprising of 23 777s and 27 787-8 Dreamliners. The 777s consist of eight 777-200LR (Longer Range) Worldliners and 15 777-300ERs (Extended Range). Additionally, Air India Express, a wholly-owned subsidiary of Air India, will be acquiring 18 Next-Generation 737-800s.

Boeing Press Release
So these Dreamliners are part of a 2005 order, and delivery for this plane began in Sep 2012. Subsequently, the first Boeing 787 to join the AI fleet is VT-ANH.
The govt owned carrier at that time took back-to-back deliveries of 787s. Sometimes twice in one month. Furthermore, on October 2017, Air India took its last Boeing 787, registered as VT-NAC.
So the 787 Dreamliners' registration starts with VT-ANA to ANZ and two other series, NAA and NAC. Wait, that's 28 Dreamliners; well, it's not; there is one registration missing in the AN series, and if you know, then let us know in the comments on our social media handles.
Air India 787 Routes
The Indian carrier, as of June 2023, operates 24 out of 27 Dreamliners. Two of the three are parked at Mumbai (BOM), probably for maintenance, and one is parked at another airport. As per Flight Aware, VT-ANH, the first 787, made its last flight on Jan 2022.
This parked plane will soon be operational as they are undergoing maintenance and are not grounded. If you want to know how Air India ungrounded all its 787, read here: Air India Required 30 thousand New Parts to Fly its Grounded Boeing 787 – Aviation A2Z.
Nevertheless, let us get into 787 routes served by Air India and how you can enjoy AI service onboard these planes. Further, the airline serves 60 Nonstop International routes, and it flies to around 80 destinations across the globe.
Let us go through all the routes based on the regions. For ease, we have segregated them in Africa, Australia, Europe, Far East Asia, and South East Asia. Yes, these are the continents served by 787; now, let us see the routes.
Further, Air India rotates its 787 fleets based on the availability of aircraft. So it's possible that they will use different aircraft for the same route frequently. Note: All the images are generated using Great Circle Map.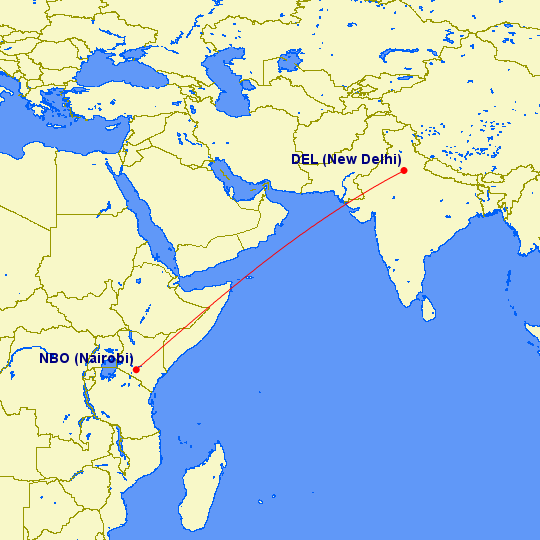 Africa
Air India only serves to a single African city, Nairobi (NBO) in Kenya. The airline operates flight AI961 on the DEL-NBO route three times a week.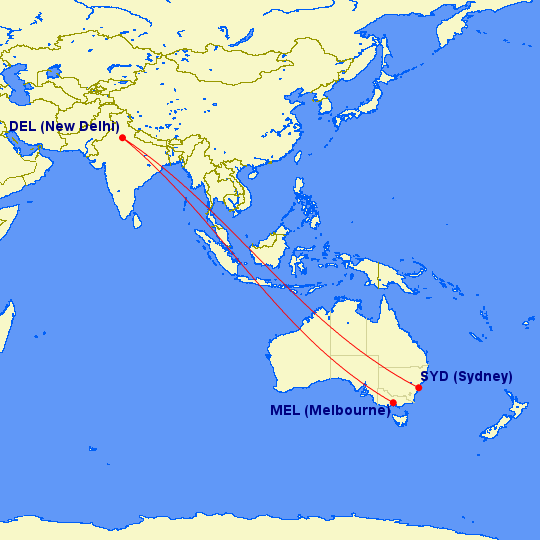 Australia
Air India operates flights to two Australian cities, Sydney (SYD) and Melbourne (MEL), from Delhi (DEL). The airline has daily flights from DEL to MEL and SYD with its 787 Dreamliners.
AI302 operates DEL-SYD, and AI308 operates DEL-MEL flights. Each of these direct flights takes more than 11 hours to reach their destination.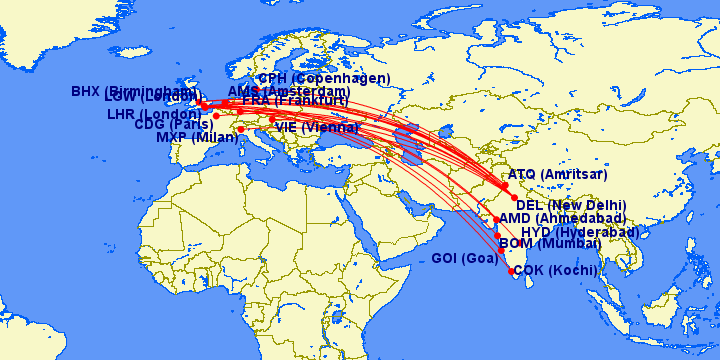 Europe and UK
The European cities are the major routes served by Air India using its 787 fleets. The airline serves eight destinations, the latest one being Amsterdam (AMS).
Air India serves both the London airports, Heathrow (LHR) and Gatwick (LGW). Subsequently, the airline operates three flight routes to LHR and four to LGW.
In terms of LHR, Air India has flights from DEL, BOM, and Hyderabad (HYD). Further, LGW has flights from Amritasr (ATQ), Ahmedabad (AMD), Goa (GOI), and Kochi (COK). The airline has two flight routes from Birmingham (BHX) to ATQ and DEL.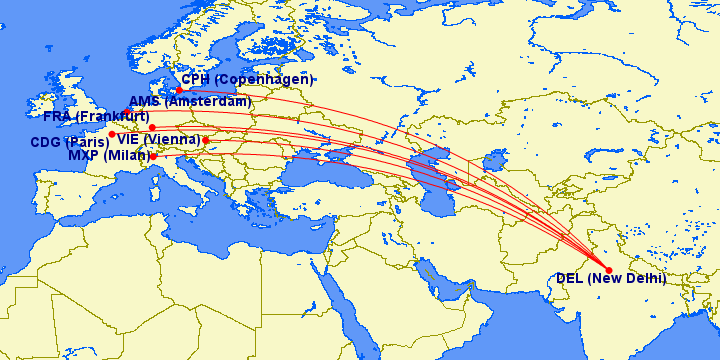 Further, Air India operates daily flights between DEL and Paris (CDG), France. While it operates four times weekly flights from Milan (MXP), Italy, to DEL.
Air India operates two daily flights from DEL to Frankfurt (FRA). One of them is with the help of its star alliance partner, Lufthansa (LH), which deploys its Boeing 747-400 on this route.
Further, the Tata-backed carrier operates 3X weekly flights from DEL to Vienna (VIE). Likewise, it operates 3X weekly flights from DEL to Copenhagen (CPH). Air India recently started operating 4X weekly flights from DEL to Amsterdam (AMS).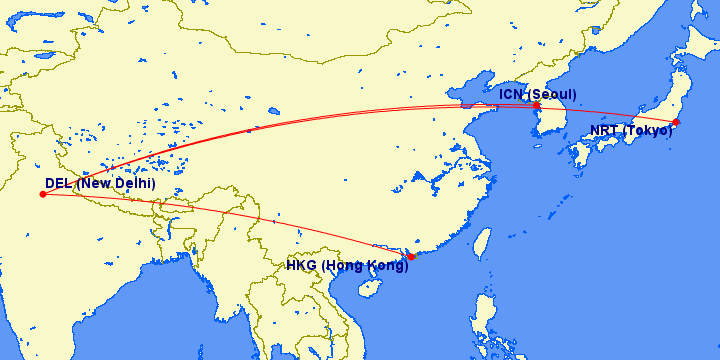 Far East
Air India operates 3X weekly flights from DEL to Hong Kong (HKG). While it operates 4X weekly from DEL to Seoul (ICN) and 3X weekly flights on the same route using codeshare with Asiana Airlines (OZ).
Further, it operates 4X weekly flights between DEL and Narita, Tokyo (NRT).
Middle East
Air India serves various middle eastern cities, but it operates 787 only to Tel Aviv (TLV) five times a week from DEL.
Bottom Line
Finally, these are the latest and live routes served by Air India with its huge fleet of Boeing 787 Dreamliners. The airline, in total, serves around 15 international destinations from Indian cities.
Furthermore, Air India operates hundreds of weekly flights on this route with 787s. Likewise, its sister carrier Vistara (UK) deploys a fleet of four Boeing 787-9 in European cities, including London Heathrow (LHR), Paris (CDG), and Frankfurt (FRA) from DEL and BOM.
If you found this exclusive information helpful, then please share it with your friends and colleagues and let us know which Air India 787 served destination is your favorite in the comments on our social media platforms.
Credits: All Maps are made with GCmap, flight schedules through the official site, and FlightRadar24 and Planespotters.net for fleet information.
Stay tuned with us. Further, follow us on social media for the latest updates.
Also Read: US Airlines, Including American, United, Delta, and Southwest, want you to Dress Properly – Aviation A2Z
Join us on Telegram Group for the Latest Aviation Updates. Subsequently, follow us on Google News.