MUMBAI- Indian full-service carrier Air India (AI) Airline's fleet composition has undergone significant changes in recent years; numerous aircraft, both widebody (Boeing 777, 787) and narrowbody (A320 family), are left idle (Grounded) at airports due to insufficient funds for necessary maintenance and repairs.
However, with the involvement of the Tatas, the funding challenges were addressed. Further enabling the aircraft to be quickly restored to service.
Air India Restored Grounded Boeing 787s
During a recent event, the airline's CEO revealed the substantial funding required to operate the grounded Dreamliners.
During the IATA AGM held in Istanbul, Air India's CEO, Campbell Wilson, addressed the difficulties in reinstating the airline's grounded fleet of Boeing 787 aircraft.
In response to a question regarding the existing supply chain challenges, he emphasized the significant number of spare parts needed to restore the airworthiness of Air India's multiple 787s.
Wilson elaborated on the matter, stating, "Due to financial constraints faced by Air India, we experienced a prolonged grounding of 13 Boeing 787 aircraft. Further resulting in the need for spare parts to maintain the operational fleet."
"To address this challenge, we had to redistribute parts from one aircraft to another to ensure continued operations. The daunting task involved procuring approximately 30,000 spare parts to restore these aircraft successfully. Subsequently, make them airworthy once again," added Mr. Wilson.
Today, the Indian airline has 27 Boeing 787 Dreamliner. Out of 27, 25 are operational, all thanks to Tata management.
New Aircraft Inbound
Tata-owned Air India (AI) fleet will reach nearly 200 aircraft by the end of March 2024, with the induction of approximately 70 new aircraft.
Air India, once a state-owned airline experiencing limited growth in its fleet and workforce, has now returned to the hands of its founder, the Tata Group. Under the new ownership, Air India has embarked on an accelerated trajectory of expansion and development.
Air India has set ambitious expansion plans, aiming to introduce 19 widebody and 50 narrowbody aircraft into its fleet by the following March.
Furthermore, this fleet expansion will enable Air India to enhance its international network. With a particular focus on North America and Europe.
The airline has already ordered 470 aircraft, including 70 widebody planes. Subsequently signalling its commitment to future growth and development.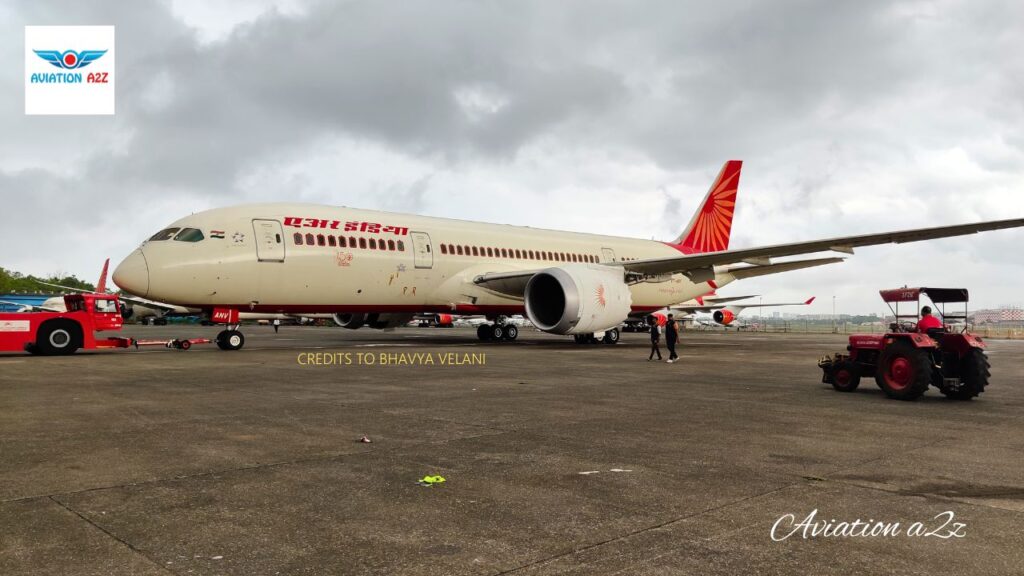 Strengthening MRO Facility
Air India recognizes the importance of having reliable and efficient Maintenance, Repair, and Overhaul (MRO) capabilities. According to Wilson, there is a need for increased in-house capabilities.
While Air India currently relies on Air India Engineering Services Ltd (AIESL) for maintenance requirements, the airline has also developed its engineering capabilities since transitioning to a private entity.
In line with this, Air India has recently agreed to establish a new Engineering Warehouse near Delhi's Indira Gandhi International Airport (DEL).
This facility, spanning over 55,000 square feet, will be operational shortly, further enhancing the airline's MRO capabilities.
Additionally, Air India has expressed interest in acquiring the government-owned AIESL. According to industry sources, AIESL meets many of Air India's engineering requirements. Further incorporating the MRO company into AI's in-house engineering capabilities appears to be a good proposition.
To pursue this goal, the airline may consider forming a consortium with Lufthansa Technik, Air France-KLM's engineering department, and Singapore Airlines, represented by SIA Engineering Company Limited.
This partnership would enable them to bid for the acquisition of AIESL jointly. Further enhancing Air India's engineering capabilities.
Stay tuned with us. Further, follow us on social media for the latest updates.
Also Read: US Airlines, Including American, United, Delta, and Southwest, want you to Dress Properly – Aviation A2Z
Join us on Telegram Group for the Latest Aviation Updates. Subsequently, follow us on Google News.