NEW YORK- The flag carrier of Germany, Lufthansa (LH), has brought back the world's largest passenger jet, Airbus A380, on its daily Munich (MUC) New York (JFK) route.
This is for the first time after the pandemic that Lufthansa A380 landed at JFK. Earlier, the German carrier deployed its A380s on Frankfurt (FRA)- New York (JFK) route.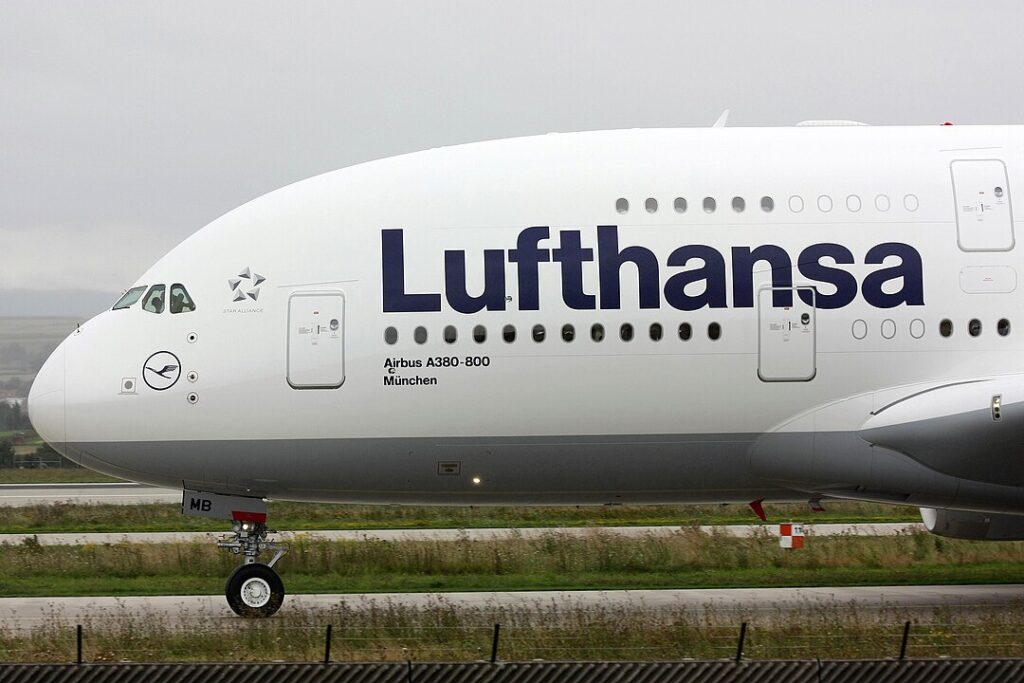 Lufthansa Brings Back A380 to New York
One of the largest airline conglomerates in the world has decided to bring back its A380 amid a strong travel surge. Due to COVID-19 restrictions and fewer travel demands, LH decided to retire its A380s.
However, it changed its decision in Mid 2022 and un-retired its parked A380s to cope with demands. One such route is MUC to JFK; prior to the deployment of the A380, Lufthansa Airbus A340 served it. FYI, Lufthansa is the largest operator of A340s and has 27 of them in its gigantic fleet.
Lufthansa LH410/411 Flight serves MUC and JFK. The carrier deployed A380s on this route on July 4, 2023.
As per the published schedule, flight LH410 takes off from MUC at 12:10 PM local time and lands at JFK at 3:00 PM local time. It takes approx eight hours to cover a distance of 6,498 KM between two cities.
The Airbus A380 provides approximately 80% more seating capacity than Lufthansa's previous aircraft, the Airbus A340-600, used for the Munich-JFK route.
With four cabins, the A380 offers eight seats in first class, 78 seats in business class, 52 in premium economy, and 371 in the economy cabin.
Lufthansa stated that the decision to deploy the A380 on the JFK route was driven by strong passenger demand and delays in aircraft deliveries.
Initially, the airline planned to retire its A380s during the pandemic. However, due to certification delays of the Boeing 777X, Lufthansa Group CEO Carsten Spohr announced last month that they decided to reintroduce the jumbo jet into service.
LH A380 Fleet
According to Planespotters.net, the LH has a fleet of 10 Airbus A380s. Out of 10, two are currently active and operational. These two planes have registration D-AIMK and D-AIMM.
Lufthansa deploys D-AIMK on MUC-JFK daily non-stop route, while D-AIMM on Boston (BOS)- MUC route, which A380 has recently served.
Apart from this, it is anticipated that A380s will serve more high-intensity routes in the coming days amid supply chain issues and delivery delays. Furthermore, travel demands have already overcome pre pandemic mark and are on a steady rise.
Recently many airlines are setting up records for travelling more passengers than ever before. Also, countries are breaking records for the highest air travel traffic. Subsequently, airports are getting more crowded, chaotic and planning expansion.
So we hope that such aircraft can continue serving us for decades.
Stay tuned with us. Further, follow us on social media for the latest updates.
Also Read: US Airlines, Including American, United, Delta, and Southwest, want you to Dress Properly – Aviation A2Z
Join us on Telegram Group for the Latest Aviation Updates. Subsequently, follow us on Google News.