PARIS- In the world of eVTOLs aircraft, numerous projects showcase captivating visualizations and can revolutionize air travel. However, encountering actual working prototypes can prove challenging.
Fortunately, the Paris Air Show, hosted in June 2023 at Paris–Le Bourget Airport, France, presented a remarkable opportunity for industry experts to witness the real deal. This prestigious trade fair and air show witnessed prominent eVTOL developers.
Showcasing either fully operational aircraft or meticulously crafted full-scale mock-ups, complete with detailed cabin interiors. These displays provided a tantalizing glimpse into the future landscape of advanced air mobility.
The German eVTOL – Volocopter
Volocopter GmbH, previously known as E-Volo GmbH, is a German aircraft manufacturer. Headquartered in Bruchsal, near Karlsruhe.
The company has established expertise in crafting electric multirotor helicopters, tailored explicitly as personal air vehicles, with the primary purpose of serving the air taxi industry.
The advanced air mobility startup from Germany undeniably caught attention with its unique and recognizable design, characterized by an upper circular structure housing the propulsion system.
Their remarkable achievement of being the sole eVTOL developer to showcase their aircraft in the flight display at the prestigious Paris Air Show, alongside their exhibition presence, set them apart even further.
The German – Lilium
Lilium GmbH, a German aerospace company, is at the forefront of developing the Lilium Jet. An innovative electric-powered personal air vehicle designed for vertical take-off and landing (VTOL) capabilities.
With its cutting-edge technology, Lilium is paving the way for a new era of sustainable and efficient air travel.
Expliseat supplies the elegant seating arrangements found within the Lilium cabin. Further, a prominent French seat manufacturer is renowned for their groundbreaking lightweight seat designs, which have garnered significant attention in recent news.
The American – Wisk
Wisk Aero, headquartered in Mountain View, California, United States, is an esteemed aerospace manufacturer.
Their expertise lies in the development of self-flying electric vertical take-off and landing (eVTOL) aircraft. Subsequently, engineered for seamless operation as air taxis. Since May 2023, Wisk has been a wholly-owned subsidiary of Boeing.
Wisk actively develops a fully autonomous aircraft. The showcased full-scale mock-up, presented by CEO Brian Yutko, notably lacks a cockpit or control panel.
Such omissions are justified by the autonomous nature of Wisk's aircraft. Further rendering these traditional features unnecessary. While this approach introduces notable complexity, it also holds the potential to eliminate one of the major expenses: the pilot.
The eVTOL – Autoflight
AutoFlight is a global company with an engineering and certification center in Augsburg, Germany, manufacturing and test facilities in Shanghai, China, and commercial operations in California, USA.
During March 2023, AutoFlight achieved a remarkable milestone by setting a new distance record with its "Prosperity" eVTOL, covering an impressive 155 miles (approximately 250km) on a single battery charge.
This accomplishment distinguishes AutoFlight from other eVTOL developers. Moreover, the company's notable global presence further sets it apart in the industry.
The Archer
When it comes to aesthetics, the Archer "Midnight" emerges as one of the most visually striking eVTOL designs in existence.
Archer Aviation designs its visionary eVTOL aircraft to revolutionize urban transportation through its air taxi service. Enabling seamless travel for passengers within and between cities. Boasting an impressive range of up to 100 miles (160 km) and speeds reaching 150 miles per hour (240 km/h).
These innovative vehicles are poised to redefine the future of mobility. Recognizing the potential, United Airlines has become AutoFlight's inaugural major corporate partner, placing an order for one hundred Archer electric aircraft.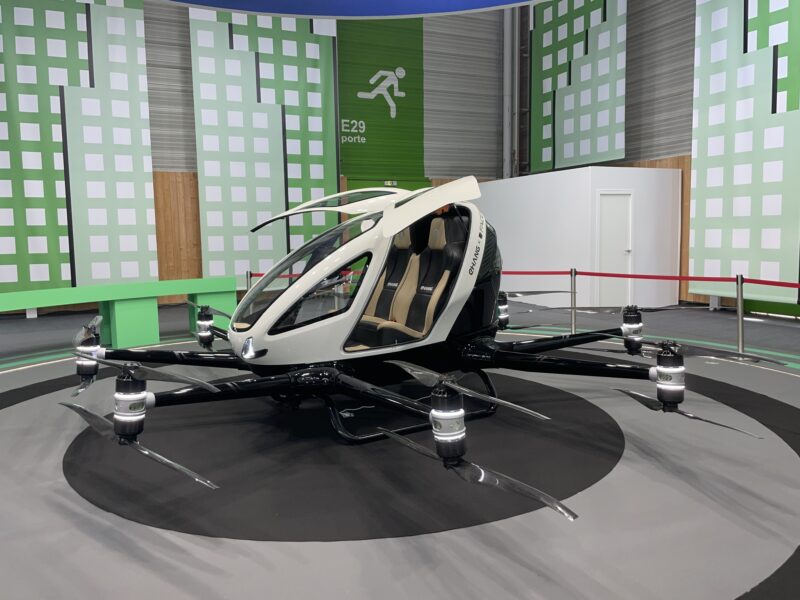 The Chinese eVTOL – EHANG
Guangzhou EHang Intelligent Technology Co. Ltd is headquartered in Guangzhou, China. Further, it is a pioneering company that develops and produces autonomous aerial vehicles (AAVs) and passenger AAVs.
These innovative aircraft have already been deployed in China. Subsequently, serving diverse purposes such as aerial cinematography, photography, emergency response, and survey missions.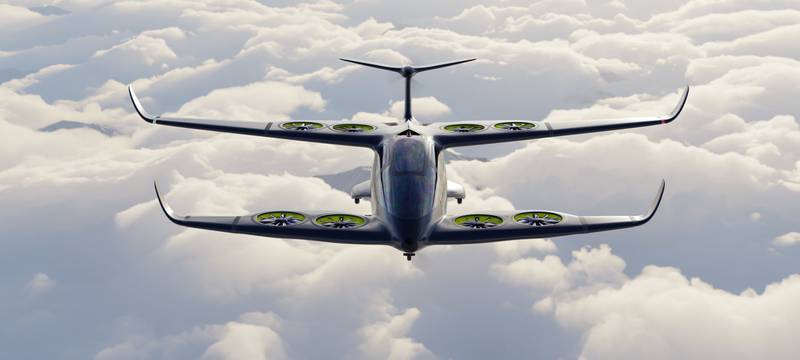 The French – Ascendance
Ascendance, a noteworthy French endeavor, has successfully secured substantial funding amounting to €33 million.
One of the standout characteristics of its eVTOL is the innovative integration of engines within the wings, showcasing a unique design element.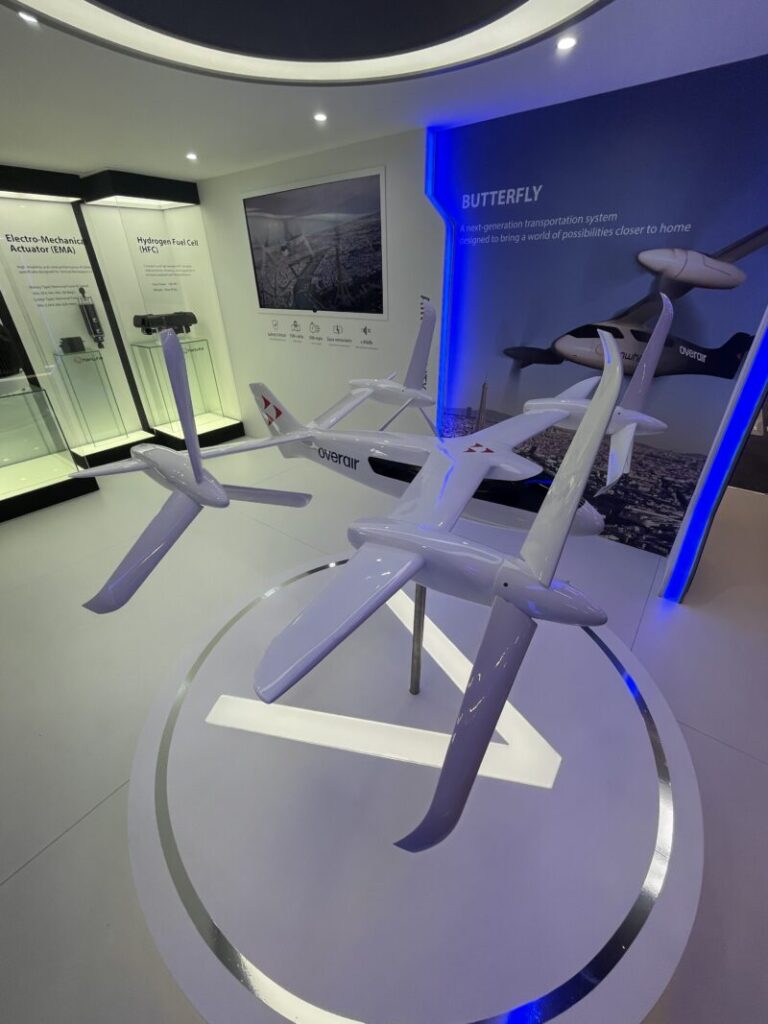 The OverAir
OverAir, headquartered in California, is dedicated to the development of the "Butterfly," an advanced tilt-rotor eVTOL equipped with some of the largest propulsion systems in the industry.
According to Overair, this distinctive feature bestows several aerodynamic benefits. Further, including enhanced thrust generation and heightened reliability under diverse weather conditions.
Drawing upon their extensive background in aerospace technology for the US military, the founders of Overair have channeled their expertise into creating the Butterfly.
It is capable of accommodating five passengers and one pilot. Subsequently, this remarkable aircraft can traverse distances exceeding 100 miles.
Bottom Line
The future of air travel is set to be transformed by the emergence of eVTOLs. Subsequently, these innovative aircraft promise to revolutionize urban mobility, connect cities more efficiently, and provide sustainable transportation solutions.
As technology continues to evolve and regulatory frameworks are established, we can expect to witness the rise of eVTOLs. Further, as a viable and accessible mode of transportation.
Stay tuned with us. Further, follow us on social media for the latest updates.
Also Read: US Airlines, Including American, United, Delta, and Southwest, want you to Dress Properly – Aviation A2Z
Join us on Telegram Group for the Latest Aviation Updates. Subsequently, follow us on Google News.