LAGUARDIA, NEW YORK- Atlanta-based Delta Air Lines (DL)is set to expand its reach from New York's LaGuardia Airport (LGA) with the addition of four transcontinental routes, according to a carrier spokesperson.
Recently, DL has unveiled its plans to launch a new "day" flight from New York John F. Kennedy International Airport (JFK) to Paris Charles de Gaulle Airport (CDG) starting March 31, 2024.
Delta LaGuardia New Destinations
Starting from September 9, Delta will commence the following routes from LaGuardia: LGA to Harry Reid International Airport (LAS), LGA to Los Angeles International Airport (LAX), LGA to Phoenix Sky Harbor International Airport (PHX), and an extension of service from LGA to Salt Lake City International Airport (SLC).
Delta will operate these flights once weekly on Saturdays, in compliance with the airport's "perimeter rule." The rule restricts flights to airports over 1,500 miles away, with limited exceptions.
These transcontinental flights will utilize the Airbus A220 aircraft, with the -100 variant serving Phoenix and Salt Lake City and the -300 variant flying to Las Vegas and Los Angeles.
The airline has made these flights available for purchase as of Sunday, June 25, as per its standard practice for adding flights to its timetables over the weekend.
Furthermore, although already scheduled to begin on July 8, the LaGuardia-to-Salt Lake City route will now be extended through the end of the schedule, running until May 2024.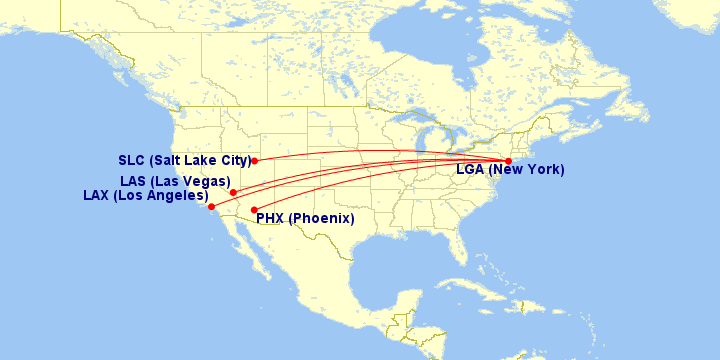 LaGuardia's longest flights
Interestingly, Delta previously attempted flights from LaGuardia to Los Angeles in 2006. But the service was discontinued after only six months.
Yet now, Delta's ambitions for transcontinental routes from LaGuardia have grown, establishing new records for the longest flights from the airport. Subsequently, all four of these routes will top the list of LaGuardia's longest flights.
Aside from the coast-to-coast routes, Delta is also making adjustments to its shorter LaGuardia routes. It will add one daily frequency to Omaha, Nebraska; Grand Rapids, Michigan; and Madison, Wisconsin, effective September 18.
On the same date, the airline will reduce one daily frequency in three markets from New York: Albany, New York; Hartford, Connecticut; and Providence, Rhode Island.
New Routes
Separately, Delta has announced noteworthy updates to its service in Cancun. It will introduce Saturday-only seasonal flights from both Cincinnati/Northern Kentucky International Airport (CVG) and Raleigh-Durham International Airport (RDU) to Cancun International Airport (CUN).
These flights will operate from December 16, 2023, through April 6, 2024.
Most importantly, Delta's flights primarily serve as connections from its hub airports. However, the new services from Cincinnati and Raleigh-Durham will cater more to local passengers seeking winter getaways.
Delta has a significant presence in both cities, with Cincinnati being a former hub for the airline and Raleigh-Durham remaining one of its focus cities post-pandemic, along with Austin.
In fact, starting from September 11, Delta will reintroduce daily service between Cincinnati and Raleigh-Durham. It is a route that has been suspended since the onset of the pandemic.
But perhaps most interestingly, Delta's expansion from Cincinnati to Cancun coincides with American Airlines (AA)' recent announcement of the same route, commencing on December 9.
A potential turf war between the two carriers seems to be brewing in the Cincinnati to Cancun market.
Stay tuned with us. Further, follow us on social media for the latest updates.
Also Read: US Airlines, Including American, United, Delta, and Southwest, want you to Dress Properly – Aviation A2Z
Join us on Telegram Group for the Latest Aviation Updates. Subsequently, follow us on Google News.