A Korean Air Airbus A330-300 attempted to land at Mactan-Cebu International Airport (CEB) in the Philippines but overran the runway.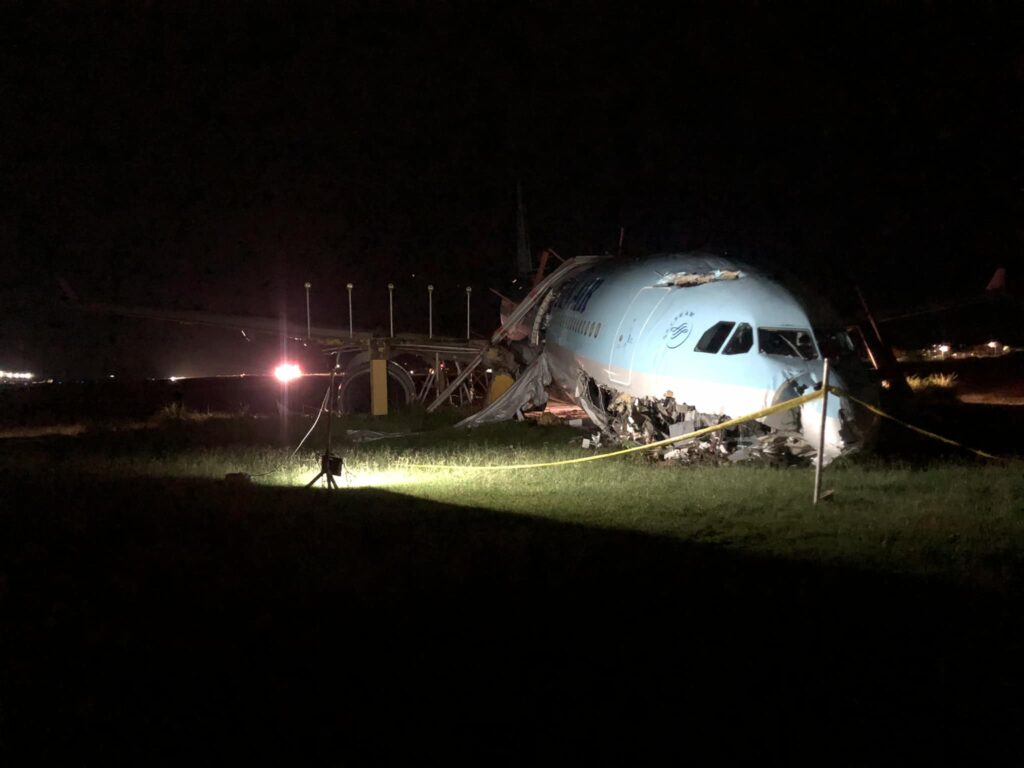 The incident, according to the carrier's statement, took place during bad weather. There had previously been two landing attempts by the Airbus A330-300. No one was wounded.
Incheon International Airport (ICN) in Seoul was the departure point for flight KE631, a 24-year-old A330-300 with the registration number HL7525 that arrived at CEB. The 1,876-mile journey from South Korea to the Philippines came to a stop at 4:35 p.m. Cebu, the oldest city and the first capital of the Philippines, is referred to as "the Queen City of the South."
The aeroplane appears to have severe damage, including what appear to be big rips, according to images. It seems like the front nose gear collapsed based on the angle at which the plane came to a stop.
"Flight #KE631 departing from Incheon International Airport on 10/24 heading to Cebu Airport in the Philippines experienced an accident that diverted the runway due to severe weather during landing at Cebu Airport"

Tweeted Korean Air, adding that the situation was under investigation.
"There were no casualties and all passengers successfully departed the aeroplane," the airline would later tweet.
Korean Air Flight KE631
The first three hours and thirty minutes of the trip went as planned, with the plane flying over the East China Sea and the Philippine Sea to the south before starting its descent toward Cebu.
On Sunday evening, Cebu saw unfavourable weather due to a lot of rain and poor visibility. Less than 15 minutes apart, the A330 made two attempts to land, but the pilots elected to go around each time because they couldn't do it safely.
The jet at this time entered a holding pattern due to the bad weather until the pilots attempted a third landing about 40 minutes after the first attempt.
When the plane finally touched down, it left the runway and continued further before coming to a stop.
Emergency personnel hurried to help individuals on board the A330 as the passengers were evacuated via emergency slides. The type was shipped brand-new from the Airbus Toulouse plant to KE in June 1998.
Additional remarks from Korean Air
Keehong Woo, the airline's president, wrote a note about the incident and placed it on the website. 'I would want to offer my deepest thoughts regarding the Korean Air Flight KE631 incident at Mactan-Cebu International Airport on October 23, 2022.'
To identify the cause(s) of this accident, a thorough investigation will be carried out in collaboration with the local aviation authority and Korean authorities.
"We always put safety first in all we do, and we sincerely apologise for the anxiety and inconvenience this has caused for our passengers."
"We are still devoted to keeping our word on safe operations, and we will make every effort to put in place safeguards to avoid a repeat. Our main objective is for our esteemed customers to have faith in Korean Air to treat them well and to give us the chance to welcome them again."
Also read:
Boeing And Airbus May Face Competition From Chinese-made Narrow-body Aircraft | Exclusive
Gold`s Gym Owner Rainer Schaller Dies In Costa Rica Plane Crash | Exclusive
Follow us on Google News for latest Aviation Updates
Join us on telegram group
Stay tuned…