NEW DELHI, Indigo airline's flight from Delhi Airport to Kolkata received a false cargo smoke warning. The pilot followed standard operating procedures (SOP) for Prioritise landing at Kolkata Airport.
Indigo Pilots called "May-Day" after getting a smoke warning in cargo. May-Day is a distress call used by the flight crew to signal an emergency of any kind which affects the aircraft and its occupants.
The plane Involved in the Incident is Airbus A320-271 Neo with registration VT-IJA.
IndiGo Airlines Delhi Kolkata Flight Update
According to flight radar 24, The flight is scheduled for 8:40 Am but took off with 15 minutes delay at 8:54 Am and landed at Kolkata airport at 10:43 Am, 2 mins earlier than the scheduled arrival.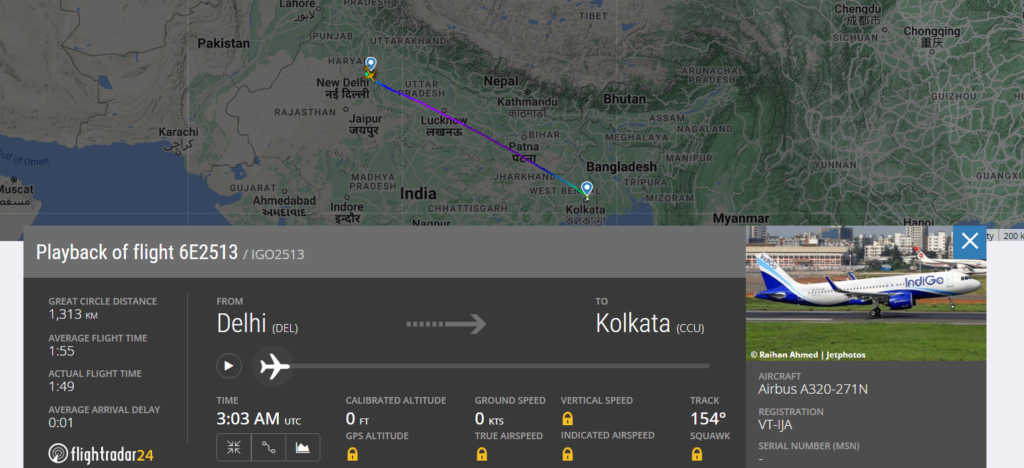 According to IndiGo airlines Spokesperson,
"All the Necessary Standard Operating Procedures (SOPs) were followed by the Flight Crew prior Landing at Kolkata Airport."

"The passengers are safe and post arrivals checks are done, They found that warning they received is false and rectification is done on the detection system."

Indigo Statement on the Incident
The Kolkata Airport ATC tower alerted the Airport Firefighters to ensure Fire control post landing of the 6E 2513 flight.
This is not the first time that such a false warning has come into the cockpit. Recently, the Go First Bengaluru to Male bound flight made an emergency landing at Coimbatore due to a false alarm.
The plane involved in the Go First incident was the same as Today's one, Airbus A320 Neo.
This is the developing story and will keep you posted !!
Also Read, Exclusive: IndiGo Airlines cancelled its flights to and from the Ranchi Airport due to bad weather and this happened next – Aviation A2Z
Check out, https://aviationa2z.com/index.php/2022/08/22/trujet-story-airline-on-verge-of-shutdown-only-the-miracle-can-save-it-exclusive/
Stay connected with Aviation a2z!