Today we will cover an Exclusive story on India's regional airline-Trujet, which is on Verge of a shutdown. But before we get into it, let's look into Trujet airline fleets, routes and operations.
Introduction of Trujet Airline
Trujet Airlines is owned by Turbo Airways Pvt Ltd company based in Hyderabad. It was incorporated on 14th Mar 2013 with backing from Ram charan, Vankayalapati Umesh and 20 other Investors.
The airline commenced its operations on 12th July 2015 with its first flight from Hyderabad Airport to Tirupati. It operates a fleet of ATR-72 Aircraft and is used to connect around 25 destinations.
The Airline is the biggest beneficiary of the UDAN scheme and RCS routes.
Trujet Story– Airline On Verge of Shutdown
The Indian Regional Airline-Trujet is on verge of collapse and in the current situation, it seems like only Miracle can save it.
Trujet on Highrise
Trujet airline which was earlier owned by promoters sold it to Hyderabad-based Megha Engineering and Infrastructures Limited (MEIL) and hence the name of the parent company became Turbo Megha Airways Private Limited to raise funds for operations.
Regional airlines saw a major decline in Passenger Load Factors (PLF) due to cut-throat competition from rising LCCs. According to DGCA data, from April to September 2018 the Regional airlines achieved around 18-52% PLF which is way lesser than National airlines.
This was the starting point for the decline of Regional carriers in India. But despite this Trujet Performance was decent with 75 to 83% of PLFs. They were planning to add more aircraft to its Fleet.
Overall it was a difficult time for Indian Aviation Industry and many airlines reported Financial losses due to High competition, rising fuel prices and Inflation.
Covid Crashed the plan of Trujet
The airline was in expansion face but unexpectedly covid hit the world and everything fall apart for them. Multiple Industries faced issues, the Travel industry was the first to get pierced due to lockdowns, Domestic and International Travel Restrictions.
During that time, Parent Company Megha Engineering and Infrastructures Limited (MEIL) were handling lots of Government projects including the construction of Water Dams, power plants, Irrigational structures, etc.
But due to Covid restrictions, MEIL was unable to get funds from the government and they were stuck in bizarre situations. Due to this, their expenses were raised and they didn't put any money into the Trujet. They decided to wait for covid 19 to leave the industry. They will induct funds once they will restart again.
During this time there were scheduled engine changes and financial stress from lessors for payment. Trujet couldn't bear the load and it was fallen apart.
Aircraft Fleet from Seven to Zero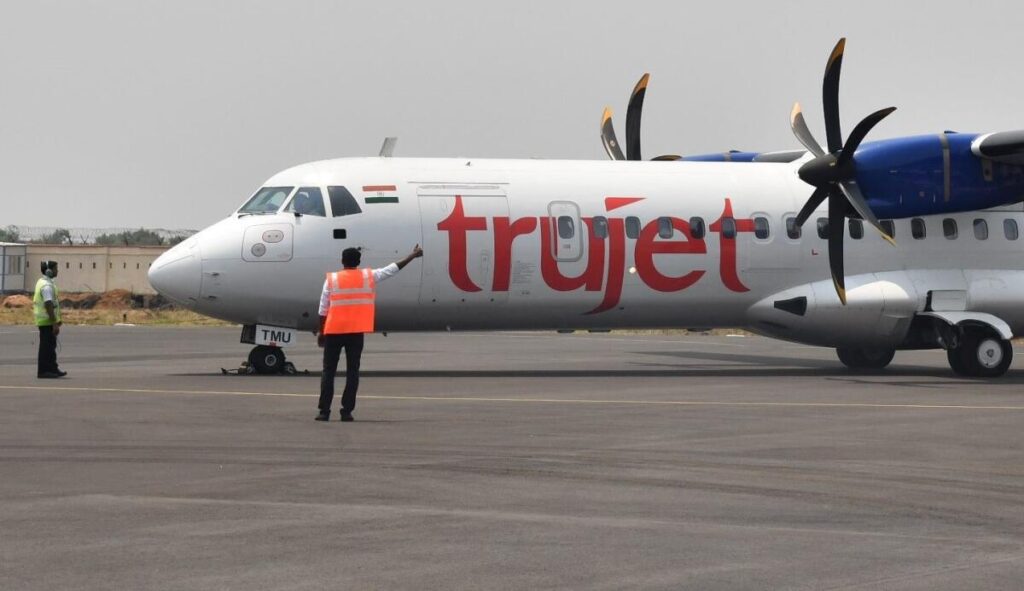 The aircraft is key to airlines operations but think if it's taken back or written off then what will be the situation? The same happened to Trujet, from a fleet of Seven aircraft in 2020 it now has zero as of April 2022.
The First Aircraft (VT-TMM) they lost in 2020 due to an accident and the aircraft was written off as it was beyond economical repair.
One aircraft (VT-TMC) was taken back and given on lease to Fly Big Airlines in July 2020 and another aircraft (VT-TMT) in Jun 2021.
Another Three aircraft (VT-TMK, TMP, TMU) were taken back by lessors (Elix Aviation Capital) due to the non-availability of payment in Apr 2022.
The last aircraft (VT-TMN) was also taken back through IDERA by Aergo Capital in April 2022.
This is how Trujet airline lost its fully operational fleet of Seven aircraft and is on verge of a Complete shutdown.
Issues among Airlines Investors
The airline was started by Vankayalapati Umesh, also the owner of Turbo Aviation in 2015. He then collaborated with MEIL to induct funds and formed a JV Turbo Megha Airways in 2017.
But the JV told Mr Umesh to leave the group and the parent company led by MEIL was looking into the operations since 2017. The rivalry between investors created a rift among other investors and the airline faced financial issues.
In July 2021, Laxmi Prasad the founder of US-Based Interups company was ready to induct funds into the airline. with this Deal, the operations of Trujet airline were shifted to HITEC City Madhapur, Hyderabad.
But things didn't work as planned and the MEIL group started for another investor to hand over the airline and get their hands off it.
Again Umesh, the founder came into Picture and told MEIL group that he will find new investors. MEIL group handed over the operations to him.
The talks with Investors are not working out and they are desperately looking for Promoters to buy stakes and save the airline from collapse.
Employees are in Trouble
The employees are paid half salaries on a rotational basis since June 2021. The airline used to have 800 Employees but that number has come down to 150-200 only. Almost 1/4 of employees left the company due to unstable future and salary issues.
Since Feb 2022 the employees have not received their salary and they are waiting for the company to recover from the crisis and also alternatively looking for a Job but due to fewer opportunities in the Indian aviation Industry, they don't have any other options than to stay with grounded airline.
Former Employee told us when asked about Comeback,
"Only Miracle can Make it possible for Trujet airlines to touch the Sky again."

He further said, "I hope Trujet airline don't shutdown and stand back to its feet."

Former Trujet Employee Statement
The Biggest Assets of Trujet Airlines
The airline has the biggest asset left is its Regional Connectivity Scheme (RCS) Routes. So far the government has not allocated these routes to any other airlines.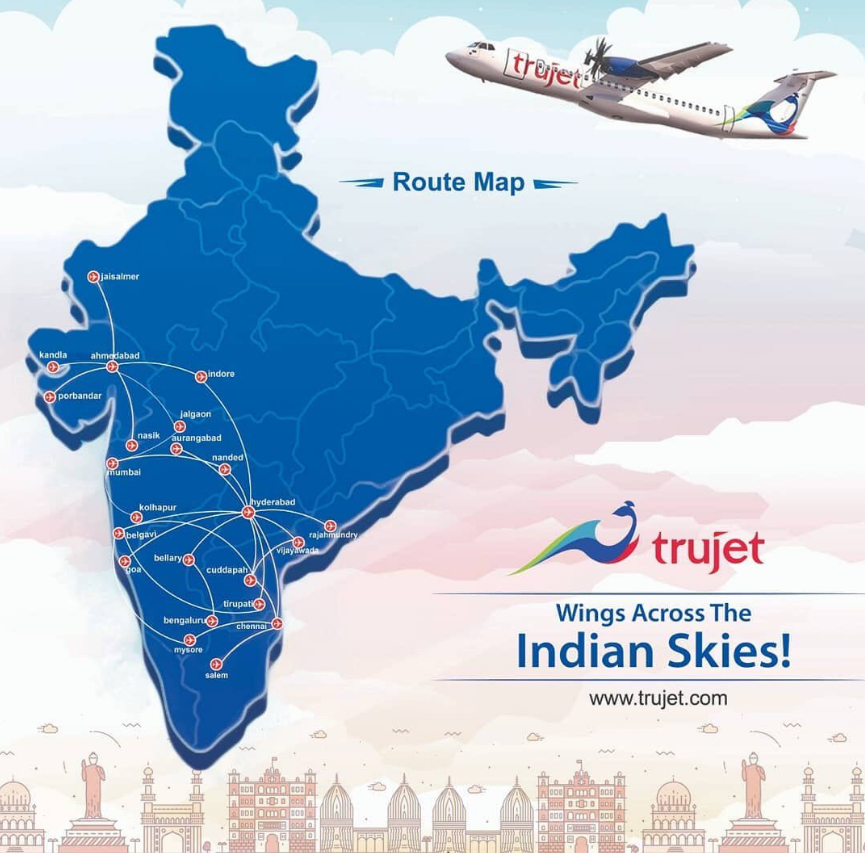 They have 3 Hub bases, Hyderabad being their Main and Ahmedabad & Chennai being secondary hubs. These gave airlines lots of flexibility to operate in Western and southern parts of the country.
The Airline also have a security deposit that they gave to aircraft lessors, Costly spares for maintenance in Inventory, And a reputation in the Travel Industry as their Key Assets along with RCS Routes.
Air Operator Permit (AOP) is On Hold
Indian Regulatory body, DGCA has kept the AOP of Trujet on hold due to the suspension of its operations. The airline is in talks with DGCA to not cancel their AOP. They are Sending DGCA their Progress Report.
Earlier the airline used to have a regional permit but with experience, they got a National permit. They can now operate in any part of the country. This Permit is their lifeline and if cancelled then it will shut them down completely.
Some Hope for Trujet Airline from WinAir
Earlier Flydubai showed interest to buy a stake in the Airline due to its RCS routes. The Routes connect tier 1 cities with Tier 2 and 3 cities. These can act as a feeder for them. But the deal didn't conclude as planned.
In May 2022, Nagpur-Based Samuel Timothy who is the Chairman and MD of WinAir is looking to Purchase a 79% stake worth 200 crores INR in Trujet Airlines.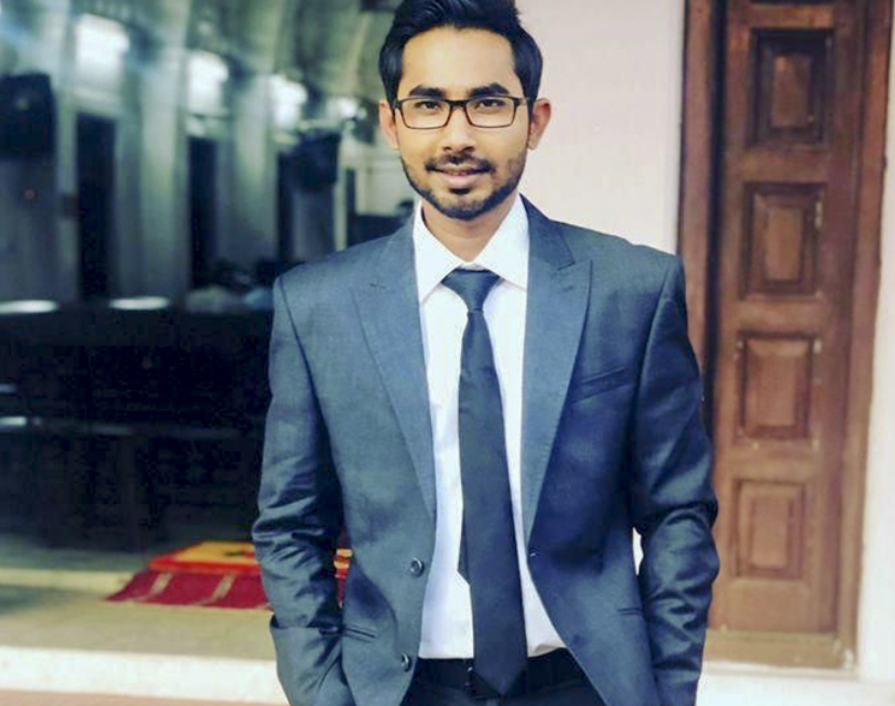 The Vankayalapati Umesh has signed the term sheet with Samuel. They might restart the operations with New Business Plan.
Summarzing the Story of Trujet Airline
The Airline which started as a new hope for regional cities was growing under UDAN RCS Scheme halted due to covid and lessors trouble. They were unable to find new investors. But WinAir showed some ray of hope to the sinking ship, they might restart but it will be a blessing for Trujet Airlines.
Trujet Airlines is the first Indian airline to suspend its operation after covid-19. The future seems to fade and only a miracle can save it from here.
The airline has temporarily suspended its operations since Feb 2022 due to a grounded fleet and poor finances.
We hope that the Trujet makes a strong Comeback to Indian Skies. We also wish that it creates more employment in India.
All the information presented here is verified by its former and Current employees. They put a light on various issues Trujet is going through. So we are very much thankful for their contribution.
Aviation A2Z will keep you posted about Trujet Airlines-related updates, so make sure you click on the Bell icon.
Also Read, Akasa Air Technician First Impressions, "Akasa has a friendly culture", also said More jobs soon| Exclusive Interview – Aviation A2Z
Check Out, Indigo airline's New Maintenance facility in Bangalore is near Completion | Exclusive – Aviation A2Z
Join Our Telegram Group for Latest Aviation Updates:-https://t.me/aviationa2z
Stay connected with Aviation A2Z !!!