India's largest and Biggest airline, IndiGo is Hiring 120+ Posts for various Departments.
The Airline has been growing rapidly and to cope with it they hire frequently. But recently they have had various openings for multiple Positions.
The Official site of Indigo is Goindigo Param App and you can frequently Visit it to check various Jobs.
For the latest Aviation and Aerospace related Jobs please Visit Our Job portal:- Jobs | Aviation A2Z – Get Latest Aviation Jobs Updates
IndiGo Airlines Hiring Actively
The airline has Various Departments and most commonly they recruit for Airport operations-related Positions.
 1) Airport Operations & Customer Services
IndiGo has around 25+ Job Positions, a Few to name are
Officer – Customer Service/ Ramp/ Security
Executive Ramp ( LO/ L&T)
Security – Screener
Officer/ Executive – Customer Service/ Ramp/ Security
2) Engineering (IndiGo is Hiring for Maintenance level Positions)
For the Engineering department, there are around 25 positions, Some of them are,
Assistant Technical Officer
Assistant Manager
Junior Technical officer
Manager Level position
Technical Officer
3)  Commercial
This department has a Few jobs but they are worth applying for, some of them are Executive and Manager Level Positions.
4) Inflight Services ( Indigo airlines is Hiring for Cabin crew level positions)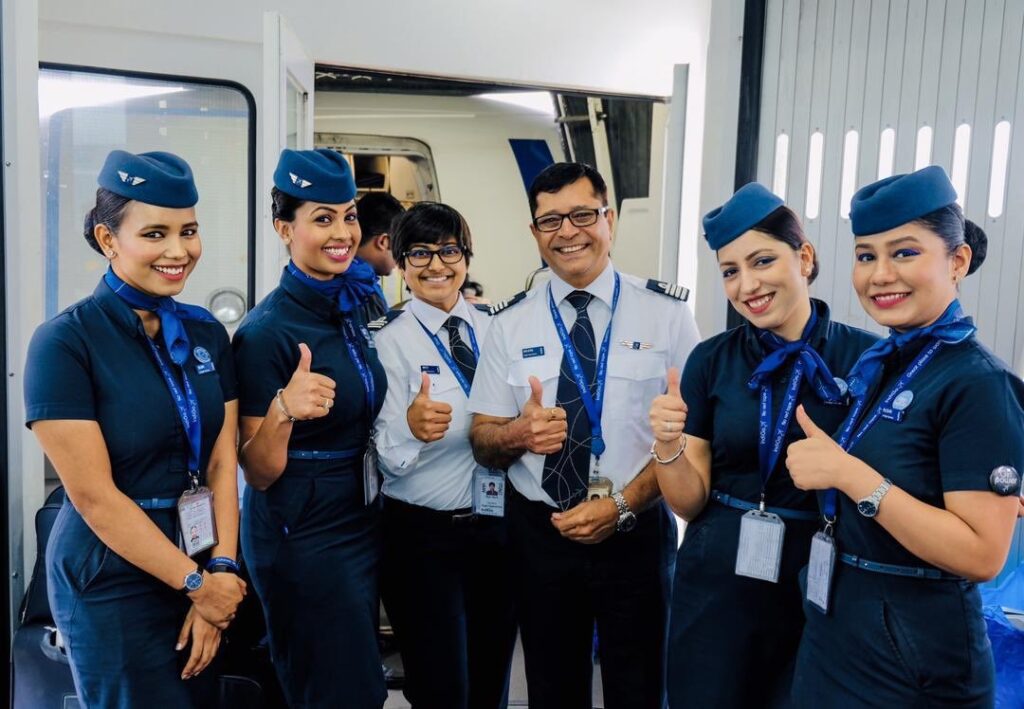 The Inflight Service is one of the most Popular Jobs in the Aviation and Airline Industry. They have various jobs and a few to name are,
Lead Cabin Attendant
Cabin Crew Airbus 
Executive Crew Planning
5) Flight Safety
Another Important Department is Flight Safety and it is crucial for any Airlines, They have around 7 Vacancies and some are,
Executive Flight Safety
Consultant
executive paramedic nurse
The more Department which is mostly related to standard corporate functions are as follows:-
6) Human Resources
The Human Resource or HR has mainly Assistant manager level positions or Manager Level Positions.
7) Finance
The airline is Hiring for Various Executive level positions, They have 3 current openings.
8) Digital technology of Indigo airlines
Indigo airlines Creative and Bright department known as Digital one, They have around 5 positions few to name are,
They have been looking for Manager and sr project manager level positions.
9)  Flight Operations (Indigo is Hiring Pilots and Flight Crew)
One of the most followed and Passionate departments commonly called the Flight Crew department has around 10 vacancies, Few to name are,
Executive – Pilot Training
Assistant Manager
Officer – EFB & Technical Publications
10) Operation Control Center
The OCC department has various openings, there are around 15 Postings on their website and a few to name are,
Assistant Manager
Senior Executive and Executive Level Positions
Flight Dispatcher
Senior Executive Flight Dispatch
11)  Information Technology
The IT Department is Crucial and most Important for Any company in the modern world. The airline has around 4 positions and a few to name are,
They have been actively recruiting for Manager-IT and Senior Manager IT security position
12)  ifly Department (Indigo airlines is Hiring Instructors for its Academy)
The Ifly is a training Academy of Indigo airlines and they have around 5 positions and a few to name are,
Assistant Manager
Consultant-level jobs for various Positions
Executive Level Jobs
13) Sales
The most crucial and revenue-generating department for airlines is also hiring for around 5+ Positions, few to name are as follows,
Executive – Corporate Sales
Senior Executive – Sales
Senior Sales Executive and Managers
That's all the vacancies Live on the Indigo career website and you can visit it from here:- Jobs at IndiGo (param.ai)
The Airline is one of the very few airlines that hire aviation professionals through its Official website. We hope they also pay them well and provide the great working environment that they deserve.
Recently Indigo Completed 16 years of successfully flying in Indian Skies, They have posted multiple flight offers and celebrated it with its staff at various bases.
The airline also announced the three ramp disembarkation points for passengers.
India's Largest Airline IndiGo is all set to get the second largest Maintenance Facility at Bangalore airport (BIAL).
We will keep you posted about all the IndiGo Airlines-related updates, make sure you click on the notification bell.
Also, Check out, India at 75:- 75 Key Events in Civil aviation of India | Exclusive – Aviation A2Z
Also Read, IndiGo flight delayed, due to "strange" text message received on a passenger's phone | EXCLUSIVE – Aviation A2Z
Join Our Telegram Group for Latest Aviation Updates:-https://t.me/aviationa2z
Stay connected with Aviation a2z!