In a first, IndiGo introduced three ramp disembarkation to cut down on customer wait times when they arrive at the airport.
Customers should be able to leave the airplane more quickly than ever before thanks to IndiGo to this new function. There will be two forward exit ramps and one rear exit ramp used for the new disembarkation procedure.
Three airports will initially be the only ones with three-point disembarkation facilities.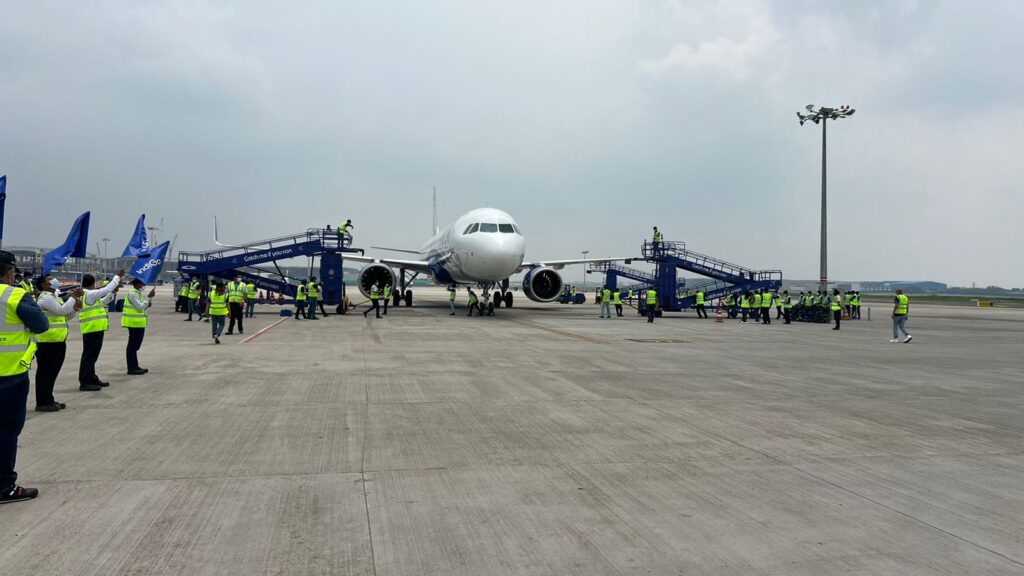 Disembarkation procedures will be gradually adopted throughout the network. According to an IndiGo statement, starting with flights arriving at distant stands at Delhi, Mumbai, and Bengaluru airports.
IndiGo Turns Sweet 16
On its 16th anniversary, IndiGo will help establish new benchmarks in passenger experience thanks to this innovative disembarkation procedure.
Ronojoy Dutta, CEO and Whole-Time Director of IndiGo, noted the airline's 16th anniversary by saying, "It brings us enormous pride to be the first airline in the world to adopt a three-point system."
"At IndiGo, we continuously and proactively maintain reinventing our internal standards to enable a hassle-free client experience and to contribute to operational efficiencies for all stakeholders, including airport operators and ground handling businesses"

the company says
The A320 and A321 fleet of IndiGo, which currently consists of 181 Airbus A-320 and 65 Airbus A-321 aircraft, will be subject to the disembarkation procedure.
We have always sought out fresher approaches to improve client satisfaction and streamline both on- and off-airport operations. For our clients' seamless travel experience, adding a third ramp for disembarkation is a straightforward yet efficient solution, according to Sanjeev Ramdas, Executive Vice President of IndiGo.
Coming to the carrier's first-quarter earnings, it reported a 327 percent growth in consolidated revenue at Rs 12,855 crore, data showed.
As of June 2022, IndiGo had a market share of 56.9%, making it the largest airline serving passengers in India. It started out as a carrier with one plane in August 2006 and has since expanded to have a fleet of 279 aircraft. With 74 domestic and 25 international destinations, it has a total of 97 destinations.
Earlier, IndiGo also celebrated its 16th anniversary with a sale offer available on all domestic routes. The offer which opened today August 3 will close on 5 August with rates starting from ₹1,616. Travel between August 18, 2022, and July 16, 2023, is permitted under the program.
Also read:
IndiaOne Air conducts First Test Flight from Bhubaneswar Airport | Exclusive
Tata Technologies to begin work on modernizing Air India operations soon
Join our telegram group for the latest Aviation Updates:-
Stay tuned…