The first prototype of the TEJAS MK-1A, which is actually the intended mass-production version of the TEJAS and the base for all others, has made its first flight in secrecy, according to Indian authorities.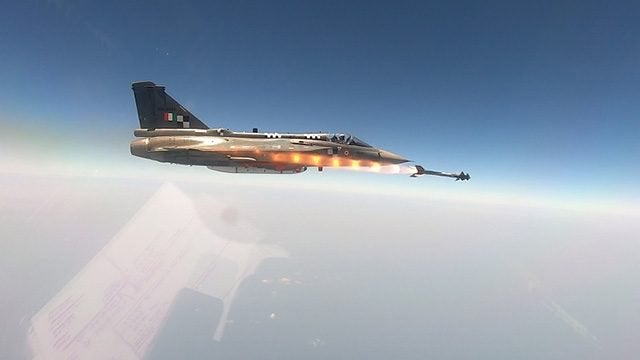 An international online defence portal cites the Indian Ministry of Defence as saying that Hindustan Aeronautics Limited [HAL] carried out the test flight close to their production site.
The aircraft with serial production number SP-25 was first improved by HAL to MK-1A level, which was on par with TEJAS MK-1. Over the course of the next 30 months, the SP-25 will go through certification tests while serving as a test platform for the complete MK-1A version production line.
Deliveries of the TEJAS MK-1A will start in March 2024 after tests are finished. The 83 aircraft that the Indian Air Force has ordered are expected to arrive in 2029.
The most advanced iteration of TEJAS MK-1, which achieved full operational capability [FOC] in 2020, is TEJAS MK-1A. The MK-1A is outfitted with an external muting unit, a self-defense system, a radar receiver warning, an Israeli Elta EL/M-2052 AESA radar, or an Indian Uttam AESA radar. Comparatively speaking, the MK-1A will weigh less than the MK-1. The employment of the Indian-manufactured Astra 1 and Astra-2 Beyond Visual Range Air-Air Missiles [AAM] in the MK-1A is one of the most significant alterations made in comparison to the MK-1. Only MK-1 FOCs can currently launch Derby Oversight Air-Air Missiles.
India spent $4,5 billion on single-engine TEJAS fighter jet purchases.
India makes significant efforts to export TEJAS aircraft. Egypt is anticipated to be India's biggest export client. Indian sources claim that India has proposed to Egypt the establishment of a plant in Egypt for the mass manufacturing of TEJAS MK-1A aircraft, as well as Dhruv and LCH helicopters.
The Egyptian government is expected to soon visit HAL's facilities in accordance with this offer. At the Dubai Air Show in 2021, the Egyptian government made plans to purchase 70 TEJAS MK-1A aircraft.
In the Malaysian LIFT/LCA tender, the TEJAS is in in direct competition with the TAI-developed HURJET [Turkey]. India, which is providing Malaysia with TEJAS MK-1A aircraft, only permits Malaysia to get "depot-level assistance." Malaysia, however, requests that the 18 light attack aircraft to be manufactured with at least 30% Malaysian parts.
Also read:
Spicexpress to separate from Spicejet by first week of August
Join our telegram group for latest Updates:-
Stay tuned…