ROME- ITA Airways (AZ) debuted its Airbus A321neo into scheduled operations last week, which is two weeks ahead of the initially scheduled timeframe.
The A321neo aircraft, belonging to the SkyTeam member, commenced service on the route between Rome Fiumicino (FCO) and London Heathrow (LHR) on November 16, 2023. The current schedule extends until January 4, 2024.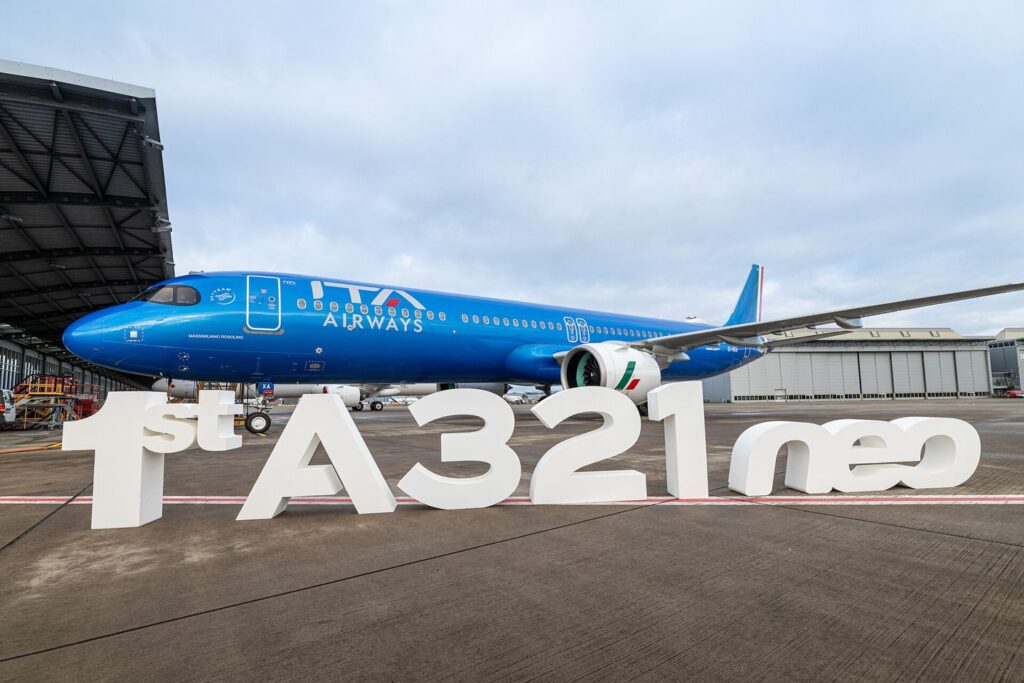 ITA Airways Debuts A321neo
The A321neo operates on a daily basis, with the exception of specific dates. The following schedule is applicable from December 17, 2023, to December 23, 2023, as reported by Aeroroutes.
Departure (AZ204):
FCO (Rome Fiumicino) to LHR (London Heathrow)
13:50 – 15:45 (32Q) on Saturdays
14:00 – 15:55 (32Q) on Wednesdays
14:05 – 16:00 (32Q) on Thursdays
14:10 – 16:05 (32Q) on Fridays
14:15 – 16:10 (32Q) on Tuesdays
14:20 – 16:15 (32Q) on Mondays
Return (AZ207):
LHR (London Heathrow) to FCO (Rome Fiumicino)
16:55 – 20:35 (32Q) on Sundays, Tuesdays, and Thursdays
17:10 – 20:50 (32Q) on Mondays
17:30 – 21:10 (32Q) on Fridays
Delivery Update
On November 10, 2023, ITA Airways (AZ) received the delivery of the first A321neo via Air Lease Corporation Lease from Airbus' Hamburg Production Center.
ITA Airways' all-Airbus fleet is strengthened by the latest A321neo addition, encompassing 81 aircraft featuring A220, A320neo, A330neo, and A350 models.
The A321neo by ITA Airways is designed with a three-class arrangement, incorporating 12 Business Class full flat beds featuring direct aisle access, 12 Premium Economy seats arranged in 4-abreast formation, and 141 Economy seats, with 12 specifically allocated to Comfort Economy.
This A321neo model from ITA Airways boasts Airbus' Airspace cabin design, including new XL overhead bins and tailored interior lighting utilizing advanced full-LED technology to mitigate jet lag.
Furthermore, to enrich the passenger experience, every seat is outfitted with the latest in-flight entertainment system, offering individual screens and on-demand content.
Stay tuned with us. Further, follow us on social media for the latest updates.
Also Read: US Airlines, Including American, United, Delta, and Southwest, want you to Dress Properly – Aviation A2Z
Join us on Telegram Group for the Latest Aviation Updates. Subsequently, follow us on Google News.