DUBAI- EgyptAir (MS) customers are set to embark on journeys to destinations worldwide aboard brand-new Airbus A350-900s following the airline's announcement of an order for 10 aircraft at the Dubai Airshow.
Upon integration into the fleet, the A350-900s will contribute to a 25% reduction in fuel consumption for EGYPTAIR, consequently lowering emissions.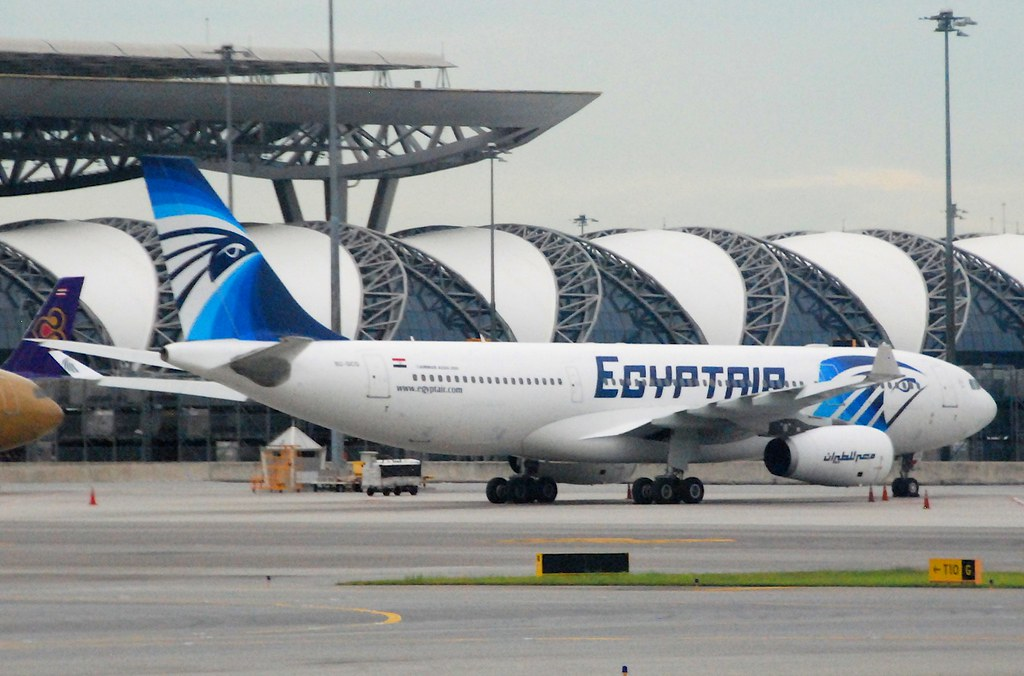 EgyptAir Orders 10 A350
Passengers will also experience enhanced comfort through the Airbus AirSpace cabin, featuring a sense of spaciousness, wide seats, high ceilings, and captivating ambient lighting.
This significant agreement was formalized during the 2023 Dubai Airshow in the presence of EGYPTAIR's Chairman and CEO, Engineer Yehia Zakaria, and Airbus Chief Commercial Officer and Head of International, Christian Scherer.
"Airbus and EGYPTAIR share a crucial partnership in the Middle East and Africa, contributing significantly to the advancement of the aviation industry. Our commitment centers on elevating our fleet with some of the most cutting-edge aircraft available," expresses Yehia Zakaria, Chairman and CEO of EGYPTAIR.
"EGYPTAIR has solidified an agreement with Airbus for the acquisition of 10 A350-900 aircraft, each boasting a capacity of 340 seats. These aircraft are equipped with state-of-the-art technologies and Rolls-Royce XWB Trent engines, renowned for their contemporary design and notable reductions in fuel emissions and consumption. This aircraft stands out as the optimal choice as we address the escalating demand across our network."

Yehia Zakaria, Chairman and CEO of EGYPTAIR
"The A350-900, upon delivery, will take its place as EGYPTAIR's flagship aircraft. The addition of this world-class, efficient widebody aircraft to the airline's fleet will play a pivotal role in expanding its offerings and exploring new opportunities, especially in Western US and the Far East," comments Christian Scherer, Chief Commercial Officer and Head of Airbus International.
Ultra long haul Aircraft
This singular aircraft represents the exclusive means by which EGYPTAIR can expand its network with unparalleled economic efficiency, not to mention an enhanced passenger experience.
The A350 stands as the epitome of modernity and efficiency in the widebody aircraft category, holding the top position for long-range capabilities among aircraft with 300-410 seats.
It excels in efficiency across various routes, spanning from short-haul to ultra-long-haul, covering distances of up to 9,700 nautical miles.
Its innovative design incorporates cutting-edge technologies, advanced aerodynamics, lightweight materials, and the latest generation engines, resulting in a remarkable 25% improvement in fuel efficiency, operating costs, and CO₂ emissions. Additionally, it achieves a 50% reduction in noise compared to previous-generation competitor aircraft.
With a track record of garnering over 1,000 orders from leading carriers worldwide, the A350 has established itself as a preferred choice in the aviation industry.
Stay tuned with us. Further, follow us on social media for the latest updates.
Also Read: US Airlines, Including American, United, Delta, and Southwest, want you to Dress Properly – Aviation A2Z
Join us on Telegram Group for the Latest Aviation Updates. Subsequently, follow us on Google News.