DUBAI- Emirates (EK) has marked the completion of 15 years of operations on its Los Angeles (LAX) route, a key segment in its U.S. network.
Since initiating services to Los Angeles International Airport in 2008, Emirates has transported over 3.5 million passengers on 12,000 flights between Dubai (DXB) and the city, carrying an impressive 252,000 tonnes of cargo. This substantial cargo volume has played a vital role in supporting both travel and trade by facilitating the export and import of various commodities.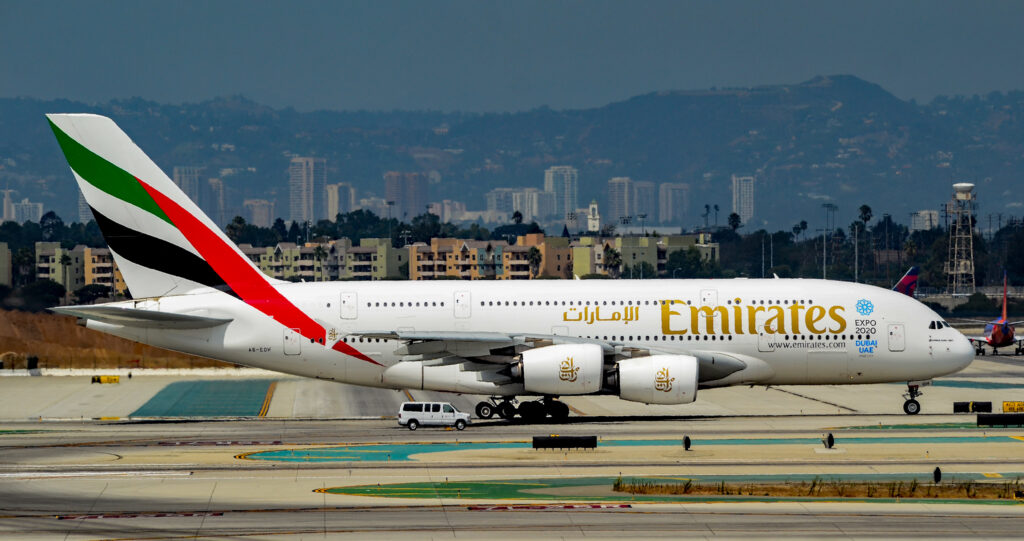 Emirates Los Angeles Operations
Los Angeles became the second U.S. city served by Emirates with the commencement of its inaugural services. Presently, the airline operates seven weekly flights on this popular route, utilizing the double-decker A380 aircraft.
The A380 has a capacity of up to 475 passengers and can accommodate 15 tonnes of cargo in the bellyhold. The Emirates A380 offers seating in four cabin classes, including the recently-introduced Premium Economy seats featuring 56 plush cream leather seats.
This new cabin class enhances the travel experience with generous recline, increased legroom, and an elevated dining experience, providing passengers with added comfort and value.
The Los Angeles route is particularly significant for travelers to and from popular destinations such as Mumbai, Delhi, and other Indian cities, as well as Cairo, Karachi, and Riyadh.
It attracts diverse passengers, including leisure travelers, students pursuing higher education abroad, and business and corporate travelers. Given Los Angeles's substantial Armenian and Iranian diasporas, those visiting family and friends in Tehran and Yerevan frequently choose the route to Dubai.
Additionally, due to Los Angeles's prominence in the entertainment industry, the premium cabins on this route are often frequented by celebrities from the film and music industries.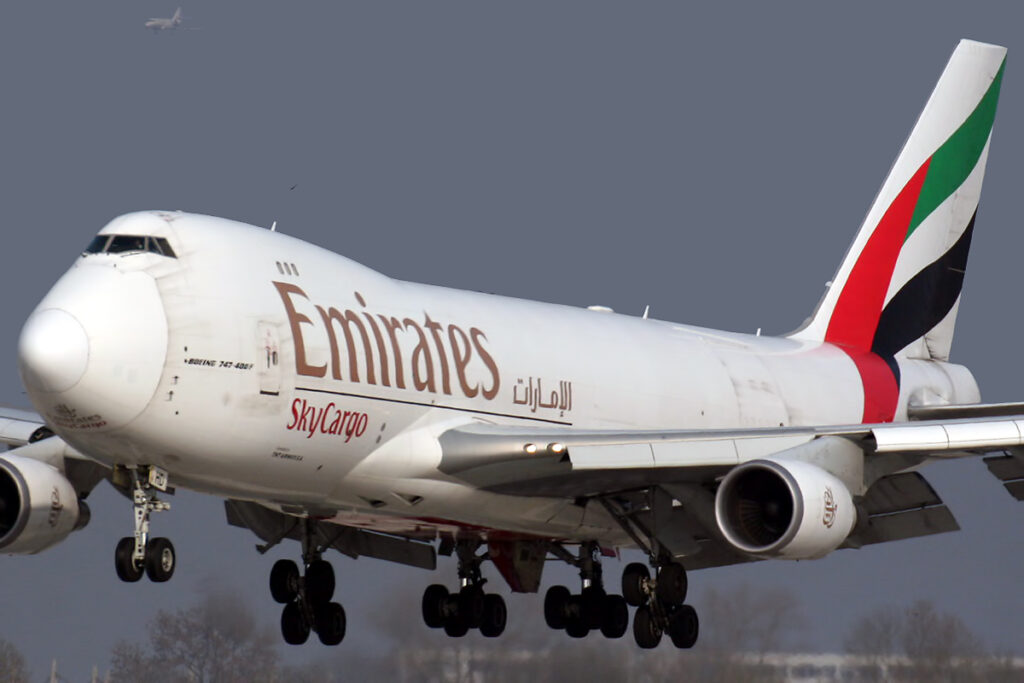 Strong Cargo Demand
The airline has played a crucial role in facilitating trade between Los Angeles and the global market, actively supporting local industries and businesses. Leveraging its extensive cargo network and cutting-edge facilities, Emirates SkyCargo has been pivotal in ensuring the smooth transport of goods.
This contribution has fostered export opportunities and stimulated economic development in the various countries it serves.
Emirates' flights have transported over 154,000 tonnes of cargo from Los Angeles, encompassing a diverse range of commodities. These exports include fresh berries, aircraft parts, and medical equipment, showcasing the airline's versatility in cargo transportation.
Furthermore, commodities frequently imported into Los Angeles, totaling over 98,000 tonnes throughout the 15-year period, consist of apparel, electronics, leather goods, and perishable items like fruits, vegetables, chilled meat, and fish.
This robust exchange of goods underscores the Emirates' significant impact on regional trade dynamics.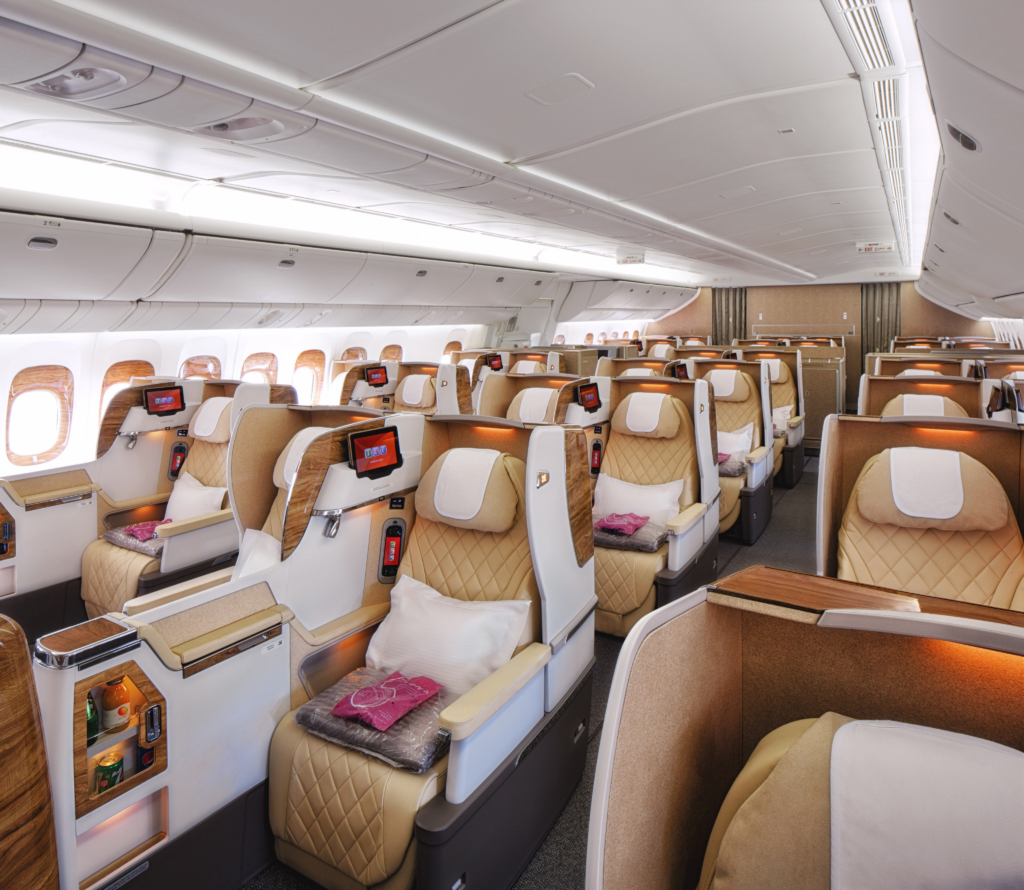 World-Class Services
Emirates reaffirms its unwavering commitment to delivering world-class services, comfort, and connectivity to Los Angeles. As the airline celebrates this significant milestone, its dedication to the city, its residents, and the facilitation of trade remains steadfast.
Passengers choosing Emirates for their travel experience can expect unparalleled in-flight services, comfort, and connectivity. The airline offers an exceptional culinary journey, featuring regionally-inspired multi-course menus meticulously crafted by an award-winning team of chefs. Complementing this gastronomic experience is an extensive selection of premium beverages.
Onboard, passengers can unwind and enjoy a vast array of entertainment options, boasting over 6,500 channels of thoughtfully curated global content, including movies, TV shows, music, podcasts, games, audiobooks, and more, delivered through ice, Emirates' acclaimed inflight entertainment system.
For premium class passengers and select Skywards members, Emirates extends additional luxuries, including access to lounges and chauffeur drive services before their flights in Los Angeles.
In Dubai, premium-class customers benefit from complimentary Chauffeur Drive services to and from the airport and the opportunity to relax or catch up on work in one of the airline's lounge facilities at Dubai International Airport. This comprehensive suite of services underscores Emirates' commitment to ensuring an elevated travel experience for its discerning passengers.
Stay tuned with us. Further, follow us on social media for the latest updates.
Also Read: US Airlines, Including American, United, Delta, and Southwest, want you to Dress Properly – Aviation A2Z
Join us on Telegram Group for the Latest Aviation Updates. Subsequently, follow us on Google News.