FORT WORTH- The major US carrier American Airlines (AA) is considering a substantial order for new narrowbody aircraft, although it's unlikely to be finalized in the immediate future.
Recently, Southwest Airlines (WN) has recently placed an order for more than 100 Boeing 737 MAX 7s, which is the smaller version of the MAX aircraft. It's worth noting that this particular variant has not yet received certification.
American Airlines Narrowbody Aircraft Order
In July, CEO Robert Isom informed employees, "We anticipate the need for additional aircraft, and it wouldn't be surprising if, at some point, we decide to make a commitment to acquire some narrowbody aircraft after 2027."
Now, internal leaks have provided confirmation that American Airlines is actively exploring the possibility of placing an order for narrowbody aircraft, reported by JonNYC on X and flagged by Viewfromthewing.
This move is prompted by the airline's requirement to devise a strategy for replacing its aging Airbus A319s, A320s, and Boeing 737-800s, which are among the oldest aircraft in its fleet.
American Airlines is evaluating the following aircraft options:
Boeing 737 MAX 7
Airbus A220
Embraer E195 E2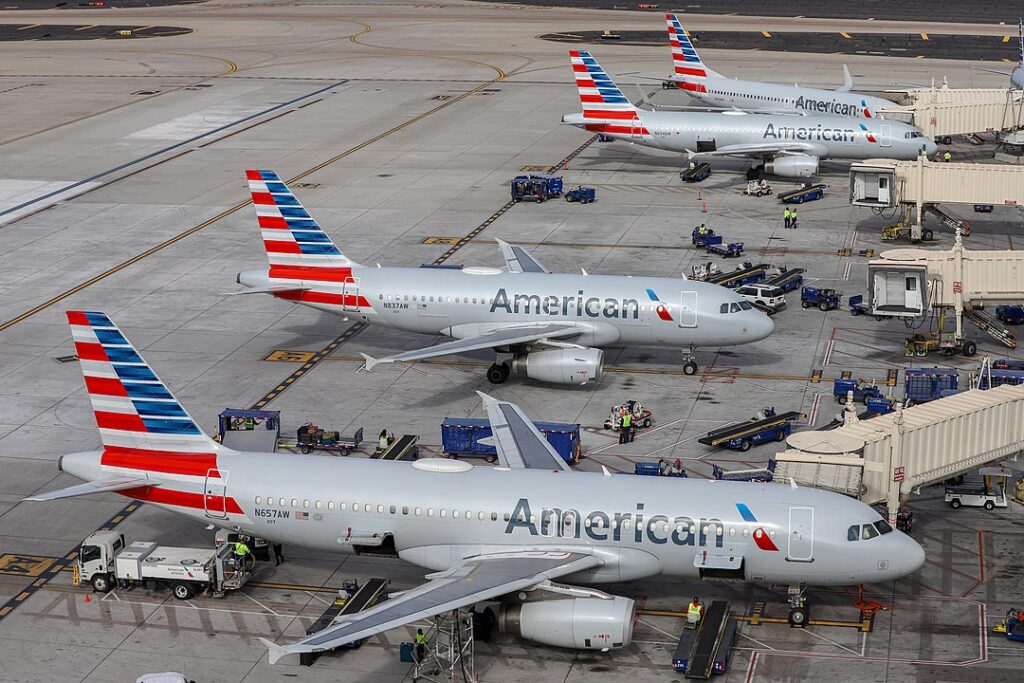 Possibly the Multiple Type Order
While the Boeing 737 MAX 7 appears to be the most likely choice, it wouldn't be surprising to see a mixed order that includes other aircraft models.
Boeing is expected to be highly motivated to promote this aircraft, especially considering their broader challenges and the fact that this particular program has not yet received certification. Additionally, such a choice would not introduce as much complexity into their existing fleet.
Acquiring more Airbus A320 family aircraft is probably not a feasible option due to cost and limited availability.
The backlog for these aircraft is substantial, and while there is strong overall demand, American Airlines assured its employees over the summer that they are not concerned about the extensive order backlogs of major aircraft manufacturers.
There has been much discussion about limited delivery schedules, with many airlines having already placed numerous orders, making it challenging for others to secure additional planes.
Nevertheless, American Airlines asserts its position, expressing the intent to accommodate their orders because they are the world's largest airline and have the capacity to receive and finance the planes, unlike smaller carriers.
Best Options
Placing an order for a combination of Boeing MAX 7 and MAX 8 (or even MAX 10) aircraft is probably the most attractive option, offering favorable pricing, accessible delivery slots, fleet uniformity, and competitive operating costs.
It would be quite unexpected to see them opt for E2s or A220s; however, they may explore these options and employ them as negotiating leverage.
For several years, American Airlines has touted that they have already refreshed their fleet, which would result in lower capital costs for an extended period.
Nevertheless, they are in the process of introducing new aircraft in the coming years, such as Airbus A321XLRs and Boeing 787s.
It does appear that they are considering another substantial order, which might potentially increase their debt to levels they have been striving to reduce since emerging from the pandemic, stated Gary Leff.
Stay tuned with us. Further, follow us on social media for the latest updates.
Also Read: US Airlines, Including American, United, Delta, and Southwest, want you to Dress Properly – Aviation A2Z
Join us on Telegram Group for the Latest Aviation Updates. Subsequently, follow us on Google News.