DUBAI- Emirates (EK), the prominent international airline serving a significant portion of air travelers from India to the Gulf region, has once again emphasized the need to raise the weekly seat allotment from the current 65,000 seats permitted by the long-standing bilateral Air Service Agreement between India and the UAE, which has remained unchanged for nearly a decade.
Emirates has fully utilized its allocated capacity, leaving no room for further expansion in the Indian market, even as demand continues to surge.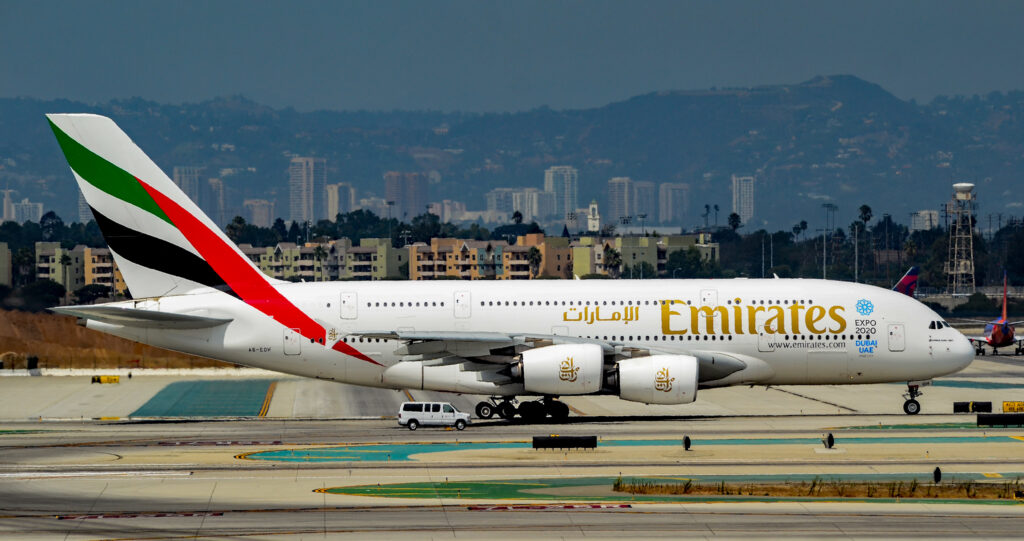 Emirates India Capacity
Adnan Kazim, the Chief Commercial Officer at Emirates, conveyed to CNBC-TV18 that maintaining the status quo in terms of flight entitlements, despite the escalating movement of passengers between India and the UAE, does not create a conducive and sustainable environment for growth.
"We are actively engaged with the government to explore the possibility of increasing capacity in the future. The current situation demands greater flexibility and the addition of more routes and destinations," stated Kazim.
He also linked the surge in airfares to limited capacity, emphasizing that opening up air access to consumers and fostering competition can help alleviate pricing pressures.
He noted, "Increased access and competition play a significant role in moderating prices, as it hinges on the fundamental principles of supply and demand.
Since the last adjustment to seat allocation in 2014 under the bilateral agreement, India's population, the number of travelers, and trade exchanges have all significantly increased, necessitating a capacity enhancement."
Air India to Challenge Emirates Dominance
In the realm of Indian airlines flying to the Middle East, there is fierce competition from carriers like Emirates, which claims to offer superior products and passenger experiences, particularly on long-haul routes.
Following its acquisition by the Tata Group, Air India (AI) has been striving to alter this perception, having invested $400 million in revamping its wide-body aircraft fleet.
Kazim asserted that Emirates welcomes competition from Air India as it expands its international presence and increases capacity.
He stated, "Dubai, where we operate, is home to 130 airlines under an open sky policy, and Emirates connects Dubai to 220 destinations worldwide. We always embrace competition and collaboration.
No single airline can provide everything to passengers; thus, collaboration and harmony are essential. Whether it's Air India or any other carrier, we view such competition positively, as it benefits consumers by offering more choices.
Premium Economy Debuts
Emirates announced on Thursday its plans to introduce a premium economy cabin on its A380 flights from Mumbai and Bengaluru to Dubai, commencing on October 29.
The airline anticipates that this new offering will attract more passengers. India will be the sixth market, following the UK, US, Australia, New Zealand, and Singapore, where Emirates will provide premium economy service. The airline intends to expand this offering to other routes as well.
According to Adnan Kazim, Chief Commercial Officer at Emirates,
"Approximately 60 to 70% of our network will gradually introduce the Premium Economy product. Over the next two and a half years, we will retrofit 120 aircraft from our fleet with premium economy cabins. We initially started with retrofitting 20 aircraft, the A380s, and this number will increase to 67 in the future. Next year, we will begin retrofitting the Boeing 777s, with 53 of them undergoing the retrofit process. Part of the premium economy deployment will come from new aircraft, which will start from the summer of next year. In August next year, we will receive Airbus A350 aircraft, with 50 aircraft joining the fleet over a period of three and a half years, all equipped with the premium economy product. We will also receive the Boeing 777X at the end of 2025, which will also feature premium economy."
Emirates plans to gradually roll out the premium economy product across a significant portion of its network and its fleet.
Stay tuned with us. Further, follow us on social media for the latest updates.
Also Read: US Airlines, Including American, United, Delta, and Southwest, want you to Dress Properly – Aviation A2Z
Join us on Telegram Group for the Latest Aviation Updates. Subsequently, follow us on Google News.