ATLANTA- As the IATA summer schedule comes to a close later this month, it's a good opportunity to examine the busiest airports in the world, taking into account both international and domestic traffic.
The OAG provides insights into which regions have the most bustling airports and which destinations are experiencing shifts in popularity as the seasons transition.
Busiest Airport in the World Highlights
Remarkably, half of the Top 10 Busiest Airports are situated in the United States:
Atlanta Hartsfield-Jackson International Airport remains at the forefront with 5,360,834 scheduled seats for October.
Chicago O'Hare, which secured the number one position in our recent list of US Domestic Airport Megahubs, now occupies the 8th position among the busiest airports for October.
Denver has risen through the ranks, progressing from the 20th busiest airport in 2019 to the 6th spot in October 2023.
When examining seats per day, Dallas Fort Worth International Airport has experienced the most substantial month-on-month growth in scheduled seats per day, with a 3% increase."
With the exception of London Heathrow, which ranks 4th, all the other airports in the Top 10 Busiest Airports are situated in Asia and the Middle East:
Dubai International has advanced one position from October 2019 to take the second spot in October 2023, offering 4,903,701 seats.
Tokyo Haneda secures the 3rd position, with a lead of 226,592 seats over Heathrow.
Istanbul Airport, previously in 5th place, has slipped to 7th this month, experiencing the most significant decrease in seats per day among the listed airports at -6%.
Guangzhou has also observed a reduction in seats per day from the previous month and has moved from 7th place to the 10th position in October."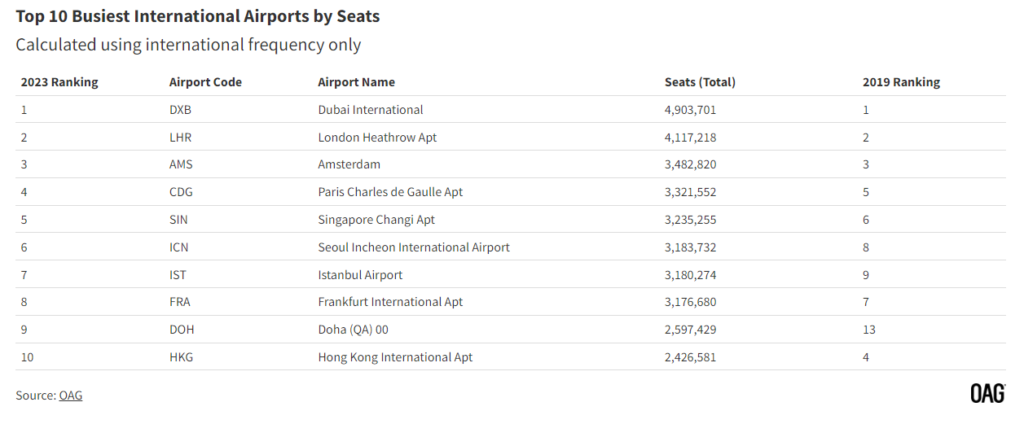 Stay tuned with us. Further, follow us on social media for the latest updates.
Also Read: US Airlines, Including American, United, Delta, and Southwest, want you to Dress Properly – Aviation A2Z
Join us on Telegram Group for the Latest Aviation Updates. Subsequently, follow us on Google News.