AUSTIN- According to court records acquired by KXAN, a lawsuit has been filed against American Airlines (AA) for negligence by the family member of an airline employee who tragically passed away at Austin-Bergstrom International Airport (AUS) in April.
On April 20, the Austin Police Department was called to the scene of an accident involving an airline employee who was operating a ground service vehicle that collided with a jet bridge.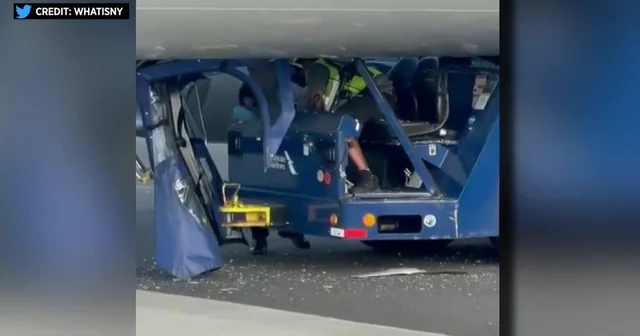 American Sued Over Employee Death
Court documents made public on Friday identified the employee as Michal Ingraham, who was employed by American Airlines at the time of the incident.
According to authorities, Ingraham was declared deceased at the accident site.
Court records indicate that American Airlines had authorized the use of the ground vehicle that was implicated in the accident. The lawsuit asserts that the airline "did not adequately address the vehicle's malfunctioning issues."
The court documents state that the negligent actions taken by American Airlines were the direct cause of the vehicle colliding with the jet bridge on the day of the incident.
The court documents list various factors contributing to the negligence, such as inadequate employee training, insufficient employee supervision, and neglecting to alert Ingraham about a recognized, unreasonably hazardous workplace condition.
As stated in the documents, the damages resulting from the accident tragically resulted in a wrongful death on the same day.
The family member, who is the plaintiff, is seeking financial compensation of $1 million to cover medical costs, funeral and burial expenses, and additional related expenses.
Official Statements After Accident
In a statement, American Airlines expressed deep sorrow over the incident that occurred at Austin-Bergstrom International Airport (AUS) involving one of their team members. Their heartfelt thoughts and condolences go out to the family and their local team members.
The airline is dedicated to providing the necessary support to everyone affected during this challenging period.
AUS released a statement concerning the incident:
"Austin-Travis County EMS responded to an airline employee's injury this afternoon. The incident occurred outside the terminal, where airplanes typically park at their designated gates. Regrettably, ATCEMS confirmed the employee's passing.
Currently, there are no major disruptions to airport operations. AUS personnel are in close coordination with the airline and emergency services.
Our condolences and sympathy go out to the affected employee and all those touched by this deeply unfortunate event."
Stay tuned with us. Further, follow us on social media for the latest updates.
Also Read: US Airlines, Including American, United, Delta, and Southwest, want you to Dress Properly – Aviation A2Z
Join us on Telegram Group for the Latest Aviation Updates. Subsequently, follow us on Google News.