SINGAPORE- DHL Express (D0) Collaborates with Singapore Airlines (SQ) to Launch a New Boeing 777 Freight Route from Asia to the United States (US) via Central Japan International Airport (NGO).
Operated by Singapore Airlines (SIA), this route utilizes Boeing 777F aircraft featuring the joint DHL and SIA livery, with a remarkable maximum capacity of 102 tons.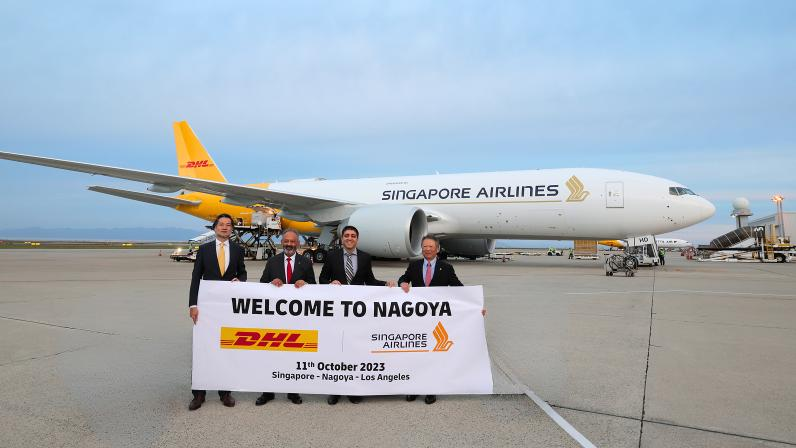 Singapore DHL US Flights
Introducing this freighter significantly enhances DHL Express's intercontinental air network, addressing the rising demand for international express deliveries between Asia and North America.
In March 2022, DHL Express and SIA established a Crew and Maintenance agreement, facilitating the deployment of five Boeing 777 freighters. This partnership enables SIA to operate new cargo routes spanning South Asia, North Asia, and North America, with a focus on Singapore's Changi Airport.
The addition of the fourth freighter to Central Japan International Airport signifies an important milestone in this collaboration.
It will conduct five weekly flights along the Singapore-Nagoya-Los Angeles-Honolulu-Singapore route and one weekly flight connecting Singapore-Taipei-Nagoya-Nagoya-Cincinnati-Honolulu-Sydney-Singapore."
Executive Insights
Tony Khan, President and Representative Director of DHL Express Japan, emphasized the company's unique utilization of the strategic Central Japan International Airport location. DHL Express aims to provide faster and more reliable services, supporting the growth of its customers in the Chubu region.
Kenny Teo, General Manager Japan at Singapore Airlines, highlighted the SIA-DHL Express 777F services launch in Nagoya as a testament to the enduring partnership between Singapore Airlines and DHL.
This collaboration reaffirms their commitment to the cargo business and contributes significantly to DHL Express's intercontinental air network expansion. It also reinforces Central Japan International Airport's pivotal role as a key air cargo and e-commerce logistics hub in Japan.
Riki Inuzuka, President & CEO of Central Japan International Airport, warmly welcomed Singapore Airlines' new network for DHL Express.
He acknowledged that this development enhances convenience for the Chubu business community by providing more accessible shipping routes to destinations on the West Coast, such as Los Angeles.
The airport remains committed to providing unwavering support to DHL Express for the further growth of its operations in the Chubu region.
Important Part of Japan's Frieght Industry
DHL Express has established itself as the sole company in Japan's international express industry to operate an air network from Central Japan International Airport.
The company has consistently expanded its network capacity, including introducing the DHL Air UK service in June of the previous year and subsequent flight increases in September of the same year.
As part of its commitment to meeting the growing demand for cross-border time-sensitive shipments, DHL Express operates a fleet of over 300 dedicated aircraft across its global network, spanning 220 countries and territories.
Notably, the Boeing 777 freighters used are the world's largest, longest-range, and most capable twin-engine freighters. These aircraft also contribute significantly to DHL's sustainability objectives by reducing CO2 emissions by 18 percent compared to the legacy B747-400s.
Stay tuned with us. Further, follow us on social media for the latest updates.
Also Read: US Airlines, Including American, United, Delta, and Southwest, want you to Dress Properly – Aviation A2Z
Join us on Telegram Group for the Latest Aviation Updates. Subsequently, follow us on Google News.