CHICAGO- An incident occurred at Chicago's O'Hare International Airport (ORD) involving an American Airlines (AA) subsidiary aircraft preparing for take-off and an employee shuttle bus, resulting in injuries to two individuals.
American Eagle flight 6209, operated by Air Wisconsin Airlines, came into contact with the shuttle bus while taxiing, as confirmed by American Airlines in a statement.
American Plane Collides with Bus
Two passengers who were on the shuttle were taken to Ascension Resurrection Hospital in Chicago with minor injuries, according to a report by WLS-TV.
American Airlines stated that there were no reported injuries among the aircraft's passengers.
However, six American Airlines employees were transported to the hospital for evaluation. Specific details about the number of passengers on the flight were not provided.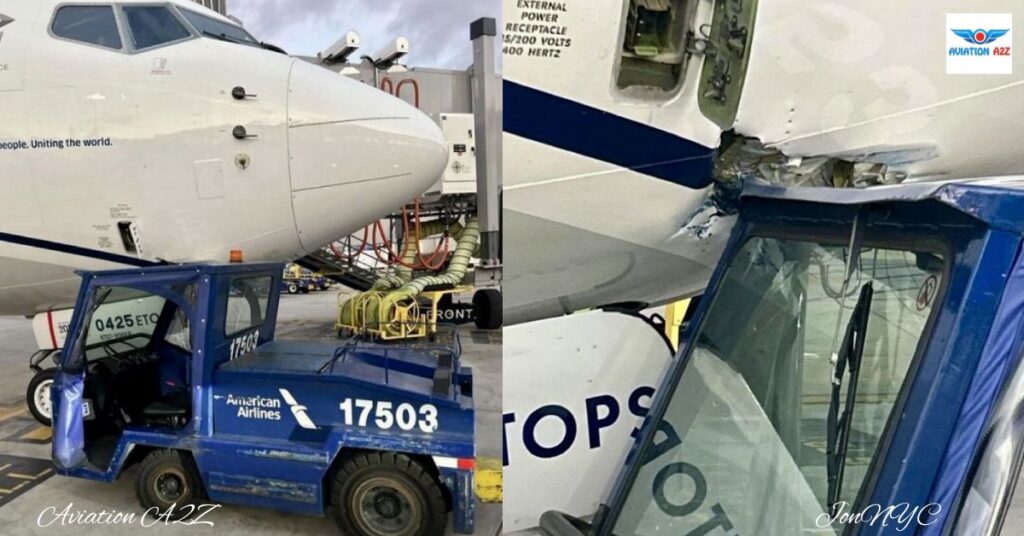 Similar Incidents
On Saturday evening (August 26, 2023), a United Airlines (UA) Boeing 737 was positioned at gate M37 within Terminal 5 of Chicago O'Hare Airport (ORD) following its flight from Punta Cana (PUJ).
During this stationary phase, an American Airlines (AA) luggage cart collided with the front right section of the United 737 aircraft. Images captured post-incident reveal a significant puncture located above the landing gear.
The aircraft involved in the incident is United Boeing 737-900ER, registered as N75425. According to Planespotters.net, it is a 15.2-year-old aircraft and was delivered to Continental Airlines in 2008.
United 737 was at gate M37 after completing its scheduled flight as UA1664. The flight took from Punta Cana (PUJ) at 3:05 P.m. with more than one hour delay. After being airborne for almost four hours and 20 minutes, it landed safely at Chicago O'Hare (ORD).
The slightly blurry security footage captures the occurrence, depicting the cart directly impacting the aircraft.
This incident appears rather peculiar; while I lack insight into the circumstances behind the wheel, it does appear that the driver should have had sufficient time to notice the airplane and avert the collision.
Stay tuned with us. Further, follow us on social media for the latest updates.
Also Read: US Airlines, Including American, United, Delta, and Southwest, want you to Dress Properly – Aviation A2Z
Join us on Telegram Group for the Latest Aviation Updates. Subsequently, follow us on Google News.