AUCKLAND- New Zealand's national airline, Air New Zealand (NZ), recently marked its first service anniversary to New York City (NYC). The Auckland-based carrier commenced operations to New York on September 17 last year.
It celebrated the occasion by penning a 'love letter' to New York, acknowledging initial challenges, new competition, and the achievements of its longest route to date.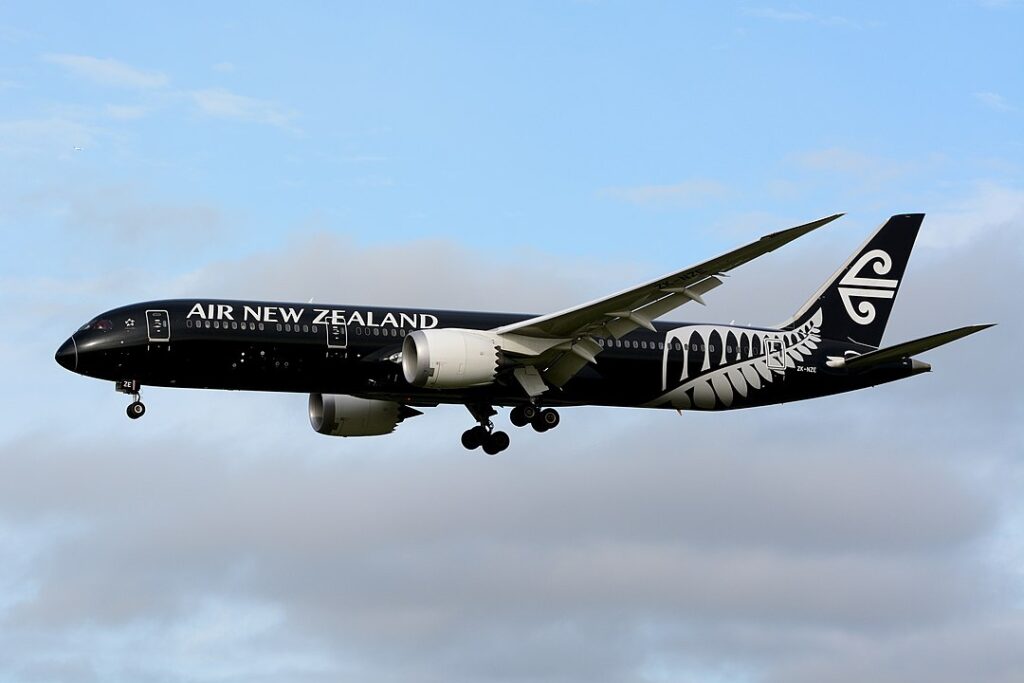 Air New Zealand New York Flights
Exactly a year ago today, Air New Zealand launched its service connecting Auckland International Airport (AKL) with New York City. The flights were operated by a Boeing 787-9 aircraft registered as ZK-NZN, and the journey took just under 16 hours for the outbound leg.
The return journey, however, was anticipated to be slightly longer due to differences in jet streams along the route, ultimately taking 16 hours and 36 minutes, which was 50 minutes longer than the outbound flight.
When the service was initially introduced, the New York to Auckland route ranked as the fourth-longest in the world. Since then, Qantas has introduced a slightly longer flight from Dallas to Melbourne, surpassing Air New Zealand's route. Covering nearly 9,000 miles, the route tests the upper limits of the Boeing 787's range, necessitating careful weight considerations for each flight.
Air New Zealand initially operated the service three times a week. Presently, the airline offers round-trip service on Mondays, Thursdays, and Saturdays.
The Dreamliner aircraft boasts 275 available seats, but on the return leg to Auckland, several seats are marked as unavailable to manage weight limitations. The aircraft is also crewed by 17 members, including four pilots and 13 flight attendants, who work in shifts to adhere to duty hour restrictions.
Air New Zealand released a statement to celebrate the year of service, sharing noteworthy statistics from the 311 flights conducted over the past year. Since the service's commencement, the airline has served over 112,000 meals and poured 24,000 glasses of champagne.
Passengers on these flights streamed an estimated 344,000 hours of movies. Additionally, the airline mentioned an incident during the past year in which 65 bags were temporarily misplaced.
Qantas JFK Route
Aside from Air New Zealand, Qantas has also introduced a comparable service. This new flight route was inaugurated on June 14, and the airline currently runs four weekly flights. However, Qantas' service originates from Sydney.
The aircraft departs from Sydney, stops at Auckland International Airport, and then proceeds to John F. Kennedy International Airport (JFK) in New York, enjoying fifth freedom rights. The preparation for this service spanned several years, during which Qantas upgraded its international lounge in Auckland.
Qantas initiated this service as a direct competitor to Air New Zealand's flights as part of Project Sunrise. Project Sunrise encompasses the launch of flights from Sydney to London and New York in 2025. These flights will be operated using brand-new Airbus A350-1000 aircraft, which are expected to be delivered next year.
In the interim, Qantas has been operating three of the world's top five longest flights. The Auckland to New York City route joins Qantas' ultra-long-haul routes, including flights from Dallas Fort Worth International Airport (DFW) to Melbourne International Airport (MEL) and from Perth International Airport (PER) to London Heathrow International Airport (LHR).
Stay tuned with us. Further, follow us on social media for the latest updates.
Also Read: US Airlines, Including American, United, Delta, and Southwest, want you to Dress Properly – Aviation A2Z
Join us on Telegram Group for the Latest Aviation Updates. Subsequently, follow us on Google News.