ABU DHABI- Abu Dhabi Airport (AUH) has unveiled plans for the imminent opening of its state-of-the-art new terminal at Abu Dhabi International Airport. Referred to as 'Terminal A' after its construction, this remarkable facility is set to commence operations in early November 2023.
This addition to Abu Dhabi's swiftly evolving transportation infrastructure represents a significant achievement for the emirate.
Abu Dhabi New Terminal A
It is poised to revolutionize the local aviation landscape, elevate Abu Dhabi's stature as a premier travel destination, and reinforce its global prominence as a hub for commerce and industry.
Terminal A is outfitted with cutting-edge technologies, including an array of interconnected biometric systems designed to offer passengers a seamless, digitized travel experience from pre-departure to the boarding gate.
The terminal features self-service kiosks, streamlined security checkpoints, and state-of-the-art baggage handling systems for added convenience and efficiency.
Terminal A, sprawling across an impressive 742,000 square meters of built-up space, ranks among the largest airport terminals globally. This colossal structure is poised to significantly elevate the passenger and cargo capacity of Abu Dhabi International Airport.
Upon commencement of operations, it will have the capacity to host a staggering 45 million passengers annually, handle 11,000 travelers per hour, and simultaneously facilitate the operation of up to 79 aircraft.
Iconic Design
The terminal's architecture is nothing short of imposing and memorable, garnering international design accolades while adding an iconic architectural landmark to Abu Dhabi's cityscape.
Merging modern, lightweight aesthetics with functional brilliance, the terminal's glass exterior harnesses natural light, creating a grand civic space within.
In alignment with the UAE's sustainability objectives, Terminal A incorporates energy-efficient lighting, advanced heating, ventilation, and air-conditioning (HVAC) systems and employs sustainable construction materials.
As a significant stride toward realizing Abu Dhabi Airports' commitment to reducing its operational carbon footprint, Terminal A boasts a fully integrated solar photovoltaic system on its car park roof, currently generating power from a three-megawatt (MW) solar photovoltaic (PV) plant, saving nearly 5,300 tons of CO2 annually.
Furthermore, Terminal A is set to offer a plethora of world-class amenities, including opulent lounges, serene relaxation zones, and luxurious spa facilities where travelers can unwind before or after their flights.
Comprising 163 retail and food and beverage establishments catering to diverse tastes and preferences, the terminal's retail offerings will captivate leisure and business travelers.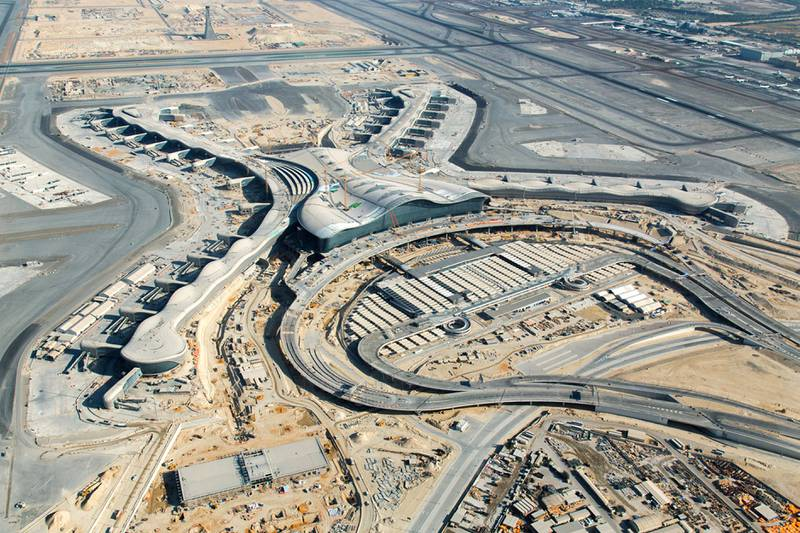 Executive Insights
His Excellency Sheikh Mohammed bin Hamad bin Tahnoon Al Nahyan, Chairman of Abu Dhabi Airports, expressed, "As Abu Dhabi's new global gateway, Terminal A reflects Abu Dhabi Airports' dedication to supporting the emirate's sustainable economic development. The inauguration of this facility, which ranks among the largest and most magnificent globally, marks a significant milestone in Abu Dhabi's 55-year aviation history. A symbol of modernity and sophistication, it will play a pivotal role in driving our emirate's growth by boosting tourism and trade."
Elena Sorlini, Managing Director and interim CEO of Abu Dhabi Airports commented, "Terminal A underscores our commitment to delivering a premium airport experience to our international passengers and partners. The terminal epitomizes our pursuit of excellence and our mission to provide outstanding services that align with the evolving preferences of today's travelers. By harnessing cutting-edge technologies, the reimagined airport experience in Abu Dhabi will provide a seamless passenger journey, promoting connectivity, interactions, business, trade, and tourism, all of which are fundamental in enhancing Abu Dhabi's global standing."
Stay tuned with us. Further, follow us on social media for the latest updates.
Also Read: US Airlines, Including American, United, Delta, and Southwest, want you to Dress Properly – Aviation A2Z
Join us on Telegram Group for the Latest Aviation Updates. Subsequently, follow us on Google News.