SINGAPORE- World's best full-service carrier, Singapore Airlines (SQ), has now completed the reopening of all overseas SilverKris lounges on its network, with today's announcement that its dedicated Taipei lounge has returned, with an afternoon opening window covering both of the carrier's daily departures to Singapore.
While the Taipei SKL has been closed, eligible Singapore Airlines passengers have been directed to the Plaza Premium lounge at the airport. However, this is no longer necessary, reports Mainly Miles.
Singapore SilverKris Lounge
The reopening marks the 10th and final overseas SilverKris lounge to return to operation on the network. At the same time, three pre-COVID facilities in Adelaide, Delhi, and Kuala Lumpur were permanently shuttered during the pandemic and will not be making a return.
The SilverKris lounge in Taipei is situated on Level 4, one floor above the check-in and departure area, accessible after clearing immigration and security.
It appears that the lounge hasn't undergone any substantial renovations during its three-year closure, as evident from a pre-COVID review.
Hopefully, there have been at least some minor improvements since then, particularly in terms of furniture and decor, which were noted to be somewhat outdated, and the absence of multi-standard power outlets.
Regrettably, the lounge did not receive Singapore Airlines' 'home away from home' refurbishment, initially slated for implementation across all overseas SKLs by 2018 but later abandoned after only seven of the 13 lounges were revamped.
Despite its compact size, the lounge does offer restroom and shower facilities. It is designed as a long rectangular space. While champagne is unavailable, you can find sparkling wine and a reasonable selection of food and beverages, often dumplings.
One notable feature of the lounge is the presence of natural light, unlike the recently revamped Hong Kong SilverKris Lounge.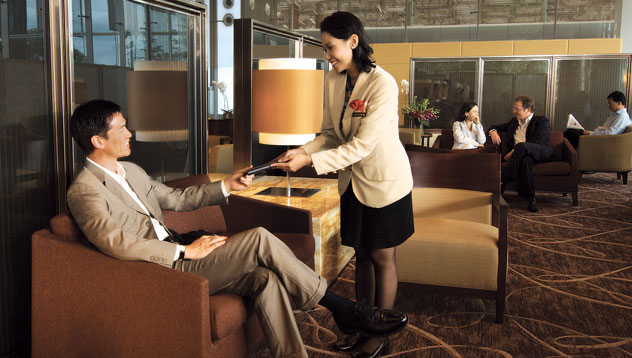 Other Updates
Back in September 2020, MainlyMiles reported that Singapore Airlines (SIA) decided not to reopen three of its 13 overseas SilverKris lounges in Delhi, Kuala Lumpur, and Adelaide after the initial COVID-19 closures.
The airline chose to explore alternative arrangements for eligible passengers at these locations.
While it appears that the Taipei SilverKris lounge hasn't seen any renovations so far, there is reason for optimism. Singapore Airlines has initiated a new project to refurbish certain SilverKris lounges across its international network.
Perth is set to be the first lounge to undergo these changes, with a completely new SilverKris Lounge being built in a new location, taking over the former Qantas (QF) Business Class lounge.
This new lounge is scheduled to open by the end of 2023 and will offer double the seating capacity of the previous one. It will also feature amenities like shower facilities and specially designed productivity pods, enhancing the overall passenger experience.
Stay tuned with us. Further, follow us on social media for the latest updates.
Also Read: US Airlines, Including American, United, Delta, and Southwest, want you to Dress Properly – Aviation A2Z
Join us on Telegram Group for the Latest Aviation Updates. Subsequently, follow us on Google News.