ISTANBUL- Flag carrier of Turkey, Turkish Airlines (TK), has unveiled a significant investment in its aircraft fleet by placing an order for 10 new A350 aircraft from Airbus. The announcement, in the form of a material event statement, was issued through the Public Disclosure Platform.
According to the statement, 'In alignment with the growth objectives of our corporation, our Board of Directors has approved the acquisition of 10 A350-900 passenger aircraft from Airbus, scheduled for delivery in 2025, 2026, and 2027.'
Turkish Airlines Orders 10 A350
This strategic move is a significant step for Turkish Airlines and complements the company's ambitious growth strategies.
The A350-900 is widely recognized as the world's most advanced and efficient widebody aircraft. It leads the way in the 300-410 seater category, promising exceptional levels of efficiency and passenger comfort.
The A350 boasts a cutting-edge design infused with advanced technologies and aerodynamics. Its exceptional fuel efficiency, attributed to its state-of-the-art engines and lightweight materials, stands as a standout feature.
Furthermore, it is hailed as the quietest aircraft in its class, reducing noise emissions by 50% compared to previous-generation planes. This remarkable attribute makes the A350 an ideal and considerate presence at any airport.
Enhancing the passenger journey, the A350's Airspace cabin is renowned as the quietest among twin-aisle aircraft, featuring contemporary in-flight amenities offering unparalleled travel comfort.
Further, with the adoption of the A350-900, Turkish Airlines is ushering in a new era of efficiency and passenger satisfaction, solidifying its position as an appealing choice for travelers seeking a premium flying experience.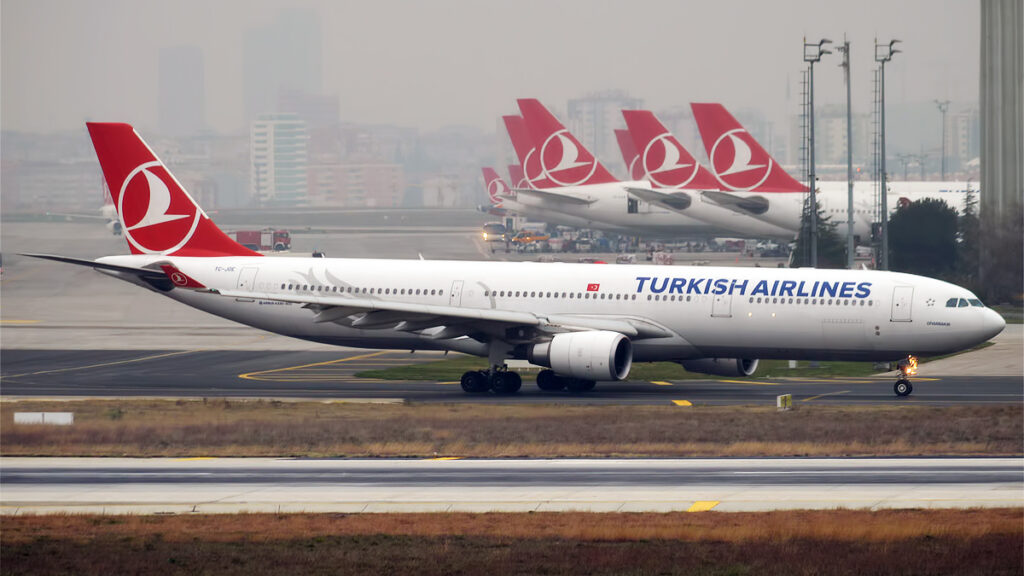 Order Delays
Turkish Airlines (TK) has once again delayed deciding its extensive order for 600 new airplanes due to escalating problems related to engine production and quality concerns associated with certain recent models developed by Airbus and Boeing.
This potential deal, previously mentioned by Turkish Chairman Ahmet Bolat, is set to encompass approximately 400 narrowbody aircraft from the Airbus A320neo and Boeing 737 MAX families. Further, it can include around 200 widebody aircraft spanning the Airbus A350, Boeing 787, and 777-9 models.
With a total of 600 aircraft, this order could potentially become the largest single airplane order ever recorded. Subsequently surpassing substantial recent agreements made by Air India (AI) and IndiGo (6E).
Further, He explained, "This is the primary reason why we have refrained from announcing any definitive choice at this time."
Towards the end of July, RTX, the parent company of Pratt & Whitney, initiated a recall of approximately 1,200 geared turbofan engines utilized in the A320neo family of planes.
The recall was prompted by an unusual issue involving powdered metal, potentially leading to accelerated wear in certain components. Among the recalled engines, around 200 will undergo inspections by September, with the rest to be examined within a year.
Stay tuned with us. Further, follow us on social media for the latest updates.
Also Read: US Airlines, Including American, United, Delta, and Southwest, want you to Dress Properly – Aviation A2Z
Join us on Telegram Group for the Latest Aviation Updates. Subsequently, follow us on Google News.