BERMUDA- Today (August 24, 2023) marks a historic moment as BermudAir takes its inaugural flight, becoming the first airline based in Bermuda to offer year-round service that addresses business and tourism needs.
Providing a blend of comfort, connectivity, and convenience, BermudAir has commenced ticket sales for its initial three direct routes connecting Bermuda L.F. Wade International Airport (BDA) with Boston Logan International Airport (BOS), Fort Lauderdale-Hollywood International Airport (FLL), and Westchester County Airport (HPN), strategically situated near New York City.
Further, the operations between BDA, BOS, and HPN will commence on August 31, while the service to FLL will start on September 22.
BermudAir Boutique Airlines
Introducing these fresh direct routes, these services grant travelers originating from these well-frequented East Coast cities and their environs enhanced accessibility to Bermuda.
This new travel option promises a premium experience, with an average flight duration of approximately two hours.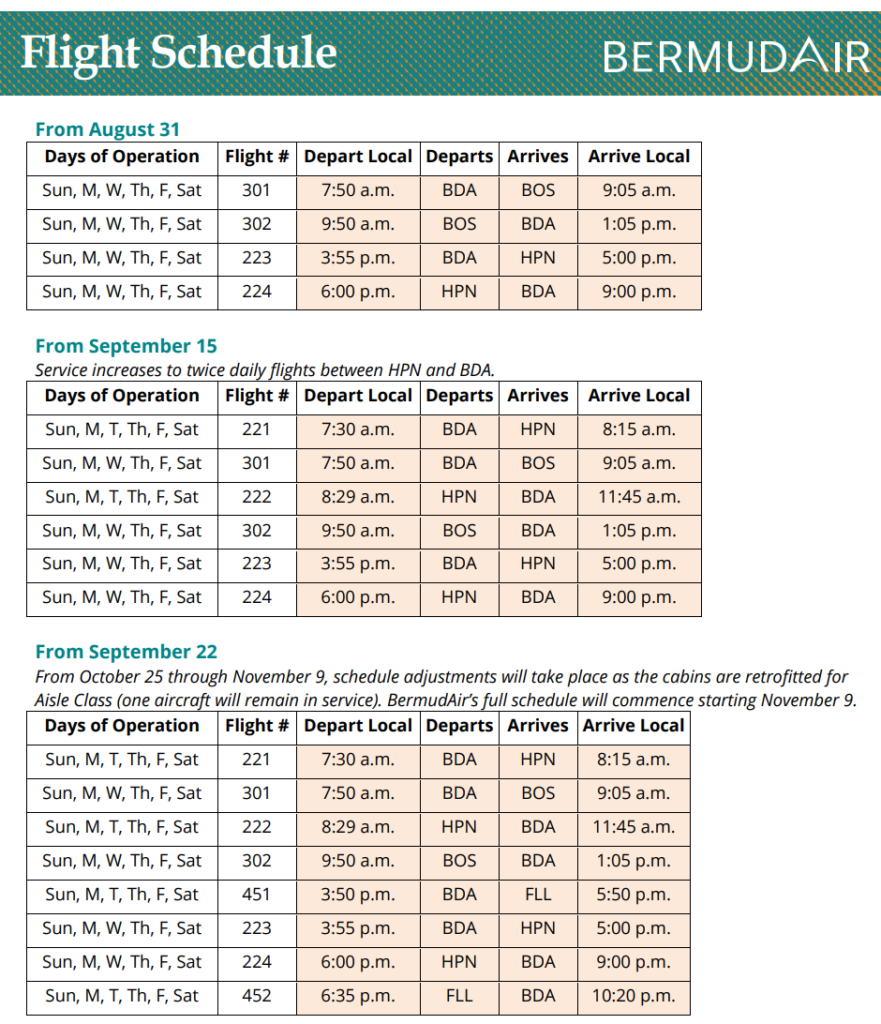 BermudAir Founder and CEO Adam Scott expressed enthusiasm for the launch, highlighting the airline's role as Bermuda's pioneer carrier.
He emphasized the commitment to bridging seasonal service gaps and ensuring consistent connectivity to and from the island throughout autumn. Scott remarked,
"Our primary goal is to enhance the overall travel journey and offer precisely timed, passenger-centric, and hassle-free flights on these novel routes. The initiation of year-round service signifies the inaugural phase in our pursuit to redefine the travel encounter, setting the stage for the gradual rollout of BermudAir's Aisle Class."
Embraer E175 Operator
BermudAir will initiate a gradual rollout of its innovative services, beginning with the deployment of Embraer E175 aircraft in a phased manner. The initial configuration will consist of 88 standard seats.
However, for each flight, only 44 seats will be made available for purchase. These seats offer window and aisle access and ample room for carry-on bags.
Further, this design ensures a roomy and comfortable inflight journey for passengers. The flights will feature complimentary Wi-Fi and entertainment options.
Additionally, travelers will enjoy the convenience of at least one checked bag at no extra charge, with the possibility of more depending on the fare category.
Further, BermudAir is committed to providing a distinctive onboard experience. Passengers can look forward to enjoying freshly prepared light meals and beverage choices from local partners on the island.
This dedicated level of in-flight service will become a hallmark feature of BermudAir's offerings.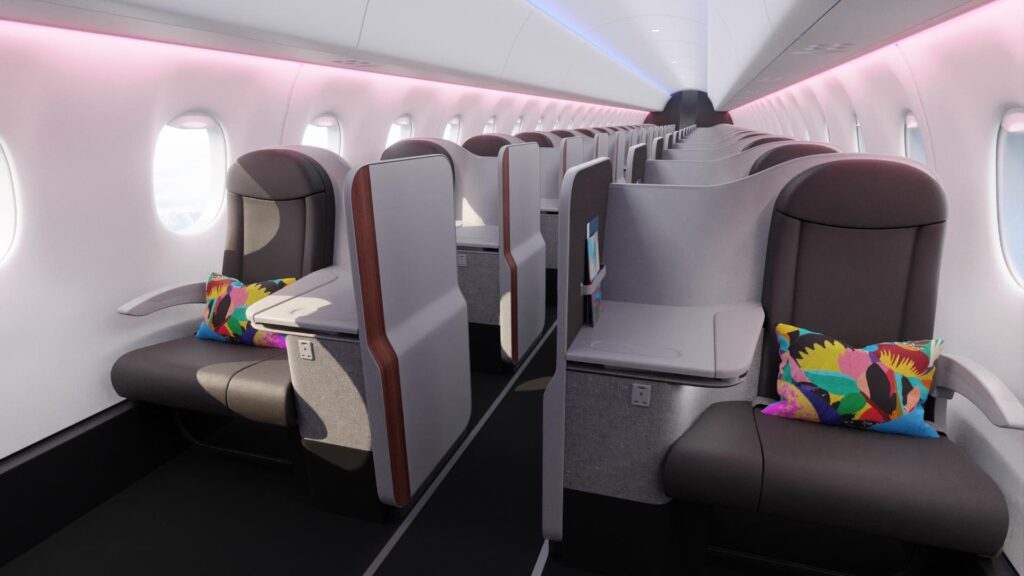 Aisle Class
A significant transformation is on the horizon for BermudAir. Starting on November 1, 2023, the airline will usher in a groundbreaking era of business class air travel with the introduction of Aisle Class. This innovative seating concept eradicates the classic aisle vs. window seat conundrum.
By November, BermudAir's E175s will boast a reconfigured setup with only 30 seats, heralding an unmatched sense of privacy and abundant workspace. This arrangement will feature two spacious seats per row, facing each other.
Passengers will benefit from the convenience of under-seat storage for their carry-on and personal items and in-seat power. The Aisle Class experience will encompass complimentary Wi-Fi with Wi-Fi-powered entertainment and messaging options.
The cabin design of Aisle Class is characterized by its absence of overhead bins, creating an airy and spacious atmosphere that facilitates quick and efficient boarding and disembarking.
Helping Community
BermudAir is firmly dedicated to fostering close ties with the local community. Subsequently, this commitment is reflected in their efforts to establish partnerships and source services exclusively from within Bermuda.
This includes enlisting local crew members, collaborating with Bermudian service providers for onboard food and beverage offerings, and procuring local ingredients. The overarching goal is to mirror the island's renowned hospitality through an exceptional in-flight experience.
Subsequently, the emphasis is on delivering premium menu choices and ensuring that the cabin crew provides attentive and friendly service, capturing the essence of Bermuda's warm hospitality.
The introduction of BermudAir as the island's first airline has garnered enthusiastic support. Further, the airline's pursuit of setting a new benchmark for travel is met with anticipation and promise.
Further, this partnership marks a significant milestone for Bermuda, bolstering connectivity and solidifying its status as a prime destination. The commitment of BermudAir to establish convenient connections is poised to invigorate the tourism market.
The advent of a new airline in Bermuda brings with it a sense of optimism and potential. The augmented air capacity is strategically aligned with the National Tourism Plan's objective of year-round activity.
By facilitating year-round flights, BermudAir opens up fresh avenues for travelers from the U.S. East Coast, creating opportunities for potential collaborations and market expansion. This marks a pivotal stride towards sustainable growth in Bermuda's tourism sector.
Stay tuned with us. Further, follow us on social media for the latest updates.
Also Read: US Airlines, Including American, United, Delta, and Southwest, want you to Dress Properly – Aviation A2Z
Join us on Telegram Group for the Latest Aviation Updates. Subsequently, follow us on Google News.