NEW YORK- The US federal government has successfully secured a victory in its anti-trust lawsuit against the Northeast Alliance (NEA) between American Airlines (AA) and JetBlue (B6) at the district court level.
In response, JetBlue has chosen not to pursue an appeal, opting instead to direct its attention toward its acquisition of Spirit Airlines (NK), which some perceive as possessing even greater anti-competitive implications.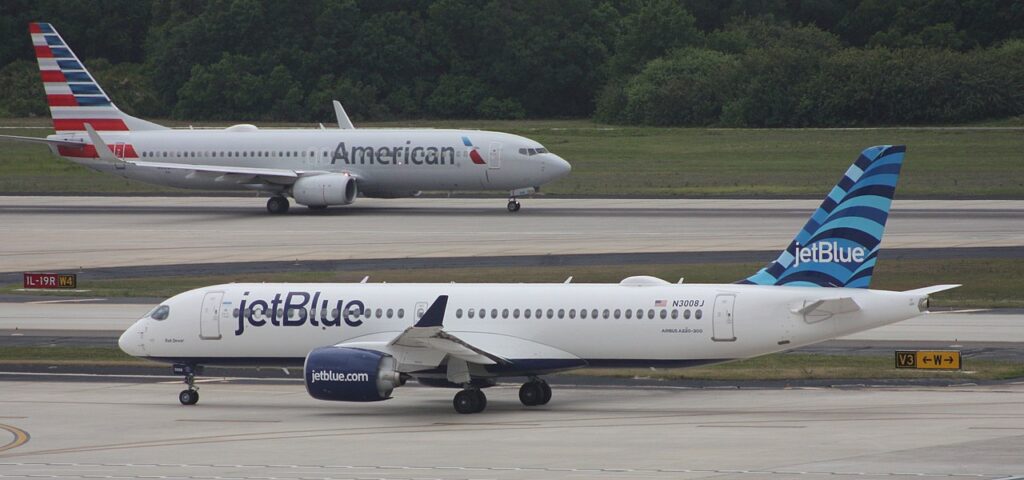 American JetBlue Alliance Aftermath
American Airlines has been scaling back its operations in New York, with an emphasis on international flights departing from its hub in Philadelphia. Concurrently, JetBlue is relinquishing slots to American Airlines in the New York market, shares Viewfromthewing.
At the same time, American Airlines strategically maintains its presence in those slots by operating flights to destinations like Philadelphia and Boston.
This strategic maneuver has arguably contributed to reduced competition within the New York market rather than fostering a more competitive environment. United (UA) and Delta (DL), key players in the industry, are watching these developments closely.
As a result of the obligatory disentanglement of their partnership, prospective customers can no longer initiate new bookings and capitalize on the benefits that were once offered.
The option to utilize AAdvantage miles for reserving JetBlue tickets and, conversely, employing JetBlue miles for booking American Airlines tickets has been discontinued.
Likewise, the purchase of codeshare tickets is no longer feasible. Additionally, the capability to associate an American Airlines frequent flyer number with a JetBlue ticket, or vice versa, for accruing miles has been eliminated.
Lost Customers
Nonetheless, suppose your frequent flyer number has already been included in a reservation. In that case, you should still be eligible for the benefits that were initially assured, such as improved seating and complimentary checked bags.
American Airlines has now taken another step in the process of disentangling the partnership. The airline is no longer able to access seat maps for JetBlue flights.
This means that they cannot allocate seats for passengers who made their bookings through American Airlines, and they must direct these customers to reach out to JetBlue for seat assignments.
Stay tuned with us. Further, follow us on social media for the latest updates.
Also Read: Indian Students Deported Back to Delhi from USA on Delta Flight – Aviation A2Z
Join us on Telegram Group for the Latest Aviation Updates. Subsequently, follow us on Google News.