PATNA- India's largest carrier, IndiGo (6E) Airlines flight from Patna (PAT) to Delhi (DEL), made an emergency landing back at PAT as one of the engines became inoperative during the flight.
IndiGo's Airbus A320neo, registered as VT-IIG, operates the flight. Further, it is just 2 years old; Airbus delivered it to 6E back in October 2021.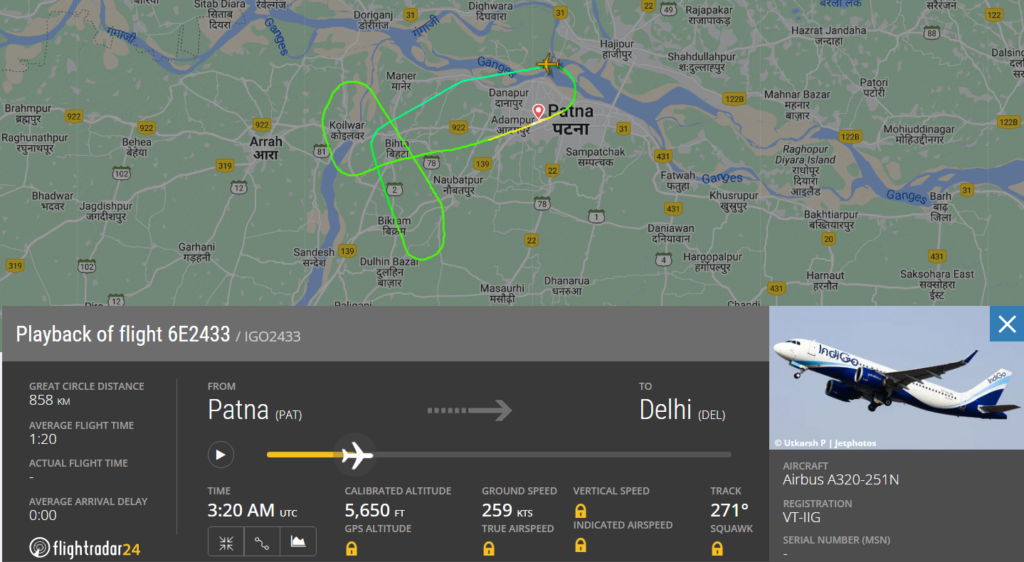 IndiGo Emergency Landing at Patna
The airport officials told the media that,
An Indigo flight operating the Patna-Delhi route had to return to its departure airport due to a technical problem. Just three minutes after takeoff, the pilot informed that one of the engines was not functioning. Fortunately, the aircraft landed safely at 9:11 am. The airport official stated that according to the pilot, additional help was not needed, and everything is functioning as usual at the airport.

Patna Airpor Official Statement
Now let us establish a complete timeline using FlightRadar24 data.
According to FlightRadar24, the IndiGo flight 6E2433 took off from Jayprakash Narayan International Airport (PAT) in Patna at 8:48 AM IST.
Immediately after takeoff, the flight crew experienced engine malfunction. The flight crew contacted PAT ATC to return back to PAT and make an emergency landing. The flight crew made a couple of loops, aligned the aircraft with the runway, and they performed the heavy landing.
Fortunately, a skilled IndiGo pilot landed safely back at PAT at around 9:12 AM UTC. The flight remained airborne for approx 25 minutes.
Flight 6E2433 had a total of 181 passengers and eight crew members on board. Thankfully, all passengers are unharmed and secure.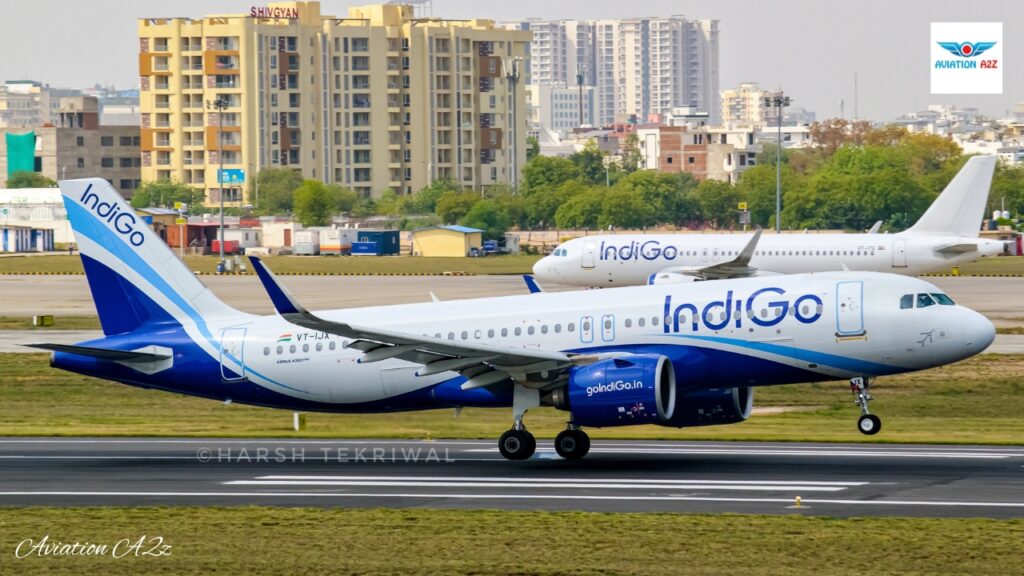 Similar Incident
On July 29, 2023, an IndiGo (6E) flight from Kolkata (CCU) to Chennai (MAA) makes an emergency landing back at CCU due to smoke detection inside the forward cargo hold of the aircraft.
The flight operated with the help of an Airbus A320neo is registered as VT-IPW. Further, it is just a one-month-old aircraft; IndiGo took it recently and entered the service on 15 July.
Shortly after takeoff, the flight crew received a smoke warning from the sensors in the forward cargo hold of the aircraft. Following this, the pilot contacted ATC and decided to make a turnback.
Without burning extra fuel, the flight landed back at Kolkata at 2:57 PM IST, within 15 minutes of takeoff. Due to this incident, the flight was forced to make a heavy landing.
Upon landing, the airline engineering team inspected the aircraft.
Photo By: Harsh Tekriwal (@avgeekwithlens) • Instagram photos and videos
Stay tuned with us. Further, follow us on social media for the latest updates.
Also Read: US Airlines, Including American, United, Delta, and Southwest, want you to Dress Properly – Aviation A2Z
Join us on Telegram Group for the Latest Aviation Updates. Subsequently, follow us on Google News.