WASHINGTON- Chicago-based United Airlines (UA) flight from Dulles International Airport (IAD) in Washington to London Heathrow (LHR) made a U-turn due to a problem with landing gear.
Further, the United Airlines 22.3-year-old Boeing 767 operated the flight. It is registered as N676UA.
United Washington to London Flight Made U-Turn
Federal Aviation Administration (FAA) officially reported,
United Airlines Flight 924 safely executed a return to Dulles International Airport after the flight crew notified of a landing gear concern at approximately 2:35 a.m. local time on Thursday, August 3. Subsequently, the passengers disembarked on the taxiway and were transported to the terminal via buses. The Boeing 767, originally en route to London Heathrow International Airport, was involved in the incident.

FAA Statement
Now let us understand the flight timeline with the help of FlightRadar24 (FR24) data.
According to FR24, United Airlines Flight UA924 took off from Dulles Airport (IAD) at 2:29 AM UTC. Immediately after takeoff, the flight crew noticed issues with the Landing gear.
The flight crew cannot land heavy with landing gear issues on the back. So they decided to burn fuel, actually a lot, as the flight was bound for London Heathrow (LHR).
The flight crew made several low past over the Washington Airport so that ATC can inspect the landing gear situation and notify the condition to pilots.
After burning extra fuel and making a couple of low flypasts, the flight landed safely back at Dulles, Washington, at 6:07 AM UTC. Subsequently, the flight remains airborne for almost three hours and 40 minutes.
The FAA will investigate the incident and submit the preliminary report shortly.
Yesterday, Delta Air Lines (DL) flight DL1437 operated by Boeing 757, due to a tire on the landing gear bursting upon touch down at Atlanta (ATL).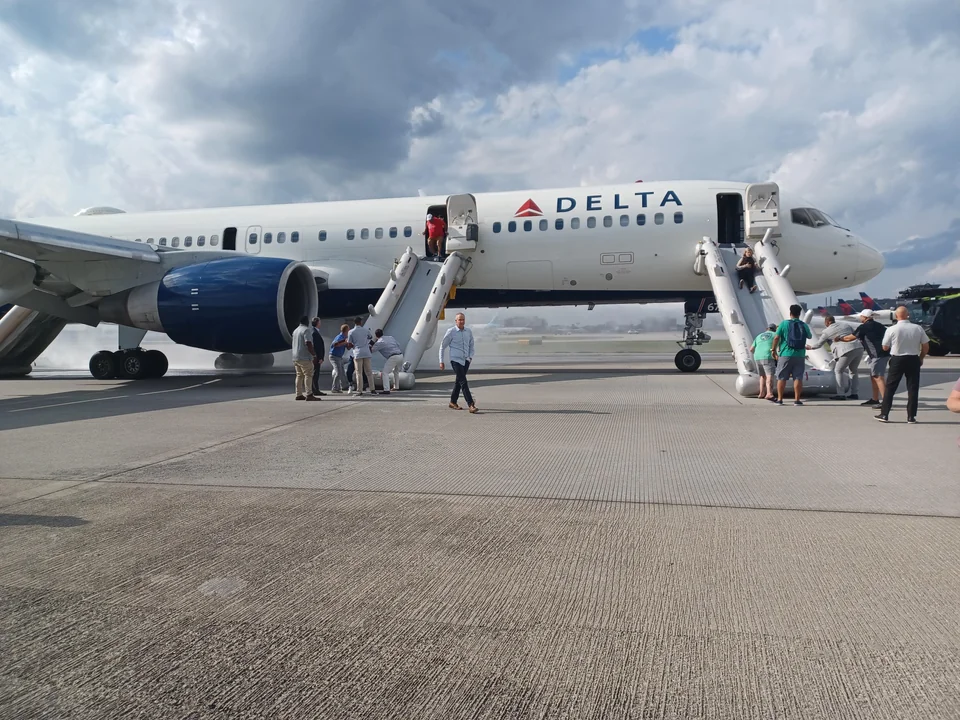 Delta 757 Tire Pops upon Landing
The incident occurred when the left main gear tire suffered a blowout during a firm landing at approximately 6 p.m. at Hartsfield-Jackson Atlanta International Airport (ATL). The FAA provided details of the occurrence in an official statement.
Passengers who were on board the flight, originating from Richmond International Airport in Virginia, were required to exit the aircraft through its emergency exits located on the sides, as per information provided by the FAA.
An unidentified female passenger who was on the flight shared with WSB, ABC News Atlanta's affiliate, that during the turbulent landing, one tire burst and another tore apart. This resulted in the aircraft skidding on the runway.
Following the evacuation of the passengers from the plane, they were directed to board a bus. This transported them to a terminal within the airport, as confirmed by Delta.
Stay tuned with us. Further, follow us on social media for the latest updates.
Also Read: US Airlines, Including American, United, Delta, and Southwest, want you to Dress Properly – Aviation A2Z
Join us on Telegram Group for the Latest Aviation Updates. Subsequently, follow us on Google News.