GURUGRAM- On its 17th anniversary, IndiGo (6E), the largest domestic airline in India, achieved a notable feat by reaching a daily flight count of 1,900.
Pieter Elbers, the CEO of IndiGo, remarked that this milestone demonstrates the steadfast support and confidence that our customers have entrusted to us over the years.
IndiGo 17th Anniversary and Milestones
IndiGo CEO, on this special day in Indian aviation, stated,
"These accomplishments throughout the years have been attainable due to the steadfast commitment and professionalism of our 6E team. I extend my heartfelt gratitude to each and every member."

Pieter Elbers, the CEO of IndiGo
From its inaugural flight in 2006 to its remarkable achievement on June 19 this year, when it secured an unprecedented order for 500 A320 aircraft, the airline's journey has been nothing short of extraordinary.
This historic order not only cemented the company's status as the industry leader with the largest order but also underscored its remarkable trajectory. IndiGo previously introduced its First A321 on December 27, 2018.
Just a month before this groundbreaking deal, the airline achieved another milestone by setting a new record with a staggering 300,000 customers per day in May.
Strengthening its Roots and Flying High
In the previous year, the airline marked a significant milestone by including Ras-Al-Khaimah, UAE, as its 100th destination on September 22, shortly after the introduction of Bahrain as its 99th destination.
Taking progressive strides toward sustainability, the budget airline initiated its inaugural flight using Sustainable Aviation Fuel (SAF) on February 18, 2022, traveling from TLS to Delhi (DEL).
In an effort to reduce emissions from the aviation sector, India's oil minister, Hardeep Singh Puri, unveiled plans in May. The nation aims to mandate the incorporation of 1% sustainable aviation fuel (SAF) for domestic airlines by 2025.
The airline also embarked on the Regional Connectivity Scheme (RCS) UDAN (Ude Desh ka Aam Naagrik) by launching the Kochi to Hubballi route in January 2018, thereby expanding air travel accessibility to a wider range of regions.
The Udan scheme provides selected airlines with financial incentives from the Central government, state governments, and airport operators.
This initiative aims to promote operations from underserved or unserved airports, thereby ensuring the accessibility of reasonably priced airfares.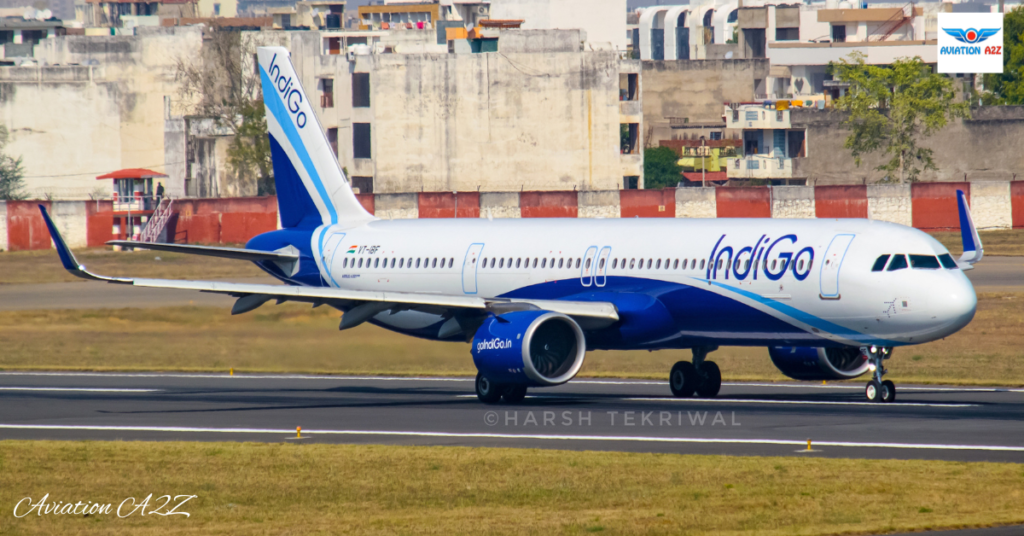 One of the Fastest Growing LCCs in the World
IndiGo stands out as one of the rapidly expanding low-cost carriers on a global scale. The company's core principle is succinct: to offer affordable fares, punctual flights, and a courteous and seamless travel experience across its extensive network.
Leveraging its fleet of more than 300 aircraft, the airline currently operates an impressive 1,900 daily flights. Effectively connecting 79 domestic destinations. Moreover, its network is set to expand even further, with 32 international destinations.
Photo by: Akshay M (@planespottinghd) • Instagram photos and videos and instagram.com/avgeekwithlens/
Stay tuned with us. Further, follow us on social media for the latest updates.
Also Read: US Airlines, Including American, United, Delta, and Southwest, want you to Dress Properly – Aviation A2Z
Join us on Telegram Group for the Latest Aviation Updates. Subsequently, follow us on Google News.