LONDON- Starting August 3, 2023, London Heathrow Airport (LHR) has launched a pioneering trial to assess the potential of environmentally friendlier lower carbon concrete, capable of reducing emissions by half compared to conventional concrete.
This groundbreaking endeavor is initiated following Heathrow's support of a University of Surrey Ph.D. candidate, who dedicated three years to laboratory research to achieve this milestone.
The trial's objective is to assess how well the concrete performs in terms of durability and longevity in a genuine airport setting. This initiative is one of the initial examples of a project of this nature being undertaken at an airport on a global scale.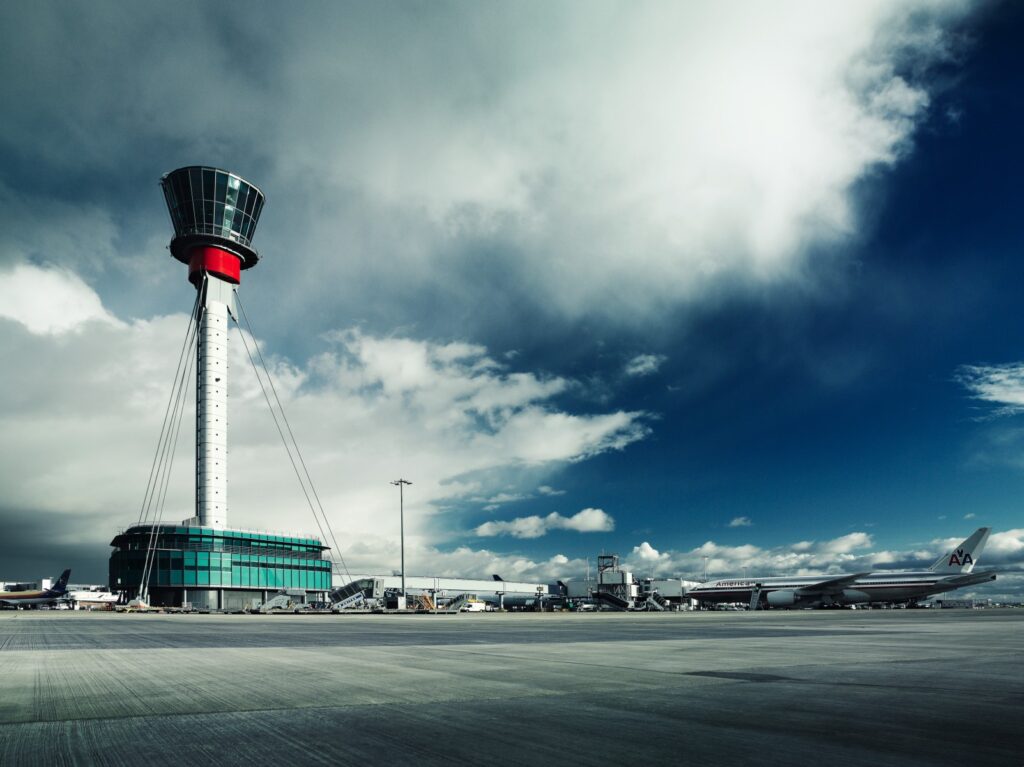 Heathrow Trials Lower Carbon Concrete
As an integral aspect of Heathrow's comprehensive sustainability strategy, known as Heathrow 2.0, the airport is deeply committed to minimizing ground and air emissions.
Given that approximately 6% of global carbon emissions annually are attributed to concrete production, the innovative concrete solution developed by Ecocem and Cemex presents a promising opportunity to significantly curtail carbon emissions associated with infrastructure undertakings at the airport.
The goal is for the insights garnered from this trial to serve as a model that other airports seeking to reduce carbon emissions across various operational aspects can adopt.
This pilot project is the initial step in a series of planned trials to assess alternative low-carbon concrete materials available in the market.
The ultimate intention is for the findings of these trials to contribute to a reduction in embedded carbon across a range of projects carried out by Ferrovial Construction and Dyer & Butler at Heathrow.
The initiative, spearheaded by Jacobs and executed through the collaboration of Cemex and Ecocem, is set to conduct trials involving four distinct applications.
Trial Near Control Tower
These trials will take place at a pouring site located in proximity to the control tower.
The applications are designed to replicate scenarios commonly encountered in typical airport infrastructure projects, including airfield pavements such as runways and taxiways, reinforced pit cover slabs, and other supplementary types of concrete.
Given the high frequency of aircraft taking off and landing at Heathrow, occurring approximately every 45 seconds, it is paramount that the concrete material undergoes thorough testing to ensure its robustness and endurance in withstanding the demands of one of the world's most bustling airports.
Executive Insights
Nigel Milton, who holds the position of Chief of Staff and Carbon at Heathrow, commented,
"Heathrow continues to serve as a testing ground for revolutionary technologies, showcasing its global leadership in sustainable travel. Our commitment to reducing carbon emissions extends both to the ground and the air. We're thrilled to be hosting one of the world's initial airport trials to explore lower-carbon alternatives. I hope this trial will profoundly transform Heathrow's built environment in the years ahead."
Expressing his viewpoint, Richard Moore, the Europe Aviation Engineering Lead at Jacobs, stated,
"Jacobs is proud to have served as the technical consultant for the Low Carbon Concrete initiative at Heathrow since its inception in 2018. Today's trial represents a significant achievement in advancing lower-carbon infrastructure solutions at the airport. It embodies four years of dedicated research and planning, laying the groundwork for these initial trials to explore other environmentally friendly products and materials further. The comprehensive assessment of these materials across a spectrum of airport infrastructure applications, beyond just runway and taxiway pavements, allows us to effectively minimize embedded carbon across a diverse range of concrete types. Leveraging today's success, we eagerly anticipate expanding its application to airfield projects carried out by Ferrovial Construction, Dyer & Butler, and other key program partners throughout the airport."
Mark Hill, the UK National Sales Manager at Ecocem, added his perspective, stating,
"Our technical solutions have consistently contributed to carbon emission reduction in large-scale infrastructure ventures across Europe. Collaborating with Heathrow Airport on a project of immense potential within the UK and the aviation sector underscores the innovative nature of our products and team. We look forward to collaborating with Heathrow and our other partners to initiate this trial."
Expert Remarks
Richard Kershaw, taking on the role of Technical Manager at Cemex, remarked,
"Cemex has earned a distinguished reputation in the construction industry for its unwavering commitment to furnishing clients with more ecologically sustainable concrete solutions. We were the pioneers in introducing a net-zero concrete product in the UK, positioning us ideally to assist Heathrow in their endeavor to explore lower-carbon concrete through this trial. We hope this trial will succeed, demonstrating to the aviation sector the substantial emission reduction prospects available during their developmental projects."
In the words of Simon Wright, serving as Regional Manager at Dyer & Butler,
"As a trusted partner of Heathrow, we take pride in our collaboration on this venture aimed at spearheading carbon reduction in the aviation domain. Our technical delivery team is excited to contribute to the implementation of this emerging technology. Dyer & Butler is dedicated to aiding Heathrow's journey towards achieving net-zero goals through this and forthcoming innovative initiatives."
Juan Pablo Perez, assuming the role of UK Airports & Civils Director at Ferrovial Construction, expressed,
"Our strategic approach at Ferrovial Construction entails delivering low-carbon concrete solutions across our diverse global projects. As a component of our UK project portfolio, we are actively engaged with Heathrow, Jacobs, and Cemex to realize a concrete mix with low CO2e content. Building upon our progress in the previous Heathrow framework (Q6), we successfully lowered carbon emissions in PQ mixes. Taking those strides forward, we are intensifying our carbon reduction efforts at H7 by exploring and testing novel technologies. As the first company at Heathrow to secure PAS2080 certification for Carbon Management, we have executed projects that adhere to the highest standard specifications for Pavement Quality Concrete CO2e compliance at the airport. We are enthusiastic about continuing our collaboration with Heathrow, Jacobs, and Cemex to drive forward the sustainable concrete development agenda, fully aligned with the objectives of Heathrow 2.0."
Stay tuned with us. Further, follow us on social media for the latest updates.
Also Read: Indian Students Deported Back to Delhi from USA on Delta Flight – Aviation A2Z
Join us on Telegram Group for the Latest Aviation Updates. Subsequently, follow us on Google News.