ISLAMABAD- In a startling incident, a Pakistan Airlines (PK) flight, PIA308, unexpectedly veered into the airspace of India on Monday evening (24 July 2023), raising concerns among aviation authorities.
On its way from Karachi to Islamabad, the aircraft encountered adverse weather conditions shortly after takeoff at 4:31 PM.
FlightRadar24 data shows that flight PK308 was operated using Airbus A320 painted in InterJet Livery, registered as AP-BOK.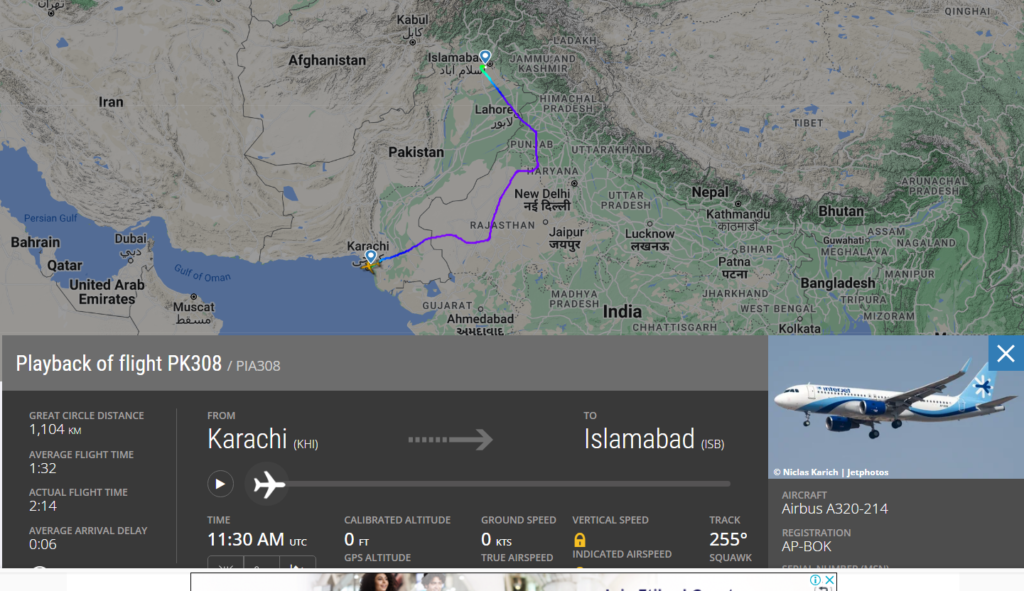 Pakistan Airlines Flight Enters India
Due to the sudden deterioration in weather, the flight deviated from its intended route and unintentionally crossed into Indian airspace at 5:02 PM.
After departing from Karachi in Pakistan, the airplane entered Indian territory through Rajasthan. It continued to fly over the states of Rajasthan, Haryana, and Punjab for approximately 1 hour and 12 minutes before re-entering Pakistani airspace from Punjab at 6:14 PM, reported OneIndia.
Note: All times are local
This is not the first time that a Pakistani aircraft or Indian plane has invaded the airspace of opposite countries.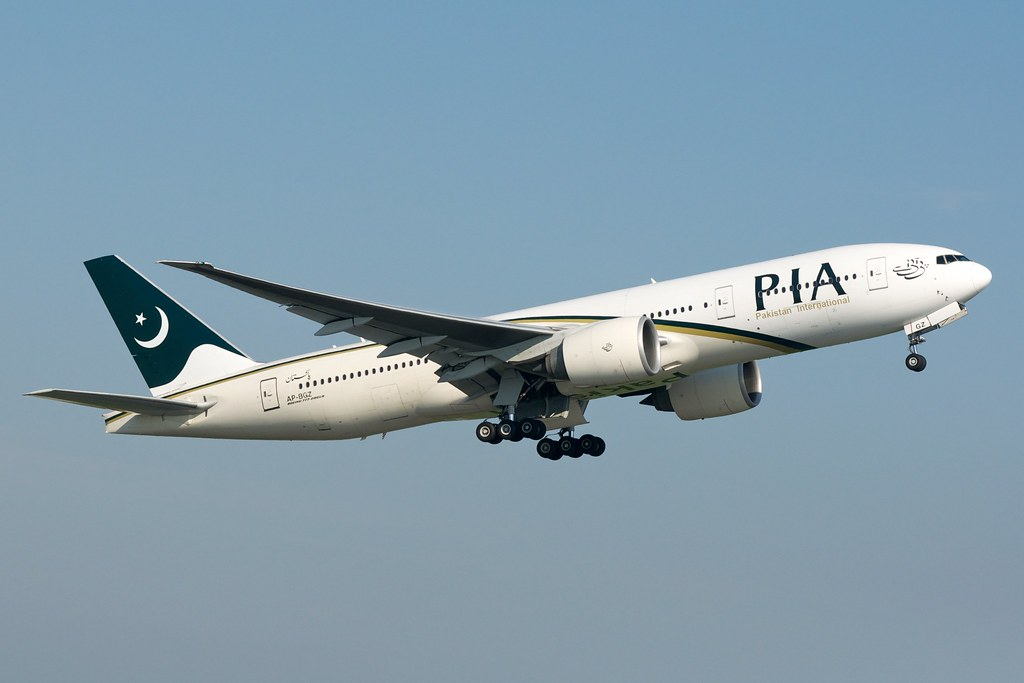 Pakistani 777 Enters Indian Airspace
The Pakistani Boeing 777 belonging to Pakistan International Airlines (PIA) attempted to land at the Lahore Airport during a downpour and spent 10 minutes in Indian airspace before returning to Pakistan after flying 125 kilometers over Punjab, according to media.
At 8 p.m. on May 4, when Pakistan International Airlines (PIA)'s flight PK-248 arrived in Lahore from Muscat, it was pouring severely. At 8:05 p.m., the pilot attempted to land the Boeing 777 at Allama Iqbal International Airport. But the plane grew unstable and was unable to do so.
The plane crossed into Pakistani territory and flew to Multan, passing over Hujra Shah Muqeem and Dipalpur. According to the siasat, the aircraft covered 120 kilometers in 10 minutes in Indian territory.
Apart from this, IndiGo (6E), India's largest carrier, last month and this month entered Pakistani airspace.
IndiGo Unexpected Visits to Pakistan
Amritsar to Ahmedabad deviated into Pakistan
As a result of adverse weather conditions on June 19, an IndiGo (6E) Airlines flight traveling from Amritsar to Ahmedabad deviated into Pakistan airspace near Lahore.
It proceeded to Gujranwala before returning to Indian airspace at approximately 8 p.m. on Saturday, as reported by Dawn.
According to Dawn's report, a senior official from the Pakistan Civil Aviation Authority (CAA) mentioned that such deviations were not uncommon during inclement weather and were permitted internationally.
Srinagar to Jammu Flight Diverted to Amritsar over Pakistani Airspace
On July 9, 2023, IndiGo Srinagar (SXR) to Jammu (IXJ) flight diverted to Amritsar (ATQ) after flying in Pakistani Airspace.
The diversion occurred due to poor weather. But, strangely, the 6E flight diverted to a longer alternate aerodrome instead of returning back to SXR.
Further, the flight made many holding patterns near ATQ before landing at 4:52 PM local time. In conclusion, this flight showed some very strange behaviors, and we are waiting to get the official statement from IndiGo and DGCA.
Stay tuned with us. Further, follow us on social media for the latest updates.
Also Read: Indian Students Deported Back to Delhi from USA on Delta Flight – Aviation A2Z
Join us on Telegram Group for the Latest Aviation Updates. Subsequently, follow us on Google News.