BENGALURU- Tata-owned Air India (AI) flight from Delhi (DEL) to Kochi (COK) made an emergency landing at Bengaluru Airport (BLR) due to an issue with the radar system.
The incident occurred on July 20, 2023, on flight AI831, operated using Airbus A321. Further, Air India operates 3X daily flights between DEL and COK. It deploys a mixed A320 and A321 aircraft fleet on this route.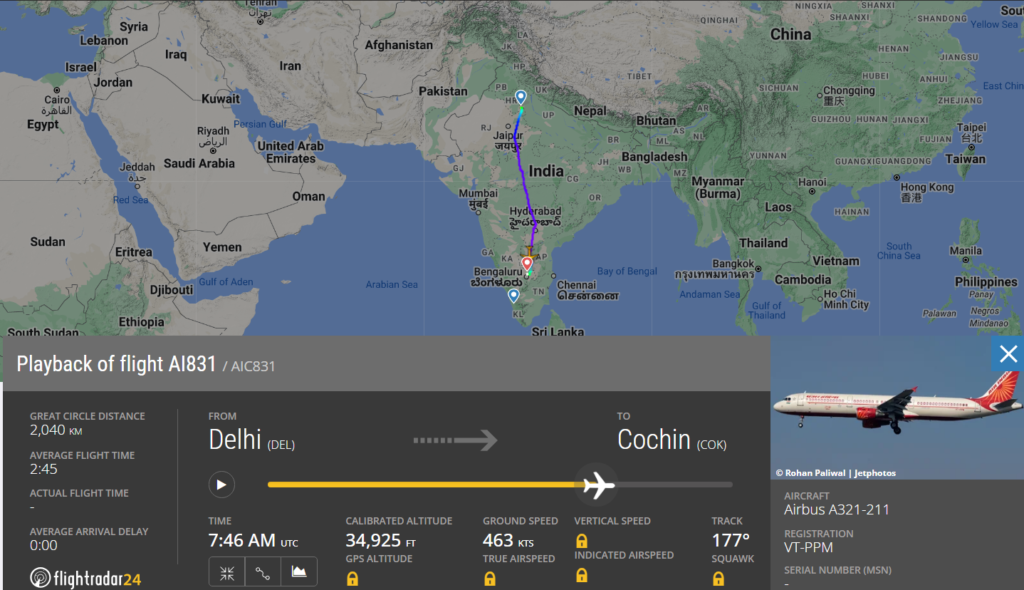 Air India Emergency landing at Bengaluru
We now know the reason and basic details. Let us establish a flight timeline with the help of the flight tracking site, FlightRadar24 (FR24).
Air India flight AI813 took off from Delhi Airport (DEL) at 11:22 AM IST. After being airborne for almost two hours, at 1:15 PM IST, the flight reported that they were unable to talk with ATC and decided to divert to BLR.
The flight landed safely at around 1:40 PM IST BLR, 30 minutes later, after finding issues with the radar and communication system.
The aircraft involved in the incident is Airbus A321-211, registered as VT-PPM. Further, as per planspotters.net, it is a 14.5-year-old aircraft; Airbus delivered it to AI in 2009.
Passengers Bad Experience
After landing at Kempegowda International Airport in Bengaluru, the airline performed a thorough check while passengers remained inside the aircraft for over an hour.
Passengers claimed there was a lack of proper communication. Further, they were initially asked to wait inside the aircraft for two hours before being instructed to wait inside the airport for further updates.
Frustration mounted as they waited for 10 long hours until airline officials finally informed them that the aircraft would depart the next day. Subsequently, the airline would arrange accommodations for the passengers.
Republic interviewed Neelima and her family, who were passengers on Air India's San Francisco (SFO)-DEL-COK flight.
Despite a lengthy inspection, the officials were unable to repair the technical glitch. Passengers were left sitting in the aircraft without receiving any responsible briefing, leaving them uncertain about when they would be transported to Kochi.
Stranded at the Bengaluru Terminal for a grueling 18 hours, they were provided with hotel rooms booked for the night. While Air India cited inclement weather as the reason for the delay. While a source reported that there was indeed a radar problem with the aircraft.
Air India Official Statement
According to the official spokesperson of Air India, flight AI831 traveling from DEL to COK on July 20, 2023, was diverted to BLR due to a suspected technical issue with the aircraft.
Prioritizing passenger safety, the flight crew made a precautionary and secure landing in Bengaluru. Subsequently, the aircraft underwent comprehensive inspections, and the passengers were offered overnight hotel accommodations, meals, and refreshments.
The flight departed for Kochi at 11:30 Hrs IST the following day. Air India sincerely regrets any inconvenience caused to its passengers.
Feature Image: Harsh Tekriwal (@avgeekwithlens) • Instagram photos and videos
Stay tuned with us. Further, follow us on social media for the latest updates.
Also Read: US Airlines, Including American, United, Delta, and Southwest, want you to Dress Properly – Aviation A2Z
Join us on Telegram Group for the Latest Aviation Updates. Subsequently, follow us on Google News.