SAN FRANCISCO- A United Airlines (UA) Boeing 777 operating as flight UA871 from San Francisco to Taipei faced an unexpected diversion from an uncooperative passenger onboard.
On Thursday, July 20, 2023, the roughly six-year-old Boeing 777-300ER with the registration code N2639U took off from San Francisco International Airport (SFO) at 2:40 PM for its scheduled journey to Taipei (TPE).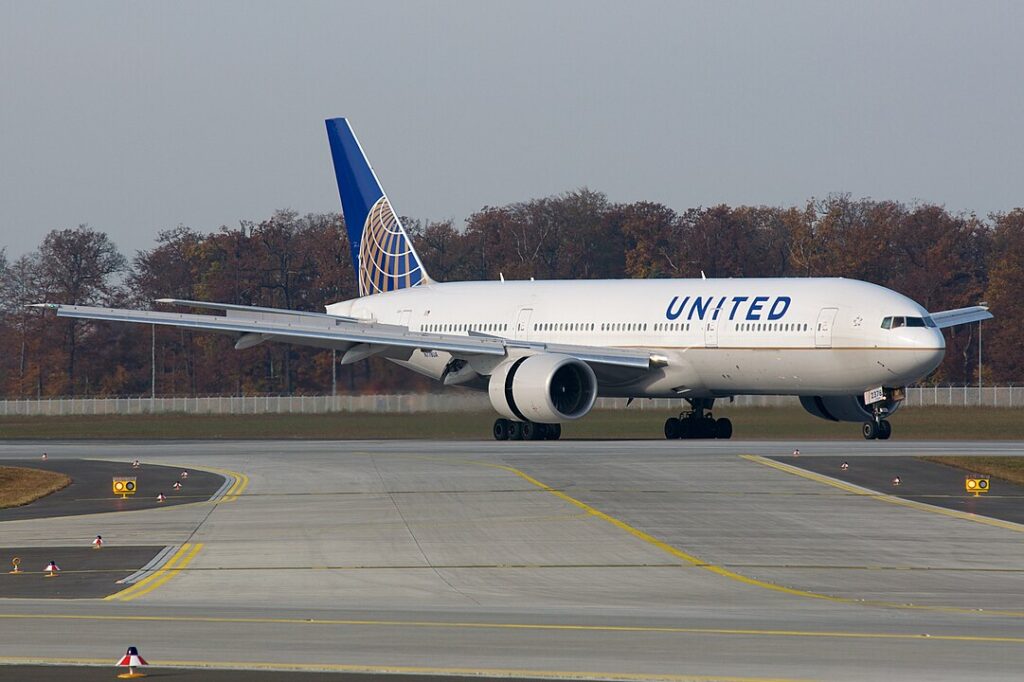 United 777 Return to SFO
Approximately 1 hour and 40 minutes into the flight, the decision was made to return to San Francisco.
The aircraft, which had been flying over the Pacific, landed back in San Francisco around 3 hours and 20 minutes after its initial departure, effectively canceling the journey to Taipei.
The cause of the diversion was a disruptive passenger who repeatedly refused to comply with the flight crew's instructions.
According to reports from a United Airlines spokesperson, the decision to return to San Francisco was taken in response to the unruly behavior of the passenger.
Law enforcement officials met the aircraft upon landing, promptly removing the disruptive individual, reported Live and Let's Fly.
Observations from fellow passengers who were on the flight indicate that the disruptive passenger had been in economy class and persistently attempted to move to business class during the initial drink service.
Despite repeated requests from flight attendants to return to his assigned seat, the passenger disregarded the crew's instructions, escalating the situation.
United Airlines managed the situation adeptly, minimizing the disruption caused by the diversion. A replacement crew was promptly arranged, including new pilots and flight attendants.
The flight finally departed at 11:26 PM, approximately nine hours behind schedule and roughly four hours after returning to San Francisco. However, this delay was remarkably handled, given the circumstances.
Diversions on US Airlines
The incident prompts contemplation on the prevalence of diversions on US airlines, often due to poorly behaved passengers. Such occurrences seem more frequent within the United States than in other countries.
It raises questions about the reasons behind these incidents and the measures taken to de-escalate situations.
A diversion like this comes with several repercussions:
United Airlines incurs significant expenses due to fuel burn, crewing, and aircraft utilization.
Up to 700 passengers on the flight, accounting for both directions, experience massive inconvenience.
Environmental concerns arise due to increased fuel consumption for no productive reason.
Bottom Line
While this specific passenger's behavior was indeed troublesome, it also prompts consideration of whether similar incidents occur in other countries with fewer diversions.
Finding a balance between passenger accountability and crew intervention remains essential. Further, to mitigate disruptions and ensure safe and timely flights.
A United Airlines Boeing 777 en route to Taipei encountered a diversion as a result of a passenger's refusal to adhere to crew member instructions.
The disruptive passenger was offloaded in San Francisco, and after the airline arranged for a new crew, the flight eventually departed, albeit approximately nine hours behind schedule.
The incident raises concerns about the prevalence of such disruptions on US airlines. Subsequently, calls for finding effective solutions to ensure smooth and safe air travel.
Stay tuned with us. Further, follow us on social media for the latest updates.
Also Read: US Airlines, Including American, United, Delta, and Southwest, want you to Dress Properly – Aviation A2Z
Join us on Telegram Group for the Latest Aviation Updates. Subsequently, follow us on Google News.