HYDERABAD- India's leading regional carrier, Star Air (S5), is all set for the first commercial flight of its second Embraer E175 on July 26, 2023. Further, the airline will commence the first commercial flight for its 2nd E175 from Rajiv Gandhi International (HYD) in Hyderabad.
The airline took delivery of the 2nd Embraer E175 in March 2023. The airline has recently completed its proving flights and is more ready than ever to welcome you onboard.
Star Air 2nd E175 First Flight
According to Source, the Belgaum-based carrier will operate the first flight from Hyderabad (HYD) to Pune (PNQ).
Subsequently, this will be the first time that the airline will operate flights to PNQ. Further, Pune will be the 18th destination for Star Air.
The S5s 2nd Embraer E175 has the registration VT-GSJ and is three-year-old aircraft. According to planespotters.net, the VT-GSJ was operated by the flag carrier of Belarus, Belavia (B2), since 2020.
Similar to the first S5 E175 VT-GSI, the VT-GSJ is owned by Denmark-based Nordic Aviation Capital (NAC) and is provided on lease to Star Air.
Two Indian carriers operate non-stop flights between Pune, Hyderabad, and Tech cities. These are IndiGo (6E) and Alliance Air (9I); 6E operates 5X daily flights while 9I operates 5X weekly flights.
It's clear that IndiGo has a strong presence, and it's not wrong to say a monopoly on this route. Star Air will face tough competition from IndiGo in all forms as 6E operates more flights with big planes comparatively.
However, Star Air has a strong operational history and has been doing well in its routes across 7 states and 17 cities. Further, the airline has a fleet of seven Embraer jets, including 5 ERJ-145s and 2 E175s.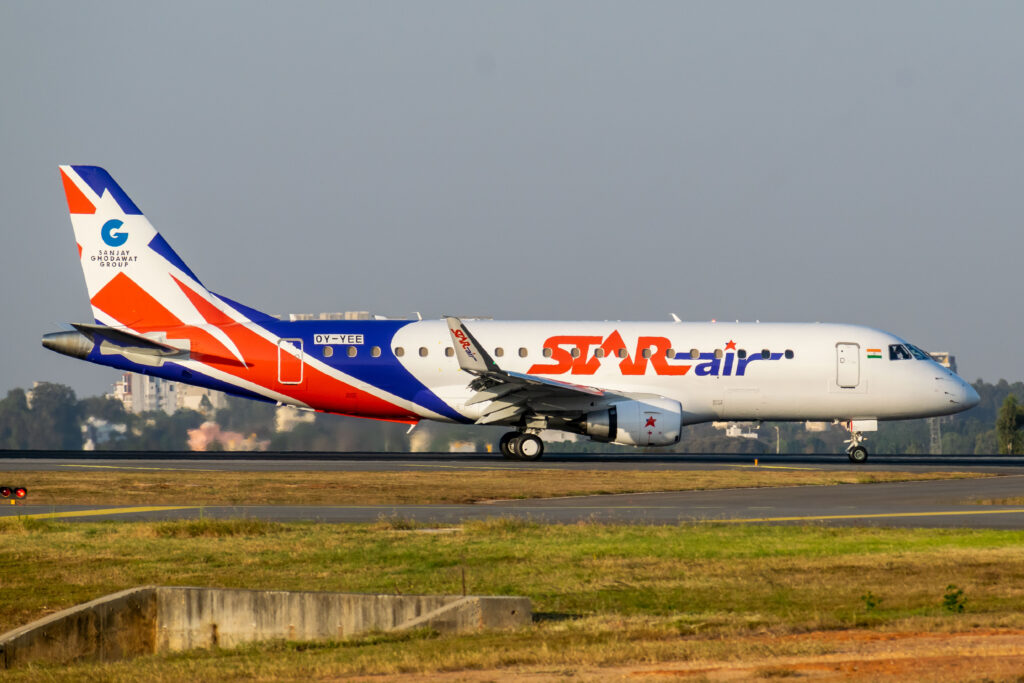 First E175 Flight
The airline operated the inaugural flight S5151 between Bengaluru and Hyderabad. Further, the Embraer E175 has the registration VT-GSI and GE CF34-8E engines that power the aircraft.
Furthermore, the E175 aircraft features a dual-class cabin layout that does not have middle seats, offering exceptional legroom to travelers and making it the top choice. It has around 76 seats and has the capacity to carry 88 in single class configuration.
According to FlightRadar24, the flight took off from Kempegowda International Airport Bengaluru (BLR) at 8:04 AM IST, One hour late than the scheduled time. After being airborne for almost one hour, it landed at Hyderabad.
The plane touched down at Rajiv Gandhi International Airport (RGIA) at 9:02 AM IST in the morning.
The airline celebrated the inaugural flight with a lamp-lighting ceremony by its CEO, Simran Singh Tiwana. Further, other senior officials were seen at the airport.
The aviation geeks and media personnel were also present to experience the first-of-its-kind flight. Star Air shared the photos on its official Twitter account.
The airline also conducted the proving flight of E175s with DGCA Officials. They conducted a flight from Kempegowda International Airport (BLR) in Bengaluru to Rajiv Gandhi International Airport (HYD) in Hyderabad.
Stay tuned with us. Further, follow us on social media for the latest updates.
Also Read: US Airlines, Including American, United, Delta, and Southwest, want you to Dress Properly – Aviation A2Z
Join us on Telegram Group for the Latest Aviation Updates. Subsequently, follow us on Google News.